Champions League: Spotlight on Antonio Conte's tactics as Chelsea travel to Barcelona for most crucial match of season
Chelsea's chances of qualifying for the quarter-finals rest primarily on Hazard's ball progression through the middle of the pitch and Willian's ruthlessness in front of the goal.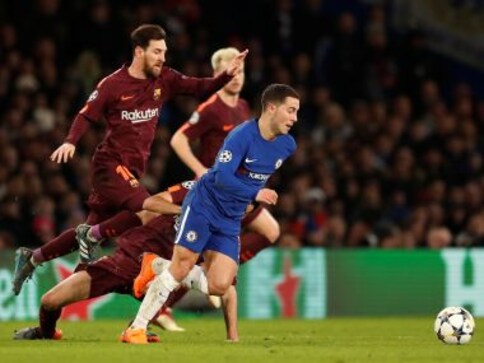 Chelsea await their most crucial match of the season as they travel to Camp Nou to face Barcelona in the second leg of the UEFA Champions League Round of 16 tie. As pressure continues to mount on the Blues boss Antonio Conte, whose tactics and personnel choices have been questioned time and again this season, Chelsea go into the game on the back of a disappointing few weeks.
From their 1-1 draw at home against the La Liga leaders in the first leg, to their demoralising defeat at Old Trafford and a shambolic performance at the Etihad, inconsistency and inadequacy have been second nature for the otherwise purposeful London club.
That the Premier League title has switched home every season since 2009/10 has been an oft-overlooked fact, but the way the defending champions have capitulated this season has surprised many. As the season has progressed, Chelsea, and Conte in particular, have withdrawn into a shell, allowing lesser teams to walk over them. In a stark contrast to Chelsea's fearless showing at the Wanda Metropolitano during the UEFA Champions League group stage, the Blues have been far more docile off late, as has been their boss.
"Experience is always important. This Chelsea team has not got great experience, not many players with great experience, because this team lost a lot of old players with great experience," explained Conte in his pre-match press conference, while drawing comparisons to the Juventus side which knocked out Tottenham Hotspur last week, somewhat unfairly, for Chelsea have in their ranks a number of players who have played in Champions League semi-finals and finals.
Perhaps Chelsea's biggest hurdle on Wednesday would be the restraint exercised by their manager, who has steadfastly refused to move away from his ideology in spite of reaping precious rewards whenever Chelsea have attempted to take the game to the opposition. Moreover, Conte's use of Eden Hazard has drawn the ire of supporters, for the Italian is clearly not a believer of the age-old adage 'one should play a club's best player in their best position'.
The Belgian's phenomenal play-making skills are wasted whenever Hazard starts as a 'false nine', a position he himself claims to be not suitable for. Chelsea's chances of qualifying for the quarter-finals rest primarily on Hazard's ball progression through the middle of the pitch and Willian's ruthlessness in front of the goal, for Chelsea's centre-forwards are unlikely to be much of a threat to Barcelona, who have the second-best defence in the top-five European leagues.
Alvaro Morata's struggles have been well-documented, the former Real Madrid youth product even unlikely to start at Camp Nou. Olivier Giroud has enjoyed a decent beginning to his Chelsea career and would be a viable option to link up play should Conte set his team up for retaining possession, but the Frenchman's lack of pace could play into the hands of their opponents in counter-attacking set-ups.
Barcelona, boosted by Andres Iniesta's quick return are the clear favourites on Wednesday night, for their record at home speaks for themselves – they are unbeaten at Camp Nou all season, but Chelsea's record of remaining undefeated at the very stadium since 2006 gives the English club an outside chance, for a scoring draw will help Chelsea progress or take the game beyond normal time.
Nelson Semedo and Denis Suarez's injuries and Philippe Coutinho's ineligibility suggest Ernesto Valverde could field the same starting XI as in the first leg. While Barcelona's narrow yet effective quartet of Iniesta, Sergio Busquets, Ivan Rakitic and Paulinho will be tasked with outnumbering Chelsea in the midfield, Andreas Christensen and Co get another opportunity to stop Lionel Messi – and the young Dane would be eager to rectify his mistakes which have proven tremendously costly for his club in the recent weeks.
With the English club struggling to finish in 'top four' in the Premier League, winning the competition seems Chelsea's most realistic chance of not only qualifying for the UEFA Champions League next season, but also ensuring Hazard and Courtois have enough incentive to sign a new contract, notwithstanding the fact that only a win could keep the trigger-happy Roman Abramovich at bay, in spite of the Chelsea owner showering Conte with immense patience through difficult times.
"I hope, in my career, I consider an achievement to be when I win something. Now we are talking about the last-16. We have to make a great game if we want to have a chance to go into the next round but you are never sure with football," a resolute but pensive Antonio Conte told reporters ahead of the game.
Irrespective of Conte's future at the club, Chelsea stand at crossroads, for Wednesday night's result will play a massive role in the direction the club takes in near future in terms of their first-team squad and their ambitions, and the out-of-favour Italian holds all the cards.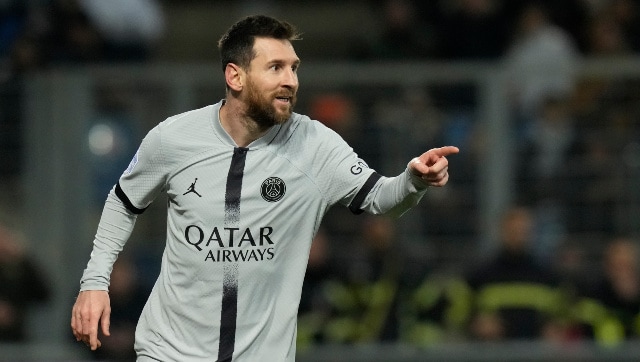 Football
All 29 MLS teams are in discussion to chalk out a plan to bring Lionel Messi to the United States.
Football
Messi got a late goal as world champions Argentina celebrated their homecoming with a 2-0 win over Panama in a friendly.
Football
A party atmosphere is expected in Buenos Aires for Argentina's competitive homecoming as world champions - against Panama