Champions League: Anfield brings the noise as Jurgen Klopp's Liverpool relegate Napoli to Europa League
Liverpool could potentially face one of Real Madrid, Borussia Dortmund, Bayern Munich, Barcelona or Juventus in the knockout stage and you better believe they want nothing to do with Jurgen Klopp's Anfield.
It's customary for the match report to get the score, scorer and table positions out of the way first so we could talk to you about the other important things. Liverpool did indeed win their last group fixture of Champions League group C 1-0 knocking out Napoli and securing a place in the knockout stages. As you'd expect, it was Mohamed Salah who scored the goal (in the 34th minute). Right, lets now get down to the all the things that scoreline couldn't possibly begin to tell you.
Napoli Ultras famously have a bad habit of going around in their Vespas and their mopeds stabbing unsuspecting opposition travelling fans in their bums. This needs to be mentioned as there cannot be a more perfect segue to describe what Liverpool did to the team from Naples on the Anfield last night. Mohamed Salah was doing most of the figurative pricking.
The last time Liverpool fans saw such lightness on the dribble was when their Iberian prancer Fernando Torres used to seasonally embarrass Manchester United's Nemanja Vidic back in 2007. There may have been a feeling of deja vu all over again amongst Liverpool faithful in the 34th minute when Mohamed Salah did the dirty on Kalidou Koulibaly — a centre back of the same stature, very much on his way to becoming one of the world's best. Here's how the goal happened:
Receiving the ball on the run down the right wing from Milner, Mo Salah displayed the unmistakable turning radius of an Indian auto-rickshaw. Upon spotting a narrow gully to his left, he left his traffic-policeman/left-back Mario Rui bewildered.
The stroke of movement that took the ball past Kalidou Koulibaly next, could be best described as bread knife lathering butter onto a crispy, golden brown toast. The low, clipped finish past Ospina was a like the perfect breakfast. Utterly wholesome. Such was the speed on the feint, if captured by 1960s television technology, would have left afterimages. Such was the emphasis of the knock-on past Kalidou Koulibaly, it made the 100 million-rated central defender look like he was waddling through a bog, in slow motion.
Off-form Mohamed Salah has now scored 10 goals in his last 12 games and 12 assists in his last 10 games. He has been involved in 78 goals in his last 75 games for Liverpool and 48 goals in 38 games in Anfield. The math will propound that Liverpool have finally found their token superstar wing-forward that every championship-winning team in their past featured. Additionally, rolled into one, Mo Salah is also the player Liverpool fans wished Fernando Torres ultimately was.
Speaking of bogs, football, as you know, is a funny game and what's funnier is that Napoli headed into Anfield earlier in the night at the top of the table, but will now find themselves in the downright drudgery of the Europa League, sending dispatches from Azerbaijan or wherever the Danube flows.
The sheer deathly dreariness of the backwaters of Europe inspired Algernon Blackwood to write one of the greatest ever horror novellas, named The Willows. This book described the experience of two men at the mercy of the waters, marooned, directionless in a boat without any paddles. Fitting then, as Napoli will relate to the following lines from the book that made a fledgeling HP Lovecraft pick up a pen:
And, apart quite from the elements, the willows connected themselves subtly with my malaise, attacking the mind insidiously somehow by reason of their vast numbers, and contriving in some way or other to represent to the imagination a new and mighty power, a power, moreover, not altogether friendly to us.
A crowd that intimidates together, wins together. Anfield on European nights in an organism en masse. A 40,000 headed Hecatoncheires cheerleader swaddled in red and white, bringing the noise.
Loud like multiple jet engines in a train tunnel, the travelling Napoli fans were left wondering how they got in there in the first place.
The atmosphere wrapped its invisible tendrils around the composure of a Napoli team who, according to Carlo Ancelotti in the pre-match presser, expected to have more of the possession and dictate the tempo. The unassuming, under-rated combination of Gini Wijnaldum, Jordan Henderson and James Milner sabotaged that like a well-planned Halloween heist from season 3 of the delightful television show Brooklyn 99. In that context, James Milner, I guess, is the painstakingly boring-but-fastidious Amy Santiago. Add up Neymar, Lionel Messi and Luka Modric's assist tally and you'll get the number James Milner has since the start of last season in Europe's elite competition.
Prior to the match, Napoli's Belgian winger Dries Mertens made the blatantly amateur mistake of talking down the Anfield experience, like many in the past have done. Tuchel did it (Dortmund lost 4-3), Nagelsmann did it (Hoffenheim lost 4-2), Carrera did it (Spartak Moscow lost 7-0), Kevin de Bruyne did it (Man City lost 3-2), Neymar did it (PSG lost 3-2). On the night, chants rolling down from the stands lasted longer and had more impact that Dries Mertens' involvement which mercifully little more than an hour.
Joel Matip loomed over Lorenzo Insigne like an iceberg against a dingy. In the dying moments, Liverpool's Brazilian goalkeeper Alisson was called upon. He did his best impression of Cthulhu and positioned himself into enormous proportions. The point-blank thwack from Napoli's Arkadiusz Milik was made to look like a peanut thrown in anger by a Capuchin. If a ball had legs and a tail, the ball bounced off his chest in the manner of the figurative tail between the legs. Even youngster Trent Alexander-Arnold created more chances(6) than the entire Napoli team put together.
Jurgen Klopp in his post-match press conference said, "Thank you, Anfield. It was unbelievable the atmosphere they created. It was just so special. I couldn't be more proud as a manager of a football club. To all the people involved, thank you."
This is a different Liverpool, emboldened by an Emersonian self-belief and maturity, than the ones in the past. This match was a pageantry of positivity, a footballing sermon of affirmations, the force of those songs flooding down turned universe's invisible prayer wheels. Even when Sadio Mane mucked around and missed three sitters, there was a knowing smile on his face and the fans couldn't complain.
Now, Liverpool could potentially face one of Real Madrid, Borussia Dortmund, Bayern Munich, Barcelona or Juventus in the knockout stage. You better believe those opponents want nothing to do with Jurgen Klopp's Anfield. Rest assured. And this is everything that 1-0 scoreline will not tell you.
Sports
They plan to leave the UEFA-sanctioned Champions League and start their new tournament "as soon as possible", with plans for three more founding members to join and five other clubs to be invited annually.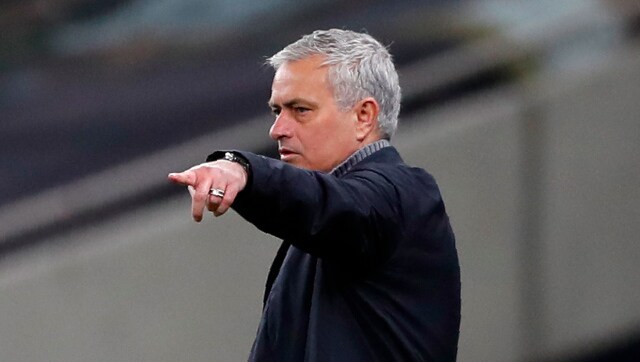 Sports
Tottenham have said that former player and club's academy coach Ryan Mason will take charge of the first team training on Monday.
Sports
"At FIFA, we can only and strongly disapprove the creation of the Super League, of a Super League who is a closed shop, a breakaway from the current institutions, from the leagues, from the associations, from UEFA, and from FIFA," Infantino told a UEFA congress in Switzerland.