Vishy fights back: Anand beats Karjakin to jump back into joint lead in Candidates Chess
With four wins and two losses, Anand is by far the most uncompromising player in the tournament. As three rounds remain at this event, it is going to be a fight between Caruana's youthfulness versus Vishy's experience.
By Sagar Shah, ChessBase India
"Happy Holi, Vishy! Can I put some colour on you?" these were the words with which a little girl approached Anand as he was about to leave the tournament hall at the end of a long day. "Happy Holi to you too, but no colour!" replied Vishy with a smile. After five and half hours of grinding on the chess board and then giving interviews, posing for pictures, signing autographs, and being extremely hungry, the last thing that Vishy wanted to do was to take a shower! Even though Anand avoided getting smeared with colour, he had filled the life of every chess lover in the country with colour on the day of Holi!
On Thursday, Viswanathan Anand beat the leader of the World Candidates Championship, Sergey Karjakin, with the white pieces in the eleventh round in a game that lasted 79 moves. It was another show of endgame brilliance as Vishy squeezed water out of a stone to beat Sergey from an equal endgame. With this win Anand joins Fabiano Caruana in the lead with 6.5/11.
When Anand entered the Central Telegraph Building on Thursday in his yellow shirt and brown blazer, one thing was extremely clear. He meant business. There were absolutely no distractions, no smiles and no talking with others. This was a crucial round for the Indian especially after he had lost the previous game to Caruana. Just like he has done so many times, Vishy once again rose to the occasion. This victory must have been especially sweet for Anand after he had lost to Karjakin in the first half of the tournament.
How does he do it again and again and again? When the question was asked to Anand, he replied: "You just turn up and play! I wish I knew some method!"
Vishy began the game with 1.e4 and Karjakin replied with Berlin Defense. Anand and his second Grzegrz Gajewski had already prepared a new idea on the 10th move itself. It didn't seem like a very promising novelty as soon the queens came off and the rook + opposite coloured bishop endgame looked really quite equal. Many commentators thought the players would soon agree to a draw and go back home for an early dinner. But Anand was in no hurry to end the battle.
As he said after the game, "The position looks innocent but there is some danger as it turned out and I must credit my second Gajewski for showing me that this endgame was not pleasant for black!"
The Indian ace maintained the minute pressure that he had on his opponent and made him think for the important decisions which were not so easy to make. For a long time, black was within the drawing zone but when the players neared the 40th move Karjakin was already under severe time trouble. It was exactly at this moment that Anand accelerated the tempo.
The Russian made some crucial mistakes and Vishy jumped on the opportunities presented to him. He was sharp and made no real errors. His technique was excellent and he experienced not so many difficulties to convert the endgame.
Play through the entire game with analysis by the author on a Javascript-enabled replayable chess board.
Anand is associated with the swashbuckling style of attacking and aggressive chess. He likes to sacrifice pieces and calculate sharp accurate variations. However in this tournament he has already played two slow endgame grinds which would have made players like Rubinstein, Capablanca and Smyslov happy had they been around!
With four wins and two losses, Anand is by far the most uncompromising player in the tournament. As three rounds remain at this event, it is going to be a fight between Caruana's youthfulness versus Vishy's experience.
While the young guys are already feeling fatigued and making mistakes, 46-year-old Anand looks fresh as ever. Great stamina! Tomorrow he takes on Hikaru Nakamua with the black pieces in the twelfth round. This is how the standings look currently:
Fabiano Caruana 6.5/11
Viswanathan Anand 6.5/11
Sergey Karjakin 6.0/11
Peter Svidler 5.5/11
Levon Aronian 5.5/11
Anish Giri 5.5/11
Hikaru Nakamura 4.5/11
Veselin Topalov 4.0/11
The tournament is shaping up really well. Theoretically six players have chances to win the title. Catch all the action live at 5.30 p.m. IST over here.
Sports
Nikhil Kamath had taken the 'help' of chess analysts and computers to get the better of Anand, a five-time World Champion, during the event.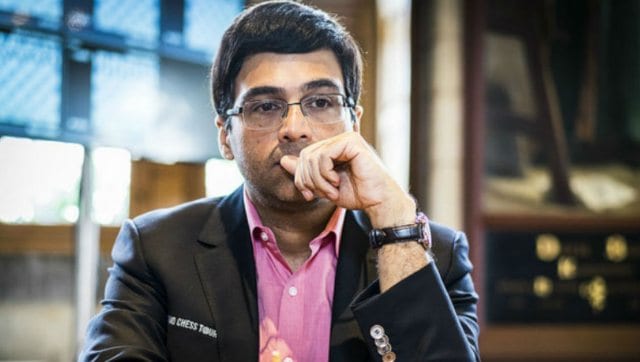 Sports
"I had help from the people analysing the game, computers... In hindsight, it was quite silly," tweeted Zerodha co-founder Nikhil Kamath after "beating" Viswanathan Anand in a charity chess match on Sunday