Bundesliga: Under-pressure Bayern Munich manager Niko Kovac unconcerned about future ahead of must-win clash against Wolfsburg
Niko Kovac cut a relaxed figure in Friday's press conference despite Bayern Munich's difficulties that have seen them drop to sixth in the Bundesliga table.
Berlin: Bayern Munich coach Niko Kovac says the German champions must stick to their guns at Wolfsburg on Saturday if they are to break their four-match winless streak and get back into the Bundesliga title race.
Kovac cut a relaxed figure in Friday's press conference despite his side's difficulties that have seen them drop to sixth in the table — an unacceptable position for Bayern's senior figures.
Four teams and four points stand between sixth-placed Bayern and current league leaders Borussia Dortmund.
Having won his first seven games as head coach, Kovac has suffered back-to-back defeats in Bayern's last two league games and must stop the rot at mid-table Wolfsburg.
"The fact is the results are not OK. The last four games have not gone as we had imagined they would," he said.
"We had just as many chances in the last four games as we had in the first seven matches, the difference was that we didn't take them.
"Only the results have changed, the atmosphere in the team is positive, the working atmosphere is very good.
"Everything isn't as dark as it's being painted, just as things weren't as rosy as they were made out when I started."
Kovac is beginning an important seven days.
After the trip to Wolfsburg, Bayern travel to play Greek side AEK on Tuesday in the Champions League, having drawn their last European game at home to Ajax, then face Bundesliga mid-table side Mainz away.
Three wins would drastically change the situation and ease the pressure on Kovac.
Bayern chairman Karl-Heinz Rummenigge used a separate press conference on Friday to attack the German media for criticising the club's star-studded squad.
However, Kovac said he had ignored any negative headlines and was focusing on his job.
"I really haven't read anything and I'm fine with that, I do not know what has been written, I'm assuming it's all been good," said Kovac with a smile.
"You can not defend yourself against rumours and untruths.
"In the first games everything was great, suddenly everything is not quite how it should be.
"When things don't go well, you don't flip everything on its head, that's just a knee-jerk reaction.
"We have to stick to our guns, it doesn't help to throw everything overboard and start new again."
Kovac now has all his stars back from international duty.
Germany defender Jerome Boateng and midfielder Leon Goretzka should be fit to face Wolfsburg after picking up knocks, while attacking midfielder James Rodriguez only returned on Thursday after Colombia's win over Costa Rica.
"Everyone is there," said Kovac.
"James had a transatlantic flight, he is a bit tired, but I think he'll be fit for the weekend."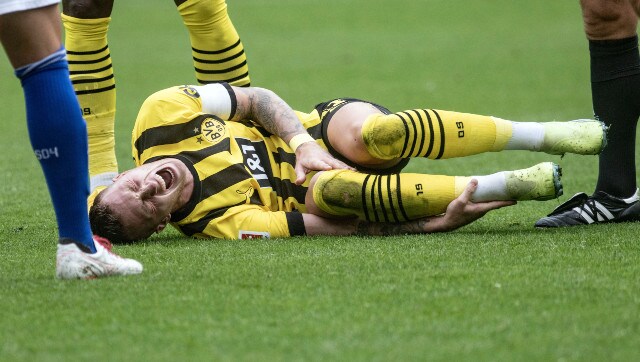 Football
Reus was taken off on a stretcher in the first half of Dortmund's Ruhr derby against Schalke on Saturday with what looked like a serious ankle injury.
Football
Bayern have now won their last five meetings with Barcelona, including two in last season's group stage and their 8-2 victory in the 2020 quarter-finals.
Football
With the last kick of the game, Caci's strike — the first home goal of the season for Mainz — snared his side a valuable point.