Bundesliga: German defender Jerome Boateng wants talks with Bayern Munich top-boss after failed PSG move
Jerome Boateng has asked to speak with Bayern Munich bosses Karl-Heinz Rummenigge and Uli Hoeness about his failed move to Paris Saint-Germain in the summer.
Berlin: Germany defender Jerome Boateng wants clear-the-air talks with Bayern Munich bosses Karl-Heinz Rummenigge and Uli Hoeness after his proposed transfer to Paris Saint-Germain fell through.
"I think we should talk again in the near future — that's what we have set out to do — it's important for me to make it clear once again that I'm fully focused on FC Bayern," Boateng told the Munich-based newspaper Sueddeutsche Zeitung.
"And on the other hand, I don't think it's nice when things are said about me everywhere and then you do not get any public support from the club," Boateng added.
In the close season, both Rummenigge and Hoeness said Boateng could leave for the right price. The centre-back was annoyed when Bayern chairman Rummenigge first fuelled rumours of a possible switch to PSG on the eve of the World Cup, where Germany crashed out after the group stage.
The defender admits joining Paris was "a concrete option" and even talked with PSG head coach Thomas Tuchel about a move, but the deal reportedly collapsed because of Bayern's asking price for Boateng, who has a market value of around 45 million euros ($52.6 million). Instead, PSG last month signed Germany Under-21 centre-back Thilo Kehrer from Schalke for a reported 37 million euros.
The 30-year-old, set to play at Benfica on Wednesday in Bayern's opening Champions League group match, has also bemoaned a lack of support from the club's senior bosses in the wake of Germany's World Cup disaster.
In 2016, Rummenigge publicly accused Boateng, who was voted man of the year in Germany by GQ magazine that year, of focusing more on fashion than his football. Like many of his senior Germany team-mates, Boateng was heavily criticised following Germany's disastrous World Cup campaign.
Negative comments were even made because he wore sunglasses in the stands while suspended for the defeat to South Korea, which sent Germany home early from Russia, and he would have welcomed support from Rummenigge and Hoeness, Bayern's president.
"What really bothered me were some of the statements right after the World Cup," said Boateng, adding, "that was almost funny. It was said that I was not fully focused, because I wear earrings and wore sunglasses during the South Korea match when the sun was shining.
"In 2014 (at the World Cup in Brazil), I also wore sunglasses and earrings, but I didn't read anything about that. It's incomprehensible to me. As a player you would sometimes want a bit more public backing," said Boateng.
He says he has the backing of Bayern head coach Niko Kovac, but does not feel the same support from Rummenigge and Hoeness. "I do not know where the problem lies," he said, adding, "perhaps because I have a different image and different interests to the others, that is legitimate, I think."
Boateng also criticised his Germany team-mates, who did not publicly support Mesut Ozil before the Arsenal midfielder retired from international duty last month. Ozil walked away from the Germany squad in July, claiming he was made a scapegoat for their failure at the World Cup, and cited "racism and disrespect".
Boateng, one of the few German players to speak up for Ozil, says others should have supported him in the backlash of harsh criticism following the World Cup debacle. "Where were the players, who then publicly thanked Mesut?" questioned Boateng.
"Apparently, many did not dare to comment because they thought that would not be so popular with German fans. It's about a great player, who became world champion with us, who played fantastic games, who also changed German football a bit. A number 10 with a migration background! You have to say 'thank you', but I find it a shame that some held back," said Boateng.
Football
A Brazil judge will now decide whether Robinho's nine-year rape sentence, handed down by an Italian court, can be served in the South American country.
Football
Indian football team received a boisterous welcome at the Khuman Lampak Stadium ahead of their first match ever in Manipur.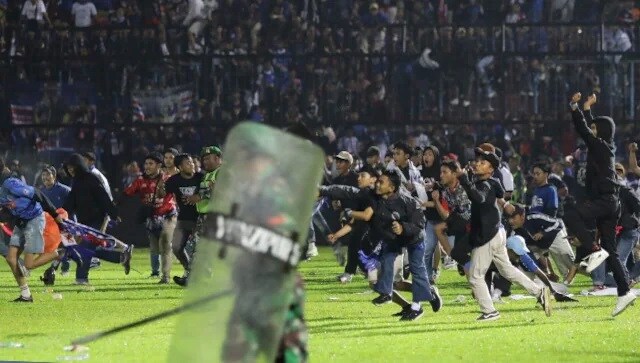 Football
Last year's crush in the city of Malang killed 135 people — including more than 40 children — after a 3-2 defeat for Arema FC by their fierce East Javan rivals Persebaya Surabaya.