British tennis player Dan Evans dumped by sponsor Ellesse after testing positive for cocaine
Dan Evans was suspended after admitting last Friday he had failed the test at the Barcelona Open in April.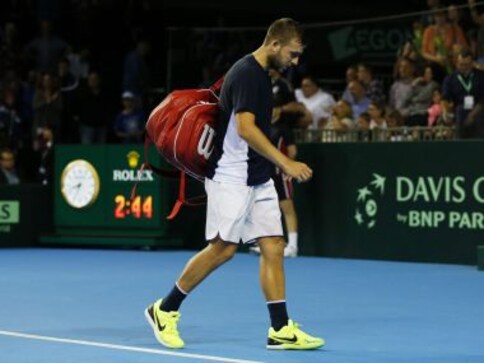 London: Britain's tennis World No 50 Dan Evans testing positive for cocaine has cost him a lucrative sponsorship deal with Italian sportswear firm Ellesse who terminated their contract after just three months.
The 27-year-old — whose natural talent has been marred by off the court controversies throughout his career — is suspended after admitting last Friday he had failed the test at the Barcelona Open in April.
Ellesse, who stepped into the breach in March when Nike opted not to renew their sponsorship deal, issued a statement announcing the end of their association.
It will cost the Englishman — who started the year in fabulous fashion reaching his first ATP Tour final in Sydney and then beating Croatian star Marin Cilic and home hope Bernard Tomic on the way to the last 16 at the Australian Open — according to the media tens of thousands of pounds a year.
"Ellesse announces, with regret, the decision to end its sponsorship of Dan Evans," read the statement.
"Dan has shown great promise on the court and has been a valued member of the Ellesse team, however we cannot condone the lifestyle choices he has made and are therefore withdrawing his sponsorship."
Evans is yet to be officially sanctioned by the sport's governing body International Tennis Federation but remains suspended until they hand down their punishment.
Evans — who has twice been stripped of his Lawn Tennis Association (LTA) funding for staying out late and then for his attitude — said in his defence last week he had taken it out of competition but admitted he had let a lot of people down including his family.
He is not the first tennis player to test positive for cocaine.
Swiss legend Martina Hingis tested positive at Wimbledon in 2007 and was subsequently suspended for two years.
Richard Gasquet had been issued with the same suspension in 2009, but it was reduced to a little more than two months when the ITF's tribunal panel ruled the Frenchman had taken the substance inadvertently.
Tennis
Last year five tournaments staged by UK's Lawn Tennis Association (LTA), including Wimbledon, banned Russian and Belarusian players.
Tennis
Spanish teenager Alcaraz cruised past Russian Daniil Medvedev in Sunday's final to retake top spot from Novak Djokovic who was missing Indian Wells due to being unvaccinated against Covid.