British police say football child sex scandal may affect 98 clubs, identify 83 potential suspects
British police investigating allegations of child sex abuse at football clubs said they had identified 83 potential suspects and possible links to 98 clubs.
British police investigating allegations of widespread child sex abuse at football clubs dating back to the 1970s said on Friday they had identified 83 potential suspects and possible links to 98 clubs, including some from the Premier League.
Police forces across the country launched inquiries after former player Andy Woodward revealed he had been abused as a boy by a youth team coach, prompting other ex-professionals to come forward with more allegations.
The National Police Chiefs' Council (NPCC) said 639 referrals had been made to officers from a helpline set up by the National Society for the Prevention of Cruelty to Children charity, involving about 350 potential victims.
"Allegations received by police forces across the country are being swiftly acted upon," said Chief Constable Simon Bailey, the NPCC lead for child protection.
"We are also liaising closely with the Football Association to ensure all relevant information they hold is shared to inform investigations moving forward."
The harrowing tales of abuse suffered by the former players, some of whom have broken down in tears in television interviews, have shocked Britain. They raise questions about the scale of the problem, how much clubs and football authorities knew, and whether they tried to cover it up.
English football's governing body, the Football Association, has launched an internal review into what it admitted could be one of the sport's biggest crises, and promised to fully publicise its findings.
The NPCC said not all the 98 clubs whose names were mentioned to the police were under investigation. "The figure spans all tiers of football, from premier clubs through to amateur," it said in a statement. It added that 98 percent of the victims were male, aged between seven and 20 at the time.
The football abuse revelations are the latest in a series of paedophile scandals to have hit Britain in recent years.
Victims said the scale of wrongdoing was likely to be worse than in the case of TV star Jimmy Savile, a cigar-chomping BBC television host who abused hundreds of youngsters over six decades until his death in 2011.
Sports
Fulham's defeat also meant all three relegation places were decided with at least three games to go, ensuring there would be no last-day drama in the battle to beat the drop.
Sports
City have claimed the trophy with three games to spare, capping a remarkable surge to the silverware in the second half of the season.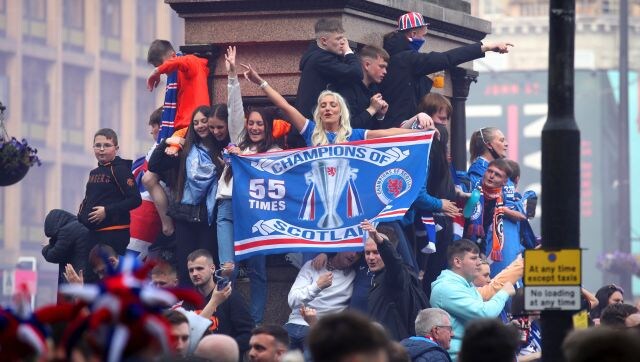 Sports
Fans ignored pleas from the club and government to disperse as they then marched from Ibrox into Glasgow city centre.