Brendon McCullum speech: Wake-up call for 'casual' ICC in curbing corruption
ICC's defence that leaks about the match-fixing trial were not from its end notwithstanding, Brendon McCullum's observation regarding the entire issue was scathing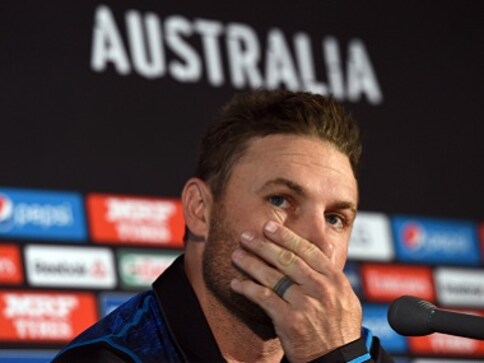 It's the dreaded 'F' word all over again. Brendon McCullum spoke of match-fixing at the MCC Spirit of Cricket Cowdrey Lecture at Lord's earlier this week. The former New Zealand captain's scathing criticism of the manner in which the apex body handled the match fixing saga sent the International Cricket Council (ICC) into a tizzy, with its minders scurrying around with assurances and reassurances in a desperate attempt at damage control.
Spot-fixing and match-fixing are both blots on the fair name of cricket, and have been around for quite some time now. Old-timers speak in hushed tones of dark episodes during the 1970s and 1980s. But it was in the 90s and later that fixing reached stratospheric levels.
The surge in fixing during this period was traced to US finance regulators' lock-down of the Pakistan-based Bank of Credit and Commerce International, then the seventh largest private bank in the world with hundreds of branches across the globe. The bank, accused of money laundering and racketeering, went under and, with it, the entire life savings of many Pakistani cricketers was wiped out.
They had parked with the bank all the money earned from county cricket, winnings and incentives from the 1992 World Cup triumph and the never-ending stream of monetary gifts from Pakistani expatriates in the Gulf following Sharjah victories over India. Its collapse ruined them financially and drove them crazy before shady underworld characters latched on to the opportunity and coached them the ways and means of recouping the loss. Many Pakistani cricketers clutched onto the straws thrown to them and match-fixing thus became synonymous with Sharjah.
Later, as the fixers became bolder and greedier, Pakistani cricketers introduced them to their counterparts from India, South Africa, Australia, England, Sri Lanka and West Indies. The fact that more than 20 cricketers from these countries copped some ban or the other is proof of how widespread the rot ran.
Salim Malik, Mohammed Azharuddin and Hansie Cronje were three high-profile skippers of their national sides who were all banned. However, in 2012, the Andhra Pradesh High Court termed the life-time ban imposed upon Azhar by the BCCI as "unsustainable" and lifted it.
But what shook the cricketing world to its very core was Cronje's death in a plane crash in 2002. The former South African skipper was singing freely of the underworld and its connections with cricketers and his untimely death not only hit investigations but also made many wonder if the incident was not deliberately arranged by a spooked underworld.
If Cronje's sudden death shocked the game's administrators, it was the death of Pakistan's coach Bob Woolmer during the 2007 World Cup in West Indies that truly sent alarm bells ringing across the sports world. The general opinion was that he was silenced by the underworld who feared that he had learnt more than a thing or two about their game and was about to blow the whistle. These two deaths underscored the fact that nobody was safe from the vengeful reach of the underworld.
So when McCullum lashed out at the ICC's lack of professionalism and failure to maintain confidentiality, the game's administrators must accept the criticism and work out ways and means to plug leaks and give whistle-blowers foolproof protection.
One has only to imagine McCullum's apprehension when his revelations about Chris Cairns' approach to tank a match on two occasions found its way into the Daily Mail the following day. McCullum was one of two players — the other being Lou Vincent — to testify against Cairns, whom he accused of approaching him twice to rig games in 2008 and telling him that "everyone else was doing it in world cricket".
On Monday, McCullum criticised what he described as "a very casual approach to gathering evidence" by the ICC investigator John Rhodes when taking down his initial statement, as highlighted by both the need for a second account of events two years later and a subsequently more thorough approach by the police. "I think players deserve better from ICC and that in future the evidence-gathering exercise has to be much more thorough, more professional," he had said.
He added that seeing his account at the hearing in the newspapers the next day caused him personal distress. "To report an approach and to give evidence requires considerable courage; players deserve much better. How can the game's governing body expect players to cooperate with it when it is then responsible for leaking confidential statements to the media?" he asked.
"It goes without saying that if players do not have confidence in the organisation, they will be reluctant to report approaches and the game is worse off. If we are to get rid of the scourge of match-fixing, a robust governing body is essential," McCullum said.
ICC's defence that the leak was not from its end notwithstanding, McCullum's critical observation of the entire handling of the Lou Vincent saga was also scathing. "If players provide the game with a rare and critical insight into the workings of this pernicious influence, then there must surely be something that can be done beyond giving them the maximum ban available," he said.
"I have no doubt that the ECB's severe punishment (a life ban following his confession) has robbed the game of a golden opportunity to have him provide education to players, something I feel could have made a difference in the future. Further, it ignored his extreme vulnerability in a callous way," he added.
That stinging last sentence itself is enough to discourage every potential whistle-blower. ICC and its affiliated units need to do better. The game demands no less.
Find latest and upcoming tech gadgets online on Tech2 Gadgets. Get technology news, gadgets reviews & ratings. Popular gadgets including laptop, tablet and mobile specifications, features, prices, comparison.
First Cricket News
Afghanistan became part of the ICC 16 years ago, produced some fine wins in limited-overs cricket, and won two of the four Test matches they have played so far.
First Cricket News
According to a media release issued on Monday, Ganguly also said that young players were eagerly looking forward to playing in the hallowed cricket ground where greats like Sunil Gavaskar and Sachin Tendulkar wrote history.
Sports
"Never again. Never again corruption in football," said Infantino, who is himself under investigation in Switzerland over meetings he had with then-attorney general Michael Lauber.