Brazilian Grand Prix: Lewis Hamilton 'hunting' fourth world title, issues warning to Nico Rosberg
Lewis Hamilton warned Nico Rosberg he was 'hunting' a fourth world title, after describing his Brazilian GP one as one of the easiest of his career.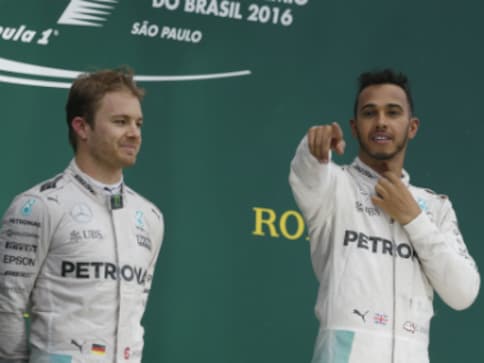 Sao Paulo: Lewis Hamilton warned Nico Rosberg he was "hunting" a fourth world title after describing his stunning triumph in Sunday's wet and chaotic Brazilian Grand Prix as one of the easiest of his 52 career victories.
The 31-year-old Briton won in Brazil for the first time at the 10th attempt to complete a hat-trick of consecutive wins and keep alive his championship defence, taking the title battle down to the wire at the final race, the Abu Dhabi Grand Prix on 27 November.
"I'm hunting and all I can do is what I am doing," said a delighted Hamilton, who trails his Mercedes team-mate and championship rival Rosberg, who finished second on Sunday, by 12 points with one race remaining.
"The team have given me a great car and finally the reliability has been good. Right now, I am living in the moment.
"This was my dream when I was five or six, watching Nelson (Piquet) and Ayrton (Senna) race. It was one of my easier races, I didn't have any spins, any moments. It was pretty straightforward."
His 52nd win from his 60th pole position lifted Hamilton one clear of four-time champion Alain Prost in the record books, leaving only one driver ahead of him with more wins –- seven-time champion Michael Schumacher on 91.
Knowing he had to win to keep his title challenge alive, Hamilton -– his racing helmet redesigned in tribute to Senna -- drove with supreme concentration to claim a flawless victory in a dramatic race littered with accidents and stoppages amid the rainstorms.
"Not too bad," he said, with deep irony. "I want to say a big thank you to the fans here, that was a long, long race.
"I appreciate all the support and they are so welcoming to us here. I was generally just chilling up front and when it rains it is usually a good day for me."
He added: "A big thank you to my team. We are creating history. It is just incredible and I am so proud to be part of it.
"No mistakes, no dramas, no spins. It was interesting to hear how many spins there were behind me!"
'Horrific conditions'
Hamilton said he felt so comfortable during the incident-filled race that he was able to watch many of them on the big screens that relayed coverage to the fans around the Interlagos circuit.
That included Dutch teenager Max Verstappen's charge from 16th, after a late pit stop for fresh wet-weather tyres, to third and a place on the podium.
Verstappen's race included one amazing half-spin when he saved his car from hitting the wall with a phenomenal demonstration of skill and bravery.
Rosberg, who at that time was third behind him and had a perfect view, said: "I arrived on the straight and saw him pointing 90 degrees towards the wall. I was thinking 'what the hell!'"
Rosberg, who survived a half-spin of his own, added: "It was on the limit today, with the rain and the decisions, but I think they got it right. It didn't go my way. Lewis did a great job, it was very difficult conditions, but I can live with second place."
Verstappen's audacious and confident drive stunned his Red Bull team and his father Jos, who started 106 races in his own F1 career.
"I have never seen something like this, he has surprised even me," said Verstappen Snr.
"I have seen many races he did, but today it was incredible. He did himself proud today. It is what we want to see more of in F1."
His Red Bull team chief Christian Horner called it "one of the best drives I've seen in F1".
"He was absolutely fearless in pretty horrific conditions. It was an amazing drive and he deserved that podium and the reaction from the crowd," he added.
Sports
After victory in a crushing Red Bull one-two at the season-opening Bahrain Grand Prix, Verstappen leads the drivers' championship ahead of team-mate Sergio Perez
Sports
Verstappen topped the times for Red Bull ahead of Fernando Alonso in Friday's second free practice at this weekend's Saudi Arabian Grand Prix.
Sports
After his surprising podium finish in Bahrain, the 41-year-old Fernando Alonso has played down high expectations of a repeat