Brazil superstar Ronaldinho brands news reports that he will marry two women at same time as the 'biggest lie'
Brazilian great Ronaldinho has denied reports that he will marry two women at the same in a ceremony in August this year.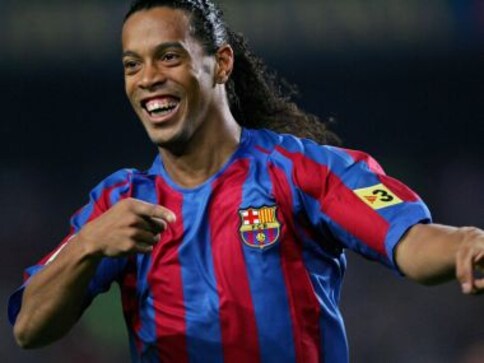 Brazilian great Ronaldinho has denied reports about him marrying two women at the same ceremony in August this year.
On Thursday, Brazil's O Dia reported that the former Barcelona ace could tie the knot with his two 'fiancees' Priscilla Coelho and Beatriz Souza at a private ceremony inside the Santa Monica condominium, in the upmarket Barra da Tijuca district in Rio, where he has lived since 2015. However, Ronaldinho has said that the news is nothing but a lie.
"It's the biggest lie. I'm not getting married," he told Globo Esporte, when asked about the rumours at a music event in Rio de Janeiro.
According to the Daily Telegraph, the two women are said to have been living harmoniously with Ronaldinho since December at his $9 million Rio de Janeiro mansion.
Both Priscilla and Beatriz hail from Belo Horizonte, the city where Ronaldinho played with Atletico Mineiro for two years, leading the club to their first Copa Libertadores crown in 2012.
Although Ronaldinho has never publicly confirmed his relationship with the women, friends of the star reportedly treat them both as his fiancees.
Interestingly, Ronaldinho gifts exactly the same presents at the exact same time, apart from an identical 'allowance' of £1,500 which they can spend as they want. Reports also state that he recently bought them the same perfume during a trip to abroad together.
However, it was also reported that the 38-year-old's sister Deisi is against her brother's polygamy and won't be attending the so called ceremony.
Like many countries, Brazil outlaws bigamy and polygamy but civil unions between more than two people are not unheard of. In 2012, a man and two women in Sao Paulo state became the country's first three-person civil union. Three women in Rio had their union recognised in 2015.
Ronaldinho made 145 appearances for Barcelona, scoring 70 goals. He won two La Liga titles, two FIFA World Player of the Year awards, a Champions League trophy and a Ballon d'Or.
Sports
Klopp's Reds will face seven-time European champions AC Milan, Spanish league title holders Atletico Madrid and 2004 Champions League winners Porto in a daunting Group B.
Sports
Ronald Koeman is adamant Barcelona will be better soon but he heads to Granada in La Liga on Monday under pressure, with his team accused not just of losing but of losing their identity.
Sports
The team was jeered by many of the 27,000 fans at Camp Nou Stadium after the final whistle, and it didn't take long before critics started to attack coach Ronald Koeman for relinquishing the club's traditional passing game.