Birmingham Classic: Petra Kvitova wins opening match against Tereza Smitkova, raises hopes of comeback success
Petra Kvitova will not consider this a step towards an attempt on a third Wimbledon title just yet.
Birmingham: Two-time Wimbledon champion Petra Kvitova made a winning return to grass with a 6-2, 6-3 victory over her fellow Czech Tereza Smitkova to move into the second round of the WTA tournament in Birmingham.
But Kvitova will not consider this a step towards an attempt on a third Wimbledon title just yet.
Far more importantly it continued to raise hopes that, after the injuries inflicted upon her left hand by an intruder in her home with a knife, she might yet regain many of her impressive attacking qualities.
At the age of 27, and after six months on the side-lines, this was only her third comeback match, but there were moments when Kvitova struck the ball as well as ever.
There were also mistakes, but these became fewer and less worrying the longer the match went on.
Kvitova had come away from her comeback tournament, the French Open where she won only one match, with an empty feeling.
Now she was happy, she said, an emotion she apparently generated in others, particularly when the music which signalled her capture of the first set was allowed to continue so long that it delayed the second set by a minute.
"I love to be playing on grass, I have to be glad I am playing the game I love again, and yes, I am happy with the way I am playing," she said. "I hope my coaches are too.
"Of course I still have to be careful about things. I don't want to get inflammation," she said of the injuries which apparently included damage to all five fingers and two tendons.
"I came here early to practise and try to do the right things.
"I've missed the fight and the adrenaline. I don't miss the nerves – I am always very nervous."
This may well account for an indifferent start which saw her go 3-1 up when she might have gone 3-1 down.
She saved a break point in the third game with a brilliant but risky drop shot, and saw Smitkova three times have points to hold her next service game only to lose it with a second serve which leapt off the net cord and out of court.
That seemed to change everything. Kvitova played three great points to go 4-1 up and then produced three brilliant forehand drive winners to break serve again.
Smitkova, only a lucky loser from qualifying but who once reached the fourth round of Wimbledon, showed that she too prefers this surface more than any other, hitting some rousing ground strokes and finding some good angles as the second set went on.
But by now Kvitova was playing with a better rhythm and more confidence and coming to the net more often.
She ended, suitably, with an ace, and plenty of applause.
The world number 16 next plays Naomi Broady, a British wild card, and if she survives again, may have a quarter-final with the fifth-seeded Frenchwoman Kristina Mladenovic, who ended the French Open title defence of Garbine Muguruza in Paris two weeks ago.
Sports
World number eight Berrettini picked up the injury in London where he became the first Italian to reach a Wimbledon singles final, losing in four sets to Novak Djokovic.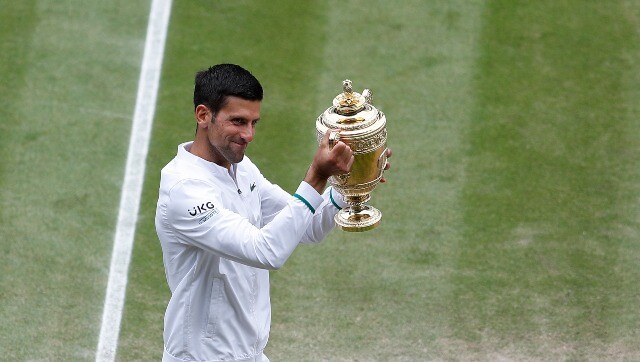 Sports
Djokovic, who has already pocketed the Australian and French Opens as well as Wimbledon, is almost 2,000 points ahead of Daniil Medvedev who remains at number two.
Sports
A sixth victory at the All England Club for Djokovic, who was playing in his 30th final at the Slams, added to his nine Australian Opens, two Roland Garros titles as well as three at the US Open.