Birmingham Classic: Garbine Muguruza survives scare in first round, Dominika Cibulkova knocked out
It had taken Muguruza four or five days to start afresh after her loss in Paris to Kristina Mladenovic in an atmosphere that had caused her to make strong criticisms of the hostile crowd.
Birmingham: Former Wimbledon finalist Garbine Muguruza suffered a scare before taking the first early steps that may help her forget her ordeal in losing her French Open title 10 days ago.
The sixth seeded Spaniard was at times in serious difficulties during her survival by 6-3, 3-6, 6-4 against Elizaveta Kulichkova, a Russian qualifier, in the first round of the Aegon Classic, a Wimbledon warm-up tournament.
Kulichkova is slender of build but packs a tremendous wallop with her ground strokes on both sides, and had also had three qualifying matches to help her get used to the grass.
She frequently forced Muguruza to scramble and plunge in different directions, unable to impose her elegant game on the rallie. When Kulichkova broke back in the final set with a chance to serve for 5-5 the match could have gone in any direction.
"I often felt like a rookie out there," admitted Muguruza. "It was like a cat fight. She's very powerful, but I kept my concentration and spirit and I turned things around."
It had taken Muguruza four or five days to start afresh after her loss in Paris to Kristina Mladenovic in an atmosphere that had caused her to make strong criticisms of the hostile crowd.
She claims she has put it behind her, but allowed herself one more comment on her trauma on her arrival here. "Tennis matches should not be like football," she said. "People should be respectful."
Muguruza does though believe she is a better player than when she reached the Wimbledon final two years ago. "I am much more experienced and less emotional," she reckoned.
"Before I was super-hyped, but now I am more comfortable with situations. They don't take me by surprise now. I expect things more than before."
She next plays Alison Riske, the World No 45 from the United States who is at her best on grass, and has previously reached the semi-final of this tournament.
Earlier Kvitova, the two-time Wimbledon champion, made a winning comeback to her beloved grass with a 6-2, 6-3 2 win over her fellow Czech Tereza Smitkova.
Not that Kvitova will consider this a step towards an attempt on a third Wimbledon title just yet. More importantly it continued to raise hopes that after the much-publicised injuries inflicted upon her left hand by an intruder in her home she might yet regain many of the qualities her impressively forthright game.
At the age of 27, and after six months on the sidelines, this was only the third match in her comeback, but there moments when Kvitova the ball almost as well as ever. There were also mistakes, but these became fewer and less bothersome the longer the match went on.
Kvitova had come away from her comeback tournament, the French Open where she won only one match, with an empty feeling. Now she was happy, she said, an emotion apparently shared by others, particularly when the music signalling her capture of the first set was left on so long that it delayed the onset of the second by an entire minute.
"I love to be playing on grass, I have to be glad I am playing the game I love again, and yes, I am happy with the way I am playing," she said. "I hope my coaches are too.
"Of course I still have to be careful about things. I don't want to get inflammation," she said of the damage which apparently included damage to all five fingers and two tendons. "I came here early to practise and try to do the right things.
If Kvitova has recovered enough of her former brilliance to reach the semi-finals, her path will have been smoothed by the exit of another top 10 player in her half.
This time it happened with a defeat, not one of the tournament's many withdrawals, with the third-seeded Dominika Cibulkova failing to convert two second set match points and losing 5-7,7-6(9-7), 7-5 to Lucie Safarova, the former top 10 Czech.
Cibulkova also broke serve to lead 4-2 in the final set, but Safarova broke back by valiantly running down a tight drop shot and putting the resulting shot away at the net.
She also appeared to finish the physically the stronger of the two, for the hard-working Cibulkova made three uncharacteristic ground-stroking errors in her final service game and it cost her the match.
Sports
Djokovic will move level with Roger Federer and Rafael Nadal on career majors with victory and also go three-quarters of the way to the first calendar Slam in more than half a century.
Sports
World number eight Berrettini picked up the injury in London where he became the first Italian to reach a Wimbledon singles final, losing in four sets to Novak Djokovic.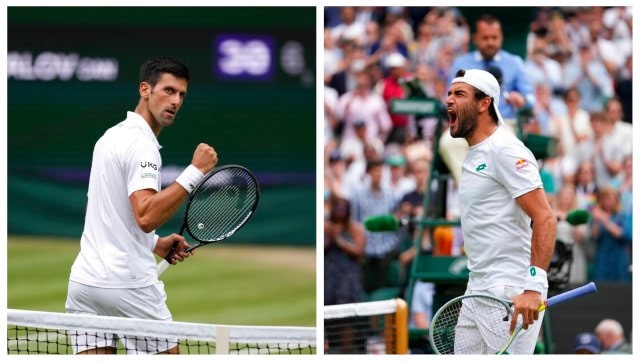 Sports
Catch all the latest updates and check out the live score from the Wimbledon men's singles final on Firstpost.com's LIVE blog.