Biel Chess Festival: P Harikrishna's 3rd place finish no mean feat, but errors at crucial moments still a bane
If Harikrishna keeps getting regular invitations to the top tournaments, and keeps weeding out errors, there is absolutely no reason why he shouldn't be giving the top players a run for their money.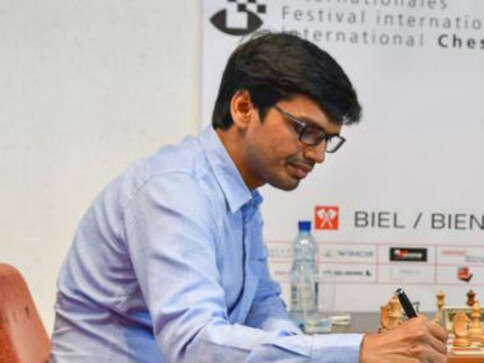 The Grand Master tournament of the Biel Chess Festival featured an eclectic field of participants in its Golden Jubilee edition. In the mix were names like the Czech number one, David Navara; former FIDE world champion, Ruslan Ponomariov; and world's highest rated woman player, Hou Yifan. India's frontman at the event was the Guntur-born Grand Master, Pentala Harikrishna.
Harikrishna had put up a reasonably good show in his last tournament, the Geneva Grand Prix, only to falter at the later stages. In Biel too, he did not fail to impress. The Indian ace was on an unbeaten run, having won three and drawn five of his eight games, and was leading the tournament with Hou Yifan after the penultimate round.
However, just like in Geneva, Harikrishna fumbled at a crucial moment in the tournament and missed out on winning the title prize. In the final round, he failed yet again to convert his tournament lead into a title prize as he blundered right out of the opening and suffered his only loss of the tournament against Etienne Bacrot.
When the curtain rose, Harikrishna was seen struggling against much lower rated opposition. In the first two rounds, he drew against two lower rated opponents - Rafael Vaganian and Nico Georgidias. It was not the best of starts, but Harikrishna compensated for it with a brilliant game in the third round against Alexander Morozevich. The latter is known to be one of the most original thinkers in the modern era of chess. Even the greats of the game have great respect for him. To match such a player in calculation and complicated moves was a great effort by Harikrishna. Although the game ended in a draw, one could already sense that Harikrishna was coming back in form. After the game, the tournament's official commentator, Grand Master Daniel King said, "Although Harikrishna has had three draws so far, if he shows that kind of calculating form, I think we could be seeing him storming through in the tournament."
And boy, was he right! In his very next game, Harikrishna demolished the Norwegian International Master Noel Studer in round four and Hou Yifan in the sixth round. This was Hou's only loss of the tournament. With a win in the penultimate round against Ponomariov, Harikrishna made sure that he had a shot at the title and was leading the tournament with Hou going into the final round.
The stage was set. This was Harikrishna's chance to not only win the title but also finish with an undefeated score at such a high profile tournament. He was paired against the Frenchman, Bacrot. Harikrishna had white pieces. He put faith in the Italian System yet again. Of course, it is a strong opening and white generally gets a small but stable advantage by playing it.
More importantly, Harikrishna had played this opening before on several occasions. Maybe it just wasn't Harikrishna's day. Right after the opening phase of the game was over, on move 21, he made an inexplicable blunder and lost his game. On the other hand, his rival, Hou, made the most of her opponent's inaccuracies and won her game in style and became the champion of Biel Chess 2017. Harikrishna's opponent, Bacrot, who was a point behind him before the round, also jumped past Harikrishna by half-a-point and took the second place while the Indian ace had to be content with the third place.
Third place is by no means a bad result. But given that he had the chance to grab the title; it is unfortunate that Harikrishna had to miss out on winning such a prestigious event. While beating Levon Aronian was sheer genius in the Geneva Grand Prix, losing to Li Chao only shows that Harikrishna is still unable to provide a clean and flawless tournament.
Within less than a month's time, he will be playing at the Chess World Cup in Tbilisi, Georgia where players like Magnus Carlsen and Viswanathan Anand have confirmed their entries. With his performances in Geneva and Biel, Harikrishna has more than proved his capability to take on the best in the world. But it is also seen that he can falter at crucial moments.
Harikrishna currently has a rating of 2741 and is ranked 22 in the world. In December 2016, he had reached a career high Elo of 2770 and was world number eleven. Since the last eight months, he has lost 30 Elo points. Losing and gaining Elo is quite common in chess, however, 30 Elo points is a significant amount of rating and the very fact that Harikrishna has not been able to maintain his Elo at the 2770 mark shows that he is yet to stabilise among the world's top ten.
The natural question on the mind of every Indian chess fan is whether Harikrishna can ever take the spot of Anand as the best Indian chess player. Age is on his side. Harikrishna is 31 years old while Anand will turn 48 this December. However, the consistency is still missing in Harikrishna's game. Currently he is going through the phase of gaining exposure of playing against the best players in the world regularly. The India number two has just played 20 games against 2800+ opponents in his career. Compare this to Anand who has played well over 200 duels against the best in the world, and the difference between the two becomes clear.
If Harikrishna keeps getting regular invitations to the top tournaments, and he keeps weeding out errors from his game, there is absolutely no reason why he shouldn't be giving the Carlsens, Aronians, and Fabiano Caruanas a run for their money. For many players who are stuck in the 2680-2700 zone, Harikrishna is an inspiration. The way he jumped from 2700 to 2770 and broke into top ten of the player rankings is displays his genius. We only have to now see whether he can take the final leap of breaking into the 2800 Elo zone. It's not going to be easy, but one can be sure that Harikrishna has it in him to push his limits.
Aditya Pai is an Editor at ChessBase India.
Subscribe to Moneycontrol Pro at ₹499 for the first year. Use code PRO499. Limited period offer. *T&C apply
First Cricket News
Another source said that all the other players will undergo COVID-19 tests on Tuesday with the results coming by evening. Bihar has sent 22 players for testing.
Sports
Deepak, also a 2019 India Open gold-medallist, defeated Kazakhstan's Olzhas Bainiyazov 5-0 in his opening bout to make the last-eight stage.
Sports
It was not only the points which Kyrgios won but also the errors and faults by Thiem which were cheered by the crowd. Umpire Dumusois had to shout "please" to the crowd almost once every game and ensure that he had things in control.