Bhupathi to partner Nestor, Bopanna to play with Rajeev Ram
While Bhupathi will be partnering Canadian Daniel Nestor, Bopanna will be seen pairing up with long-time friend Rajeev Ram on the ATP circuit next year.
Mahesh Bhupathi and Rohan Bopanna have decided to part ways as the duo will play with different partners in 2013 after the Indian doubles team suffered a frustrating 7-5, 3-6, 10/3 defeat in the final of the ATP Tour Finals on Monday.
History slipped out of the hands of Mahesh Bhupathi and Rohan Bopanna as the Indian pair lost the summit clash of the ATP World Tour finale to Spanish pair of Marcel Granollers and Marc Lopez. The fifth seeded Indian pair, making its debut as a pair at the elite event, lost the title clash 5-7 6-3 3-10 to the sixth seeded combine in one hour and 30 minutes late last night.
While Bhupathi will be partnering Canadian Daniel Nestor, Bopanna will be seen pairing up with long-time friend Rajeev RAM  on the ATP circuit next year.  The duo has a combined experience of 17 years on the professional circuit.
"Rohan and Rajeev had decided a few months ago to combine forces to make what they believe an extremely formidable partnership, given their complementary styles of play and strong service games," a release from the firm which manages Bopanna, stated on Tuesday.
Asked if they would continue playing together next season, Bopanna said: "No. We're playing with different partners for the next season."I'm playing with Rajeev Ram next year. He comes to the tournament in Chennai every year. Just maybe a few days before Chennai we're going to start. Tennis wise, we've had a great two weeks and can't complain about that. I'm happy to take all the positives from the tennis tour and now look forward to the new partnership coming up."
No Indian pair has ever won the year-end finale although Leander Paes and Bhupathi reached the finals thrice together.
Bopanna had a successful year with Bhupathi, which included two titles at Dubai and Paris and runner-up finish at the just-concluded season-ending London Masters.
He also attained his career-best ranking of eight in March this year. "I played with Mahesh in 2012 with a special focus on preparing for the London Olympics and now that it's over, I want to concentrate on the ATP circuit and I am eager to build a strong, sustainable partnership," Bopanna said about his decision.
"Rajeev is a great player and given our individual strengths, and his command of the deuce court, I believe that we can complement each other very well on the court," he added.
The duo had earlier made an appearance as a team at the Australian Open in 2008, where as an unseeded combination they proceeded to the pre-quarters defeating higher ranked teams along the way.
Now it's the fifth time that Bhupathi has ended runners-up at the event, where world's top-8 teams compete for the championship. With Paes he ended runner-up in 1997, 1999 and 2000 and with Max Mirnyi in 2010.
With a career best doubles ranking of 33, Rajeev has maintained a fine balance between the singles and doubles circuits. The 28-year-old, however, has limited his singles appearances in the last couple of years and is concentrating more on the doubles game.
Rajeev earlier this year in September won the St Petersburg Open along with Nenad Zimonjic. "I am very excited to play with Rohan in 2013. He is not only one of the best doubles players in the world but also a good friend. It is a great opportunity for me and I am looking forward to it," Rajeev said.
With a total of 14 ATP doubles titles between them, Rohan and Rajeev are looking to recapture the magic in 2013.
"2012 has been a good season for both of us and we hope to continue the momentum into 2013. However, we really want to focus on one match at a time," said Bopanna.
His new partner was, though, was in no mood to look too far ahead. "Looking at the first month of the year, there are two big events in Chennai and the Australian Open so there is no need to look any further than that," Rajeev pointed. "We haven't played together since Australia in 2008 so it has been a while. I just hope to continuously improve so that we can reach our full potential," he added.
The newly-formed combination will open their campaign in 2013 at the Chennai Open, where Rajeev won the title in 2009 partnering Eric Butorac.
Agencies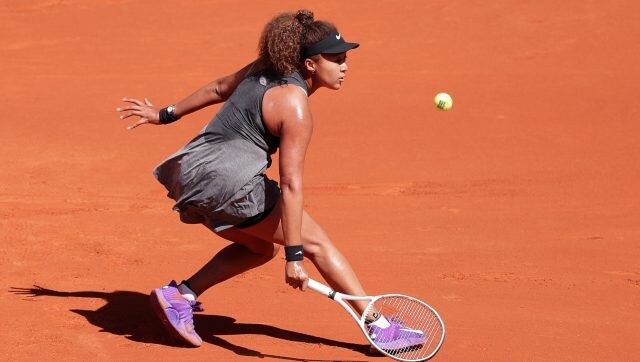 Sports
Osaka has never won a tour-level event on clay court while at the French Open, she is yet to make it past the third round.
Sports
Berrettini won previous titles at Gstaad in 2018 and Stuttgart and Budapest, both in 2019.
Sports
It's yet another setback for the 20-year-old from Ontario, who retired from the Miami Open final against top-ranked Ashleigh Barty last month with a right foot injury.