Berlin ePrix: Audi's Daniel Abt beats world champion Lucas di Grassi to finish on top; Techeetah's Jean Eric Vergne consolidates overall lead
It was a perfect weekend for Abt — he clinched pole position in the Super Pole session, led the race from start to finish and claimed the fastest lap of the race.
The city of Berlin hosted Round 9 of the FIA Formula E Championship this weekend. The race was held on a specially designed circuit for Formula E at the Tempelhof Airport. In fact, Berlin was the host city of the inaugural race of the all-electric series back in 2014-15. For the 2018 edition, there were four German drivers who lined up on the grid and all of them ended up scoring points. Also, like the inaugural race, this was only the second race in the history of the series where all 20 drivers finished the race — basically, there were no retirements.
All-German Celebrations
It was an all-German celebration after local driver Daniel Abt scored his second Formula E victory in front of the German fans racing for a German team, Audi. Abt won ahead of his teammate and reigning World Champion Lucas di Grassi and current championship leader Jean Eric Vergne. Mahindra Racing's Nick Heidfeld finished 10th, while Felix Rosenqvist could only manage 11th.
Abt, who started from pole position, managed a good start to keep his lead into the never-ending Turn 1. The best move at the start was by Jerome d'Ambrosio (started fourth) who drove around the outside to take third, though he lost positions mid-way and finished an unexpected 19th. Mahindra Racing's Rosenqvist, who started sixth, got it all wrong on the brakes and ended up losing positions only to end up 15th after the first corner of the opening lap.
We go green in Berlin for the 2018 BMW i #BerlinEPrix! pic.twitter.com/G3CsWReClF

— ABB Formula E (@FIAFormulaE) May 19, 2018
It was a perfect weekend for Abt — he clinched pole position in the Super Pole session, led the race from start to finish and claimed the fastest lap of the race. The German driver, whose victory in Round 2 at the Hong Kong ePrix was taken away due to a technical infringement, is now 4th and a point behind Rosenqvist in the Drivers' Championship.
After a disastrous start to their season, Audi seem to have put the missing pieces together and have outscored every other team in the last five races. In the Berlin ePrix, their drivers (Abt and di Grassi) fought for the lead for nearly 2/3rds of the race — a testimony to the team's current form.
Audi also became the first team in the history of the FIA Formula E series to score maximum available points (47 points) for the weekend. Along with their 1-2 finish (only the second team to score a 1-2 in the current season), the team was awarded points for Abt's pole position and fastest lap.
The German manufacturer is now 44 points behind the Team Championship leader, Techeetah — eighty percent of whose current points have been scored by Jean Eric Vergne. Andre Lotterer's (Techeetah's second driver) results in his debut Formula E season don't do justice to his talent or experience. If he helps Techeetah win the Teams' Championship, his chances for an extension will only get brighter.
Mr Consistency — Jean Eric Vergne
Lucas di Grassi finished second for the fourth consecutive race in a row. The Brazilian is sixth in the Drivers' Championship with 76 points and only 10 points separate the drivers from third to sixth. This battle is only going to heat up as only three rounds remain in this year's championship. The leader of the Drivers' Championship, Jean Eric Vergne, extended his lead to 40 points after finishing ahead of title rivals Sam Bird (7th) and Rosenqvist (11th). Vergne's consistency has to be one of the most important factors in his Championship fight. Fifth is the lowest the former Formula 1 driver has finished this season.
.@JeanEricVergne getting his elbows out to make his way past @Sebastien_buemi 😬 #BerlinEPrix pic.twitter.com/0gMVKUhuc3

— ABB Formula E (@FIAFormulaE) May 19, 2018
At one point in the race, it looked as though Vergne would finish fifth after he lost two positions in two corners (to Buemi and di Grassi). While Vergne overtook Buemi, thanks to a bold move on the inside of Turn 1 a few laps later, he subsequently lost the position to the fellow Frenchman during their pit-stop; but it look Vergne only a few laps to find his way past Buemi yet again.
The Pit Stops
Abt would have almost lost his lead to teammate di Grassi after being delayed in his release during his pit-stop to allow for a fellow competitor to pass by. He saw his race lead go down from 4.4 seconds to only 0.7 seconds, however, he comfortably rebuilt his lead over the next few laps.
With almost everyone on the same pit-stop strategy, barring a few drivers who would attempt to stop one lap earlier or later, the chances of a delayed release due to safety reasons could end up turning a driver's race around. Mitch Evans experienced a similar delay as his crew had to delay his release to let teammate Nelson Piquet Jr. comet through.
Towards the end of the race, Piquet Jr. made a few moves to go from 13th to 10th, but in his attempt to overtake Jose Maria Lopez for 9th, both drivers lost out in the battle of late braking and ended up finishing outside the points.
Oliver Turvey, the only driver to have qualified in the top-10 at every race this season, started second, but lost two positions in one corner (to Buemi and Vergne) as he managed to bring his car to the chequered flag in only fifth place.
Mahindra Racing — Where did it all go wrong?
Just three rounds remain of the 2018-19 FIA Formula E Championship - Zurich followed by a double-header in New York. Mahindra Racing's loss of form and a bit of hard luck has seen them go from being championship contenders to mid-fielders.
The Indian-owned team is now fourth in the Teams' Championship, 31 points behind Virgin Racing in third. Rosenqvist, who led the Drivers' Championship in the early part of the season and was hoping to have a shot at the title, now has a fight at hand to finish in the top-three; a pale consolation given the team's early-season pace.
In Berlin, Nick Heidfeld started the weekend well by claiming top-honours in the first Free Practice session. However, he settled for 10th place (1 point) after Andrew Lotterer overtook him for ninth on the last lap of the race. 'Quick Nick' is only 13th in the Drivers' Championship and while too early to discuss driver contracts for next season, one wonders if the former Formula 1 driver has done enough this season to ask his bosses for an extension.
The Business of Formula E
In the week leading up to the Berlin ePrix, Formula E announced a 10-year signing with the city of Riyadh (Saudi Arabia) as a host of the series. Riyadh would end up hosting the first round of the series starting next season — indicating that like Formula 1, Formula E too is able to attract preferential hosting interest, hopefully offering the series' revenue a boost too. However, the Riyadh ePrix generated much controversy and negative press on humanitarian and gender equality grounds within days of being announced.
Alejandro Agag, the CEO of Formula E, made a surprise bid to claim full ownership of the series. Agag, also the founder of Formula E, offered a whopping 600 million euros towards his intent. While the progress on Agag's offer is awaited, it is interesting to see how Formula E is attracting large investments in only its fourth season, besides attracting major car manufacturers. In fact, Formula E's current fan base doesn't do merit to the marquee teams it has already attracted.
Nissan will take over the Renault e.dams team next season, and joining them on the grid would be HWA AG, Mercedes' associate team. This is before Mercedes makes their Formula E entry in the 2019-20 season. While it is too early to call their driver line-up, one wonders if 2016 Formula 1 World Champion would end up being Mercedes' lead driver in Formula E.
Rosberg, who publicly announced his investment in the series last month, did a series of demonstration runs of the much-awaited Gen2 Formula E car on the roads of Berlin as a buildup to the event. The demonstration for Rosberg was extended to a few laps of the Berlin ePrix circuit before the start of the actual race.
#FE - 2016 F1 World Champion @nico_rosberg went a little tour of Berlin in the new @FIAFormulaE #Gen2 car ⚡. Have a look ⬇️⬇️ pic.twitter.com/wiY7wiIWIi

— FIA (@fia) May 19, 2018
In a further addition of Formula 1 flavour to Formula E, former Formula 1 driver and 2008 Drivers' Championship runner-up Felipe Massa announced his signing with the Venturi team for three seasons starting next season. This means that at least one of the team's current three drivers will be without a racing contract next season. We now know why Massa was working hard to keep fit in the winter months!
Finally, in an effort to bolster their coverage, Formula E managed to attract former Formula 1 driver and commentator David Coulthard to their presenters' line-up for the Berlin ePrix. Full marks to the all-electric series for their efforts; how long before the fans catch up?
Sports
Like many others in this sport, Shawn Porter is a good fighter. A really good fighter. To his credit, he's been willing to do what few others have. Step up and fight the best. Challenge himself. Win, lose or draw.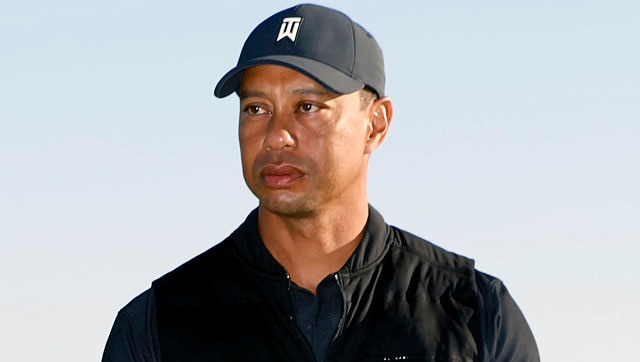 Sports
Woods, 45, told Golf Digest in an interview on Monday his days as a full-time professional golfer were over, saying that he would pick and choose tournaments from now on.