Bengaluru FC's astonishing AFC Cup run is testimony to club's progress this season
From investing their faith in youth, to grooming a team of full of young Indian talents into a winning unit, Bengaluru FC have made huge progress as a club this season. They next face a semi-final clash against Malaysia's Johor Darul Ta'zim, and the Bengaluru FC story is far from over. They are champions of India and counting.
"Bengaluru FC is not dependent on any individual. They always find a way, that's the strength. It's down to the determination of the players and the coaching staff, but they will find their way," former Bengaluru FC coach Ashley Westwood had told Firstpost earlier this year, in an exclusive chat following the AFC Cup quarter-final, just four days before departing the club on mutual consent.
At the time, with uncertainty surrounding his future, Bengaluru's prospects in the AFC Cup appeared bleak. What's more, they were to face a strong Tampines Rovers side, but we now know Westwood's words were more than just a PR exercise.
Fast forward to September, Ashley Westwood is long gone. But his team has ensured that some of his final words as manager hold true. The Blues from Bengaluru have successfully navigated themselves to the semi-finals of the AFC Cup with a hard fought 1-0 aggregate win over Tampines Rovers, and now tread waters that only two Indian clubs have done previously.
While Bengaluru are successfully competing against those two clubs — East Bengal and Dempo — in the I-League, their achievement in Asia holds greater merit considering their short three-year history as compared to these legacy clubs.
But what really makes their quarter-final win special is the fact that they kept clean sheets in both legs, especially in Singapore. New coach Alberto Roca was quick to point that out while heaping praise on his team after the win. "We haven't conceded a goal in two games, which is a good sign. We have good defenders, but it's not only about their performance. It's about the whole team being compact and defending and attacking at the same time and having a good balance," the former Barcelona assistant coach was quoted as saying in a report by Goal.com.
"Attacks win you games, defences win you titles," Sir Alex Ferguson had memorably said, and it doesn't come as a surprise that a Manchester United academy product based his team on this principle.
Westwood's Bengaluru FC kept the most clean sheets (seven) in their title-winning I-League campaign and had conceded the least number of goals as well, until a 5-0 spanking at the hands of Mohun Bagan in a dead rubber after the league had already been decided, ruined this statistic.
Having lost the title to Mohun Bagan on the final day of last season and being knocked out of the AFC Cup in the round-of-16, Bengaluru tasted their first bit of agony after a glorious debut season. Coming into this season, there was the obvious hurt, but they managed to sweep it aside and the focus was more on recovery rather than revenge. There was ground to make up and that was the only thing on their minds.
"It was a very sad that we lost the title on the last day last year. But I would not say that we played the whole league thinking of revenge in our minds," Sunil Chhetri had told Firstpost in an exclusive chat in June.
It was back to the drawing board for Bengaluru FC, whose pre-season kicked off even before the players went away for the Indian Super League. The road back to the pinnacle of Indian football started back then.
Coach Ashley Westwood had his plan in place for the upcoming season, and that involved instilling fresh blood, bringing in young legs and freshening up the side. "It was a general little trend to strengthen. We signed young players like Daniel (Lahlimpuia), Malsawmzuala and Doungel, players we thought could impact our side," Westwood had told Firstpost.
Not all could make an instant impact for various reasons, but they all caught the team's imagination. "When we first saw them in training, we were really impressed and we thought they had great talent. I think Zuala especially did really well. To play as a defensive midfielder in a team like ours is not an easy task and he showed a lot of character," said Chhetri.
The start to the I-League was impressive, but three defeats in quick succession to Mumbai FC, Sporting Clube de Goa and Mohun Bagan rocked their ship. But the fire in their bellies and a constant will to improve helped Bengaluru turn it around and wrap the league title with a game to spare.
Barring a shock exit from the Federation Cup, Bengaluru's season was successful on both the domestic and international fronts. "The first year we played as virtue of being champions and did quite well to qualify from our group. But we are a club who want to keep improving in all departments, we really wanted to do better than we did last year," Chhetri had said in May.
It was easier said that done though. Change of management, lack of competitive matches for the team, ongoing chaos in the city due to the Cauvery river agitations, and a home leg forced behind closed doors wasn't the best preparation for the game. But nothing fazed the Indian champions, as they came out with a 1-0 win. Considering they didn't let in an away goal, it was an excellent result, and their dreams of reaching the semi-finals was within touching distance.
To do so without their ever-present vocal supporters in the stands was particularly special. Captain Chhetri said in the build-up to the second leg, that they wanted to give home fans one more game at the Kanteerva by reaching the semi-finals.
Great win and much to work on. But it was just not the same without the home fans. Hope we can get you a date at the Fortress soon.

— Sunil Chhetri (@chetrisunil11) September 14, 2016
Another clean sheet paved way for Bengaluru's passage to the semi-final and the West Block Blues, who have been an integral part of Bengaluru's success, will get one more chance to cheer their team to a victory before the season shuts. It's been a long and somewhat stop-start season for Bengaluru FC, but there have been no breaks to the success they have enjoyed as a club.
From investing their faith in youth, to grooming a team of full of young Indian talents into a winning unit, Bengaluru FC have made huge progress as a club this season. They next face a semi-final clash against Malaysia's Johor Darul Ta'zim, and the Bengaluru FC story is far from over. They are champions of India and counting.
Sports
The other quarter-final of Durand Cup between FC Goa and Delhi FC will be held as scheduled on 24 September (Friday).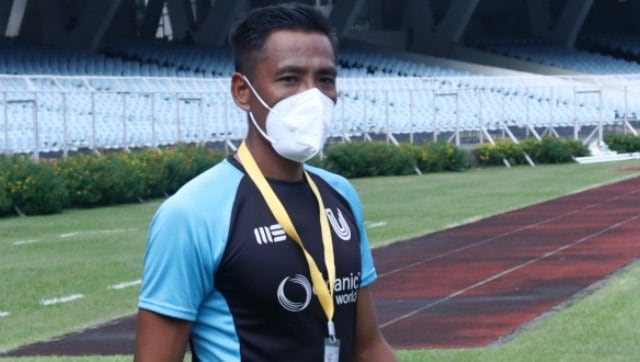 Sports
FC Bengaluru United coach Gouramangi Singh on the importance of the Durand Cup, the team's impressive start to the campaign and more.
Sports
Both sides had already made it to the quarter-finals, so the Black Panthers will be going through as Group A runners-up.