Belgium join World Cup winners France atop latest FIFA rankings after two successive victories in international break
Belgium's recent run of good form in the World Cup and the international break means that they go level in first place with World Cup winners France on 1,729 points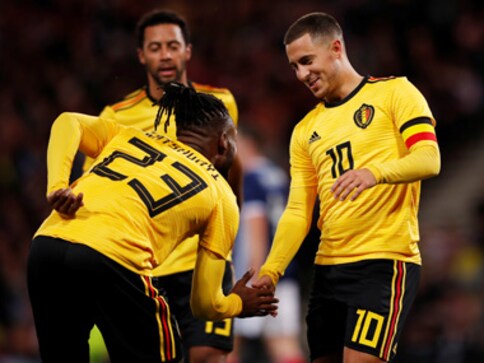 Lausanne: Belgium have joined world champions France as joint leaders of the FIFA world rankings released Thursday, the first time in the table's 25-year history that top spot has been shared.
Belgium have notched up a pair of wins, including victory over Iceland in the inaugural Nations League competition to bring them level with the French, the team who beat them in the World Cup semi-finals.
The only other change in the top 10 sees Denmark (10th, down one place) slip below Spain (9th, unchanged).
Outside of the top ten, two Nations League wins for Ukraine (29th, up six) over Czech Republic (47th, down three) and Slovakia (26th, unchanged) means that they are the month's biggest movers, while Germany (12th, up three) have started to edge back towards a single-figure ranking after their World Cup debacle.
FIFA world rankings as of 20 September
1=. Belgium (+1) 1,729 pts
1=. France 1,729
3. Brazil 1,663
4. Croatia 1,634
5. Uruguay 1,632
6. England 1,612
7. Portugal 1,606
8. Switzerland 1,598
9. Spain 1,597
10. Denmark (-1) 1,581
Football
Gregg Berhalter was a satisfied man after watching his youthful USA team hold mighty England to a 0-0 draw at the Al Bayt Stadium in Group B
Football
A stunning 2-1 defeat to Saudi Arabia has left Argentina, who arrived in Doha on a 36-match unbeaten run and as one of the overall favourites, in a precarious position
Football
FIFA World Cup Points Table: Wins, losses, draws, and points accumulated by teams in Group A Group B, Group C, Group D, Group E, Group F, Group G, and Group H.