Belgian Grand Prix: Esteban Ocon says Force India team-mate Sergio Perez risked both their lives
Ocon, in his rookie season with the team, made contact with Perez on the downhill run to Eau Rouge both times.
Spa-Francorchamps: Esteban Ocon accused his Force India team-mate Sergio Perez of endangering both of their lives in a furious outburst after the pair collided twice during Sunday's Belgian Grand Prix.
The Frenchman, in his rookie season with the team, made contact with the Mexican on the downhill run to Eau Rouge both times.
In the first, Ocon hit Perez and the pit wall nearby, but escaped unhurt. In the second, he suffered front wing damage and Perez had a puncture.
"It is just too much," he said. "Risking our lives for nothing!
"He risked my life in there, at 300kph down to Eau Rouge… That's the first thing, the second thing is we lost a lot of points.
"He's supposed to be a professional driver, but today he didn't show it. He has not done that with any other team-mates, I don't know why he's doing it with me.
"I'm going to go and speak to him man to man and tell him the truth.
"He's going to have a child. I don't know if he wants to die or something. It's just ridiculous."
Perez conceded that he was entirely at fault for their first collision, but suggested that the second was not his responsibility.
"The first one was totally my fault, I didn't see him," he said.
"I apologise for that one. The second one, he was too optimistic and there was no need to touch there.
"I knew he was there, but I also knew there was no more space to go, so I just protected my line.
"I thought he was obviously going to make the manoeuvre after Eau Rouge.
"I didn't do anything different that I wouldn't have done to any other drivers. No other driver would have done differently."
Their latest clash follows a series of acrimonious differences between the drivers including a team orders row in Canada and another costly collision at the Aberzaijan event.
The team reacted on Sunday by saying that the pair would no longer be free to race each other and must obey team orders strictly in future.
Team boss Otmar Szafnauer said "it looked like Sergio squeezed Esteban into the wall and came out the loser of that scrap… In future, they'll never have that opportunity again.
"We've let them race up until now. If they can't do it in a manner that's good for the team, then they won't be racing anymore.
"They shouldn't be coming together. We've given them the latitude to race and I've always said that.
"We've told them if it happens again, if a Baku type incident happens again, then we'll be calling the race from the pit wall in the future."
Perez added that he hoped to rebuild his relationship with Ocon and the team.
"I'm not saying I did it because of that, in Baku, but the tension started back then," he said.
"It's the first time I've had this in my career and hopefully we can sort it out and start scoring good points for the team."
Sports
Khan breathed his last in Madanapalle, Andhra Pradesh after a long battle with cancer.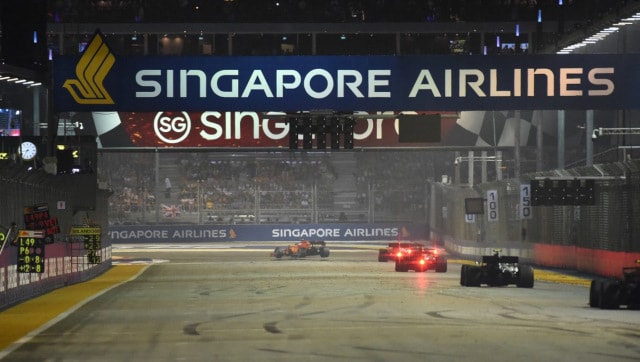 Sports
Races in Turkey (Istanbul) and China (Shanghai), postponed earlier this season, could replace Singapore, while the United States could also host a second race.
Sports
Cornet, currently 63rd in the world, dug deep to seal a 4-6, 6-3, 7-6 (7/5) victory over Spain's two-time Grand Slam winner Muguruza, now ranked 13th, after almost three hours on court.