Barcelona's two weeks from hell have set the stage for a thrilling finish to La Liga
Barcelona is clearly under stress and Atletico and Real can scent silver again, setting the stage for a thrilling climax in Spain
The kingdom of Blaugrana is in a state of turmoil. A stunning 2-0 away defeat to Atletico Madrid has shone the light on a team that is clearly struggling to defend its reputation as the best team in European football. Despite Lionel Messi's well documented problems this year — relating to body, mind and a drought of goals — Barcelona appeared to be cruising toward yet another treble. Over the past four weeks though, the Barca boat is drifting into a vicious current that threatens to consume them.
Luis Enrique showed character in assuming full responsibility for Barcelona's quarter-final exit in the Champions League. "I am 99.9 per cent to blame for our Champions League exit. No, make that 100 per cent. I am the coach and I am responsible," he told the press.
But in admitting that Barcelona are far from their best, Enrique was also calling out his team to raise their game. "I don't think Atletico were superior to us. We have played here plenty of times and have suffered more in the past. This game was further evidence that we are not going through our best spell. We are not at our best. But we still have two trophies to play for."
Since the 2-2 draw against Villareal last month, Barca lost at home to arch-rivals Real Madrid and away to Real Sociedad. The El Clasico loss spelt the end of an impressive 39-game unbeaten streak across competitions, stretching all the way back to October 2015.
Until that match, Barcelona were sitting pretty atop the La Liga table. They were eight points clear of Atletico and twelve ahead of Real, prompting Diego Simeone and Zinedine Zidane to openly give up any hopes of a title challenge.
As things stand though, Barca has just three on Atletico and four over Real. The team is clearly under duress ahead of a busy week. Starting with Valencia on 18 April, Enrique's men play three games in seven days.
As difficult as it is to fathom their sudden plunge in form, this is a side that practically dominated the season, making the treble seem as certain as taxes. So what changed?
Firstly, it's the form of their main attacking front three. Messi, Suarez and Neymar made the club look unbeatable, but are now the biggest weak link. The club has also played 12 games more than Liga counterparts, the trio has started to look jaded in recent weeks.
Messi especially has been going through a patchy season — the damaged knee ligaments, his issue with kidney stones and recent stories about muscle-related issues have all contributed to prevent the great Argentine from playing his normally impactful style of football. Messi has now gone five straight games (452 mins) without a goal. You can read that again, just in case it hasn't registered. The last time that happened was in April 2010 (474 mins) when he went five games without a goal. His worst drought was a stretch of seven goalless games in 2006-07 and 2007-08.
Neymar has been classy at times, but he too has struggled to impose himself over opponents when Barcelona needed him the most. As we reach the business end of the season, it is increasingly clear that the Brazilian is searching in vain for an elusive edge to his game.
Luis Suarez impressed in the early part of the season, but he has been distracted in recent weeks. In the first leg of Barca's quarterfinal against Atletico, Suarez brought back his famed volatility to the fore, when he kicked Juanfran Garcia inside the box. He may not have faced any penalty for the incident, but it represented poor football and an unhealthy spirit.
Suarez's run-in with his former agent Daniel Fonseca on the eve of an important game was an unnecessary distraction. The timing of his outburst and the need for it at a time when Barcelona is dealing with championship stress gave away an underlying immaturity on the part of the striker.
The little bits are now adding up, opening up a league competition that looked nearly sealed. And some of the moves at the back have failed to inspire any confidence among a concerned lot of Catalan fans.
It isn't fair to crucify players over a single mistake, but the passage of play that lead to Antoine Griezmann's first goal on Tuesday night offered some interesting insights. Jordi Alba was tame in losing possession and Gerard Pique compounded the situation by holding a listless position in the corner of the box to open the door for Atletico.
Even in the first match against Atletico, which Barca won 2-1, it was largely due to a Fernando Torres red card in the first half that compromised the visitors' plans for the game. The first leg was a largely forgettable scrap that was mean and physical, far removed from the beautiful football we have known Barca for.
Going back to that game against Villareal, which marked the beginning of this sudden dip in form for the table toppers, Barcelona squandered a 2-0 halftime lead. Cedric Bakambu bothered Gerard Pique and Jeremy Mathieu in the second half, creating opportunities for Villareal.
Bakambu's goal in the 57th minute after breaking open Barcelona's defenses and Mathieu's own goal in the 63rd were a clear result of the work done by the Villareal forward.
Atletico and Real can scent silver again, setting the stage for a thrilling climax in Spain. Barcelona is clearly under stress and three quick games in the next seven days promise to test them. But it is as much a question of character as it is about football. Barcelona's answers will be watched with great interest in Europe and beyond.
Sports
Madrid reached the semi-finals last season but were resoundingly beaten by Chelsea, whose 3-1 win on aggregate would have been more emphatic had they not missed a cluster of chances in the second leg.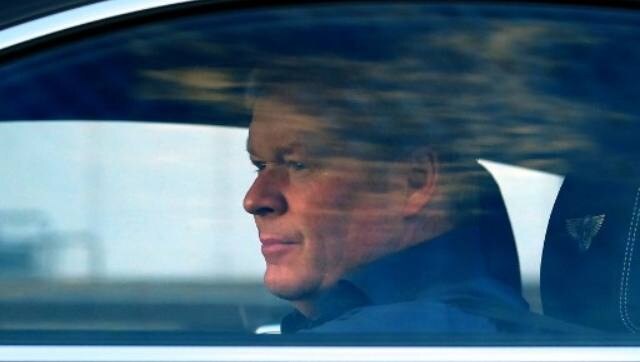 Sports
Koeman's position is fragile, after Barca followed up a 3-0 defeat by Bayern in the Champions League last week with a 1-1 draw at home to Granada in LaLiga, with the team's tactics and style coming under scrutiny.
Sports
Rodrygo snatched victory for Real as he flicked in with a minute to play in Milan, stunning Inter who had dominated much of the game and forced Thibaut Courtois into several saves.