Back-chat, high skinfolds, lateness - Arthur on why he took action
The Australia coach also revealed that he wants his team to become the Spanish football team, Manchester United or McLaren of world cricket.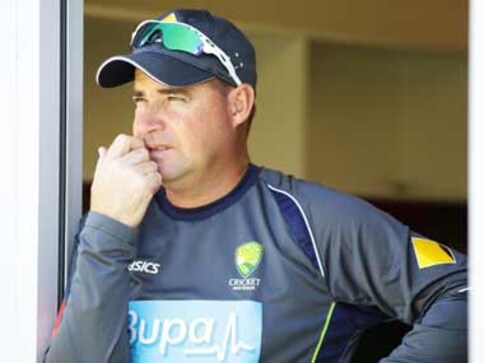 In his blog on the Cricket Australia website, Australia coach Mickey Arthur has outlined the problems that plague cricket Down Under. He hasn't named anyone in his blog but he has been pretty critical of the culture problems that have creeped into the Australian game.
"Being late for a meeting, high skinfolds, wearing the wrong attire, back-chat or giving attitude are just some examples of these behavioural issues that have been addressed discretely but continue to happen," Arthur wrote.
"If we're deadly serious about getting back to number one in the world, all players need to raise the bar and lift their game.
"If not, we must be content at being number three or four or five in world cricket because we won't get any better. The players won't learn and we'll continue a vicious cycle.
"Let's be absolutely clear.
"The decision to suspend Shane Watson, Mitchell Johnson, James Pattinson and Usman Khawaja for not adhering to a team request is the defining moment, but it has been a culmination of lots of small minor indiscretions that have built up to now."
Arthur, the former coach of South Africa, also said the past two days have been the toughest of his career.
"The last week and a half since the end of the Hyderabad Test has been the toughest in my 11 years coaching," he said.
"The media reaction to this decision was like none I've seen in my coaching career and has certainly divided opinion.
"It is a strong message to everyone in Australian cricket that if you want to play for the Australian cricket team, then we demand excellence. Corner-cutting, taking short-cuts or arriving with a bad attitude will no longer be tolerated.
"We want to be the Spanish football team, Manchester United or McLaren of world cricket.
"The absolute pinnacle where high standards are not expected, they are second nature. Australian cricket fans deserve nothing less."
Find latest and upcoming tech gadgets online on Tech2 Gadgets. Get technology news, gadgets reviews & ratings. Popular gadgets including laptop, tablet and mobile specifications, features, prices, comparison.
First Cricket News
CSA said about 50 COVID-19 RTPCR tests on players and support staff were conducted prior to entering the bio-bubble here for the limited overs series, starting on 27 November.
First Cricket News
Clarke feels that despite featuring in only one Test, the talismanic Indian skipper could still play a huge role in the outcome of the red-ball series by dominating in the limited overs game.
First Cricket News
As per the provisional schedule, England will host India across August and September in five Test match series.