Babita Kumari loses her wrestling bout, bows out of Rio Olympics 2016
Wrestler Babita Kumari lost 1-5 to Greece's Maria Prevolaraki in the women's Freestyle 53 kg 1/8 Final at the Rio Olympics in Rio de Janeiro on Thursday.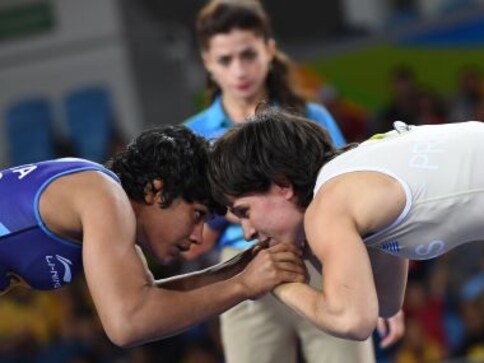 Rio de Janeiro: Indian grappler Babita Kumari ended her campaign in the women's 53 kg class by losing 1-5 to Maria Prevolaraki of Greece in the Olympic Games in Rio de Janeiro on Thursday.
Babita, who has won two medals in past Commonwealth Games and also bagged a bronze in the world championship four years ago, could not succeed against the tight defense put up by her Greek rival and lost points in both the periods.
In both the three-minute periods, 26-year-old Babita got a leg hold on her rival but the Greek somehow managed to extricate out of the difficult situation and turn the tables on the Indian grappler.
Maria took a 3-0 lead in the opening period when she wriggled out of the one-leg hold applied by Babita and went behind the Indian girl to get two points after having thrown her opponent out of the safety zone on the mat earlier to log her first point.
Babita, an Arjuna awardee who won the silver medal in the CWG at Delhi six years ago, had a chance to log some valuable points due to the 30-second passivity rule applied against her rival, but could get no more than one.
That was the lone point Babita secured as Maria got out of the Indian's double leg hold and then, like in the first period, escaped from a two leg hold to move behind Babita to secure two more points.
Trailing 1-5, Babita needed to flip her rival down from a standing position to level the score but failed to do so in spite of a good attempt and Maria won the bout to move into the quarter finals.
Yesterday while Sakshi won bronze in the 58 kg, Babita's cousin Vinesh Phogat suffered a ligament tear during her bout in the 48 kg class against a Chinese rival, got stretchered out and also bowed out of the wrestling competition.
Sports
The Union Sports Ministry's Target Olympic Podium Scheme (TOPS) will be providing financial assistance for the two athletes to carry out their training at the Michigan University.
Sports
Ritika (43 kg, Gold), Ahilaya Shinde (49 kg, Gold), Siksha (57 kg Gold), Priya (73 kg, Gold), and Pulkit (65 kg, Silver) are five of the girls to bag a gold medal in