Australian Open 2019: Roger Federer's duel with Stefanos Tsitsipas is a definitive clash of generations
Federer, the defending champion, is the first among the old guard. Tsitsipas, the winner of the 2018 Next Gen Finals, the leader of the new wave
Federer, the defending champion, is the first among the old guard. Tsitsipas, the winner of the 2018 Next Gen Finals, the leader of the new wave

Stefanos Tsitsipas had caused a quite a racket as he battled to a 6-3, 3-6, 7-6, 6-4 over Nikoloz Basilashvili in close to three hours

Having rejuvenated his career with that epic title-winning run in 2017, where he beat his long-time nemesis Rafael Nadal in five dramatic sets in the final, Federer seems more lethal in Australia than anywhere else
After he completed a high-octane, dramatic victory over Nikoloz Basilashvili, Stefanos Tsitsipas was asked whom would he prefer playing in the next round. "If Roger (Federer) wins it's going to be amazing playing in Rod Laver Arena," the 20-year-old said. "But I really hope Taylor (Fritz) wins!" he added in a burst of honesty and laughter.
While Tsitsipas had caused a quite a racket as he battled to a 6-3, 3-6, 7-6, 6-4 over the Georgian in close to three hours, Federer pursued noiseless perfection during his sweat-free 6-2, 7-5, 6-2 victory over Fritz. On Sunday, their paths will cross for the first time in a competitive match.
As charismatic as the long-haired, short-tempered Greek is, you can understand his cynicism in wanting to have Federer in his path in a Grand Slam. Federer, the defending champion, is the first among the old guard. Tsitsipas, the winner of the 2018 Next Gen Finals, the leader of the new wave. Their fourth-round duel is a definitive clash of generations. Consider this, Tsitsipas was born the year Federer turned professional, in 1998. Federer has won 20 Grand Slam singles titles; Tsitsipas has played 14 Grand Slam matches.
"If I thought about it now it's insane I'm in this position where I can actually play him," Tsitsipas said on Friday in the post-match press conference. "It's really emotional. It's not easy to play these kind of players that you've been watching for so long and you finally get to play them. Mentally, for players to beat him, they have to be ready and believe in themselves that they are, their game is great enough to beat such a player."
It is not just what Federer is, but what he has done this Australian Open.
Having rejuvenated his career with that epic title-winning run in 2017, where he beat his long-time nemesis Rafael Nadal in five dramatic sets in the final, Federer seems more lethal in Australia than anywhere else. Perhaps, because the Grand Slam comes right after the off-season, where players have had time to rest and reset. Perhaps, it's the great man Rod Laver watching him over that makes the Swiss elevate his game. Maybe it's the court, or the city, or simply the good vibes of the Happy Slam.
But the world No 3, who has won the Australian Open the last two years, has looked ominous in the first week. He has not dropped a single set in his first three matches, which included a close battle against Britain's Dan Evans. Through the week, he has lost serve only once. In his first match against the experienced Denis Istomin, Federer won 83% of the point on first serve. In the second, he was slightly better at 84% points won behind the first serve. Against Fritz, he took it to an unreal 93%: he dropped only three of the 43 points.
"He's serving really well, so I'm going to have to utilise his, and take advantage of my returns as much as possible," Tsitsipas said in assessment of the upcoming match. "I'm pretty sure he's going to be serving well, so, yeah, return games need to be aggressive and pressing a lot."
Fritz, another of the Next Genners, tried to stretch Federer in the second set, hitting hard and deep from the baseline. But he couldn't hit well enough, long enough. The relentless pressure that Federer applies, with his variety and sheer quality of shot, is immense. Even more so under the roof, as it was on Friday, when no outside element interferes with the mesmerizing lines Federer paints on the tennis court.
On Friday, Nick Kyrgios was commentating on Federer's match and at one point said that the Swiss played some of the shots to make it to the highlight reel.
"Not really, no," Federer fended off with a smile. "I learned early on in my career that if you're on centre court, just play your game and good shots are going to happen. I felt I was like that when I was younger, you know, a teenager coming through on the tour and I was trying to do these great shots on Court 17 and you're like, 'Nobody cares, nobody cares.' You have to be on centre court to hit those. So that's the mindset I have had for a very, very long time."
As alluring as the beauty in Federer's game is, he is an absolute beast at playing the big matches well. Tsitsipas has, till now, played against the Swiss only in the relaxed atmosphere of the Hopman Cup and will soon find out what the real Federer experience feels like.
But the Swiss is only one half of the reason why this fourth-round clash can be a potential blockbuster.
The young man from Greece has earned his place in the fourth round. Unlike most youngsters who prefer firing from the baseline, Tsitsipas prefers mixing up the pace and the depth and is adept at moving up the court. Like Federer, he has a single-handed backhand that can make his game sing. He has the kind of maverick talent to make this contest intriguing.
Tsitsipas has already broken new ground for his country. In 2017, the teenaged Tsitsipas became the first Greek player to be ranked in top-100 on the ATP charts. Last year he became the first from his country to win a Tour title when he claimed the Stockholm Open. He made the final of the Canadian Open in 2018 and climbed to a career high of 15.
At the Australian Open, Tsitsipas has been stretched to four sets in each of his matches so far, but has been able to find a way out. In some of the difficult moments during those games, the Greek fans – Melbourne has a big Hellenic population – have seemingly carried him through. He will need every drop of that energy to mount a worthy challenge against Federer, who will have his own band of merry fans with banners of 'PeRFect'.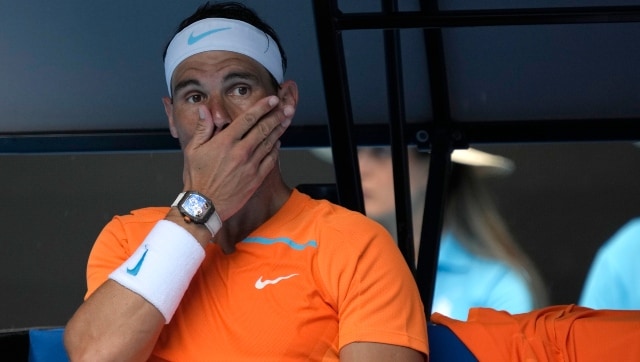 Tennis
Nadal had an MRI exam at a hospital in Melbourne under his doctor's supervision on Thursday, a day after being injured during a straight-set exit against Mackenzie McDonald
Tennis
Australian Open 2023 Men's Final Highlights: Novak Djokovic defeats Stefanos Tsitsipas 6-3, 7-6 (7-4), 7-6 (7-5) to win his 10th Australian Open title as well as his 22nd Grand Slam win
Tennis
Novak Djokovic denied Stefanos Tsitsipas his maiden Grand Slam win with a 6-3, 7-6 (7-4), 7-6 (7-5) victory at the Rod Laver Arena, winning his 10th Australian Open title in the process.