Australian Open 2019, men's semifinals preview: Novak Djokovic, Rafael Nadal firm favorites to set up repeat of 2012 final
Rafael Nadal and Novak Djokovic, the two highest ranked male players in the world continue to set the standard on the ATP tour, and continue to regale spectators with their brilliant performances.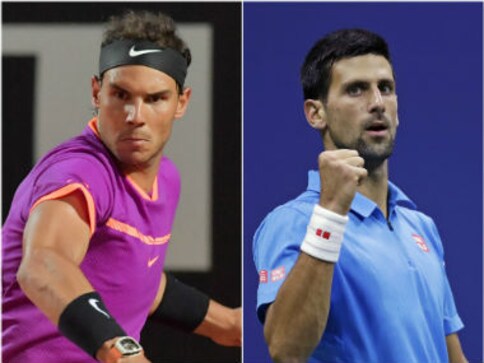 Tsitsipas has a solid backhand that likely won't break down as easily as some other one-handers do, and he has shown this week that he has the heart of a champion.

Pouille's presence in the semi-final seems to have come straight out of a parallel universe – a universe where anarchy rules

Rafael Nadal and Novak Djokovic, the two highest ranked male players in the world continue to set the standard on the ATP tour, and continue to regale spectators with their brilliant performances.
If someone had told you before the start of the 2019 Australian Open that there would be more top 8 seeds among the women's semi-finalists than among the men's, would you have believed them?
I know I wouldn't have. We have become accustomed to the usual suspects reigning supreme in the men's draws over and over again, and total chaos prevailing in the women's draws. It was unreasonable to expect anything different at the first Major of 2019.
And yet, in a mark of how men's tennis is finally gaining some depth and women's tennis is becoming more consistent, there are three top 8 seeds who have reached the women's semi-finals and only two who have done the same on the men's side.
Of course, the fact that those two top 8 men's seeds are Novak Djokovic and Rafael Nadal suggests that we are not out of the Big 3 shadow yet. The two highest ranked male players in the world continue to set the standard on the ATP tour, and continue to regale spectators with their brilliant performances.
Can the two 'outsiders' who have found their way to the semi-finals challenge the men who have turned the Big 3 into the Big 2? Here's a look at what may be in store in the two men's semi-finals:
Rafael Nadal (2) vs Stefanos Tsitsipas (14)
The men's draw had chugged along uneventfully for a fairly long time this tournament, with no major upsets or shocks in the first six days barring the ouster of Kevin Anderson. Then Stefanos Tsitsipas took on Roger Federer in the fourth round, and everything exploded.
The Greek sensation shook the very foundations of Melbourne Park with his barn-burning four-sets victory over Federer. All of a sudden we could see 'changing of the guard' memes wherever we looked, and Federer's supposedly impending retirement causing palpitations among fans in every corner of the world.
Both of those reactions may have been premature, but there's no denying Tsitsipas has announced his arrival on the big stage. He backed up his breakthrough win with a composed performance against Spanish veteran Roberto Bautista Agut in the quarter-final, and has started looking completely at home in the pressure cooker environment of high-stakes Grand Slam encounters.
He will need to be more than just composed in the semi-final though, as the man he is facing is known to drain the very life out of his opponents. 17-time Grand Slam champion Rafael Nadal has returned to the tour after an injury layoff looking like he never left, winning five matches without dropping a set. If anything, he has looked even better than before; not only is he winning matches with ease, he is also out-serving all of his opponents.
Nadal and his team worked on his serve during the off-season, and the Spaniard has been serving with a slightly modified action since the start of 2019. Whatever tweaks have been made, seem to be working: Nadal is generating more flat power on his serve, and hasn't been broken since the first round. He has held serve for 54 straight games, a statistic you'd normally associate more with a John Isner or an Ivo Karlovic than a Nadal.
But it's not just the serve that's working well. The forehand has been firing on all cylinders too, and the movement is back to its best. Nadal has worked over all of his opponents so far with the precision of a surgeon, and his shellacking of Tomas Berdych in the fourth round was particularly eye-popping.
Does Tsitsipas have any weapons to counter Nadal's foot speed and weight of shot? His win over Federer showed he has enough variety in his game to keep even the greats of the game guessing. And like Nadal, even Tsitsipas has been crunching his serve and forehand consistently into the corners, winning a bunch of cheap points whenever he's been under pressure.
Nadal will likely try to turn the contest into a baseline battle, pounding Tsitsipas' one-handed backhand with his crosscourt forehand to open up the court for his down-the-line forehand. Tsitsipas on his part will look to remain steady on his backhand and introduce just enough change-ups in the rallies; his net approaches will likely play a big role in his fate.
Will their time spent on the court be a factor? Tsitsipas has been taken to four sets in each one of the five matches he has played, while Nadal has been taken to a tiebreaker just once – both of which he won. Nadal has undoubtedly spent less energy thus far, but he's also more than 10 years older than his opponent; Tsitsipas' young legs should, theoretically at least, be able to overcome this disparity.
These two have met twice before – at Barcelona and Toronto last year – and Nadal emerged a straight sets victor each time. But while the first of their meetings, on the clay of Barcelona, was a one-sided affair, the second decidedly wasn't. Although Tsitsipas lost the first set in Toronto meekly, he turned the second into a fierce brawl and even earned a set point before finally bowing out.
"I felt very close to beating him (Nadal) in Toronto, through the score was 6-2, 7-6," Tsitsipas said when asked about his chances against the World No. 2. "I remember coming back to the locker room and promising to myself I'm going to do much better against him next time. It felt like I understood a bit better what he was doing on the court after that match, and especially on hard court."
Those are brave words from a 20-year-old getting ready to square off against an all-time great in his first ever Slam semi-final. But will his self-belief be enough to help him stand toe-to-toe with Nadal in the bruising exchanges during the match?
Tsitsipas has a solid backhand that likely won't break down as easily as some other one-handers do, and he has shown this week that he has the heart of a champion. But to defeat Nadal in a Grand Slam semi-final you need to be at your absolute best for a minimum of four hours, and keep fighting even when you don't think you have the strength to stand any more. I don't think Tsitsipas is quite there yet.
Predicted winner: Nadal
(1) Novak Djokovic vs (28) Lucas Pouille
Tsitsipas' march to the semi-final has been surprising, but it has also felt inevitable; a Next Gen starhad to come of age sooner or later. On the other hand, Pouille's presence in the semi-final seems to have come straight out of a parallel universe – a universe where anarchy rules.
The Frenchman had seemingly got lost in the wilderness last year, tumbling down the rankings after making his top 10 debut in March. He struggled mightily to string together more than two wins at any tournament, and by the end of the year seemed destined to languish in the 'talented headcase' category forever.
Then he hired Amelie Mauresmo as his coach, and miraculously, he found a new lease of life. He has always had the tools – I have rarely seen a player with as much power and as few weaknesses as Pouille – but at this tournament he has shown he also has the mind. He has maintained his focus long enough to win five straight matches over quality opponents, which was something many of us thought he wasn't capable of.
Pouille still has the occasional lapses in concentration, as shown in his match against Alexei Popyrin where he almost choked away a two-sets-to-love lead. He also still tends to get careless in the middle of a match, as we saw in his match against Borna Coric where he allowed the Croat to sneak back into the fourth set through some ghastly errors. But he has put every one of those slip-ups out of his mind as quickly as they arrived, regaining his rhythm in time to put the finishing touches on his wins.
Pouille seems to be getting better with each match too; against Milos Raonic on  he played perhaps his best match of the tournament. He was sharp with his serve and miserly with his errors, and got enough returns back in play to turn the match into a groundstroke battle – where his superior movement and timing earned him the ascendancy.
Will all of that be enough to take down Novak Djokovic in the semi-final? The Serb has not looked at his sharpest this tournament, dropping error-filled sets to Denis Shapovalov and Daniil Medvedev. But even a Djokovic playing his B game is insanely hard to defeat in a Slam, if his history is anything to go by – particularly his history at the Australian Open.
Djokovic has won a joint-record six titles in Melbourne, but perhaps more significantly, he has never lost in a semi-final or final here. And in what is surely one of the more bizarre stats of the week, Djokovic has never lost a match at the Australian Open while playing as the top seed.
That should tell you all you need to know about the enormity of the task on Pouille's hands. Djokovic isn't merely 'great' at the year's first Major; he is practically invincible in certain situations. And this – a semi-final as the top seed – is one of those situations.
To top that, Djokovic had a ridiculously easy time of it in the quarter-final, racing away to a 6-1, 4-1 lead against Kei Nishikori before the Japanese star retired hurt. He did face a tougher challenge in all three of his previous matches, against Jo-Wilfried Tsonga, Shapovalov and Medvedev, but he managed to come through each time without ever needing to summon his best tennis.
Perhaps the biggest danger for Djokovic is the risk of being lulled into a false sense of security. Against Shapovalov, he was getting so many free points through the Canadian's unforced errors that he lost the rhythm on his groundstrokes for a while. And against Medvedev, he was getting so little pace to work with that he ended up becoming passive with his play.
He would need to guard against the former more than the latter in the semi-final, since Pouille is in the Shapovalov mould – the Frenchman has the power to hit through anyone, but is also prone to making a bunch of errors. Djokovic would also need to ensure he doesn't spend too much time on the court, as the winner of this semi-final will have one fewer day of rest than the other finalist; the desperation to finish things quickly could possibly make him rush his shots.
But all of these things are worst-case scenarios for the World No.  1. And he might just have counters to the worse-case scenarios anyway; even if he makes too many errors or becomes too passive, he is durable enough and flexible enough to keep asking difficult questions of Pouille.
The two have never played against each other on the pro tour, which adds an extra layer of intrigue to the clash. But if Djokovic brings anything close to his best, he will likely hold all the aces in the deck.
Predicted winner: Djokovic
Tennis
While Novak Djokovic is into a record 33rd Grand Slam final and bidding to equal Rafael Nadal's 22 major crowns, Stefanos Tsitsipas will play only his second.
Tennis
Novak Djokovic overcame an early wobble to romp past unseeded American Tommy Paul 7-5, 6-1, 6-2 on Rod Laver Arena in style.
Tennis
Novak Djokovic will hunt for his 10th Australian open championship and his 22nd Grand Slam title when he faces Greece's Stefanos Tsitsipas in the Australian Open 2023 Men's Singles Final.