Australian Open 2019: Ashleigh Barty's journey from taking a break to play cricket to beating Maria Sharapova
Although Barty may not be a well-known name outside of tennis-watching circles, it should come as no surprise that 15th seed has made the quarter-finals.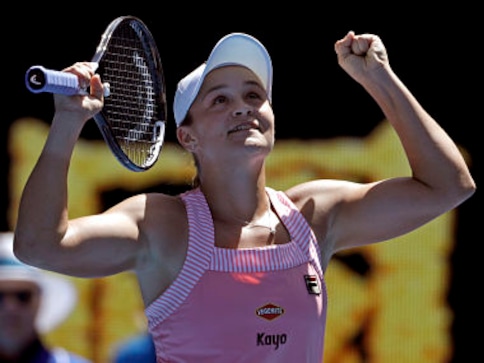 2019 has started in powerful fashion for Barty who has both, a laser-sharp focus and an all-court game that belies her age.

Although Barty may not be as well-known a name outside of tennis circles, it should come as no surprise that 15th seed has made the quarter-finals.

For Barty, her first Grand Slam quarter-final match will no doubt be extra-special considering it is coming at her home Slam.
This morning, former World No 1 and five-time Grand Slam winner Maria Sharapova was ousted from the Australian Open by Australia's Ashleigh Barty, who has been on song all tournament. Although she may not be a well-known name outside of tennis-watching circles, it should come as no surprise that the 15th seed has made the quarter-finals.
For Barty, who has dropped only a single set en route to her first quarter-finals, this will no doubt be an extra-special match considering it is coming at her home Slam. The 22-year-old, however, is no stranger to the Grand Slam stage, having won the 2018 US Open women's doubles with American CoCo Vandeweghe.
Barty began being professionally coached at the age of 4, earlier than most tennis players. On the ITF circuit, she was successful at both singles and doubles, achieving a World No 2 ranking quickly. Even the transition from ITF to the WTA Tour was a smooth one for Barty. By the time she was 16 years old, she had already finished in two Grand Slam doubles finals in 2013 with compatriot Casey Dellacqua. The pair also finished runners-up at the French Open in 2017. These titles were in addition to her Junior Grand Slam girls' singles win at Wimbledon in 2011 when Barty was only 15 years old.
Considering the volume of her achievements and the short time in which she has achieved them, it would not be remiss to label Barty a sporting prodigy. Her achievements have come in perhaps half the time it takes the average player. It is a rare and difficult feat to make two Grand Slam finals within two years of winning a junior Slam. Barty achieved each of those feats and with seeming ease.
Only one year after her two Grand Slam second-place finishes, Barty decided to switch tack to cricket — a sport in which she possesses no formal training. Despite this, however, she was described by coaches as a "natural" and picked up by the Brisbane Heat in the debut edition of the Women's Big Bash League. In her debut match, Barty had a 39-run knock off 27 deliveries, in spite of saying the entirety of her cricketing experience was limited to "mucking around in the backyard". In later interviews, the player would describe her tennis experience as "a lot too soon," and implied that her break from tennis had been triggered by stress and the need to take a break. Indeed, despite her doubles success earlier, Barty had been unable to hit her stride in the singles, and at the time that she took a hiatus from the sport, had been in the 200-rankings in the singles.
In 2016, after a full year as a cricketer, the player announced she would be returning to tennis full time. That break appears to have been crucial in Barty's success; 2017 marked a renaissance for the young player, who began the season at 325th on the WTA singles rankings. By the end of that season, she had already broken the top 100, winning, en route, her debut WTA title at the Malaysian Open, where she took top honours in both the singles and doubles.
Barty and Dellacqua also reached the finals of the French Open that year, becoming the first ever Australian team to make the finals of all four Grand Slams.
2018 appears, however, to have been the renewal of Barty's singles successes — alongside an even bigger charge in the doubles. Partnering full time with Vandeweghe after the retirement of Dellacqua following the 2018 Australian Open, the pair took the women's doubles title at the US Open in a tense third-set tiebreak. Alongside this, Barty scalped a set off Serena Williams at the French Open, won the Nottingham Open, and for the first time in her career, reached the fourth round in the singles at a Grand Slam — the US Open, where she was ousted by Karolina Pliskova. Barty would end the year as the winner of the WTA Elite Trophy.
Now, 2019 has started in powerful fashion for the 22-year-old who has both, a laser-sharp focus and an all-court game that belies her age.
For any other player, taking two seasons off the circuit could well have been the death knell for their careers. But then again, not every player is Ashleigh Barty. During her match against Maria Sharapova, despite having dropped the first set in a see-saw match, Barty came back in the second to win nine games on the trot. Fending off a valiant fightback by Sharapova in the final set, the Australian fought back two break points to seal out the match with an ace.
Her nerves, only occasionally visible, came through once in the end when her 4-0 lead went to 4-3, and towards what was eventually the end of the match, a double fault at match point. But she reined those nerves in just in time.
Next week, the World No 15 - who just so happens to be a top 10 doubles player as well, takes on a very familiar foe: two-time Grand Slam winner Petra Kvitova, to whom she lost a well-fought scorcher at the finals of the Sydney International only last week. That thriller saw Barty take a convincing first set 6-1, before a fightback from Kvitova who sealed the match 1-6, 7-5, 7-6(3). Barty's finals finish, however, saw her beat a formidable opponent in World No 1 Simona Halep along the way.
Following Barty's loss in Sydney, Kvitova said of her opponent, "You know, one day you're going to make it for sure."
Perhaps that day is sooner than we think.
Tennis
Novak Djokovic pulled out of next week's hard-court tournament in Cincinnati on Friday because he has not gotten any COVID-19 vaccine shots. Serena Williams is expected to appear last time on the court in the ATP event.
Tennis
Serena Williams, preparing to retire, is set to face 19-year-old Emma Raducanu in the opening round clash of the Cincinnati Masters but the match has been moved from Monday to Tuesday.
Tennis
Serena Williams has announced she will be retiring from the sport sometime after the US Open which gets underway on 29 August.