Australian Open 2018: Tomas Berdych seeks 'key to success' to end poor record against Roger Federer
Berdych put away the 25th seeded Italian Fabio Fognini 6-1, 6-4, 6-4 in 2 hours 8 minutes on Margaret Court Arena.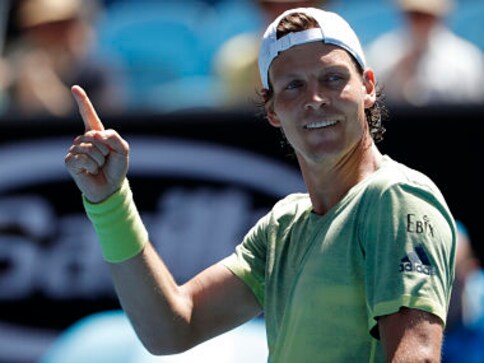 Melbourne: Tomas Berdych will face a familiar tricky problem after powering past Fabio Fognini into the quarter-finals of the Australian Open on Monday for the seventh time.
The Czech, seeded 19 and a two-time semi-finalist in Melbourne, put away the 25th seeded Italian 6-1, 6-4, 6-4 in 2 hours 8 minutes on Margaret Court Arena.
His reward will be yet another match against the great Roger Federer, his fifth in Melbourne and his 26th overall.
The Swiss 19-time Grand Slam champion holds all the aces with a one-sided 19-6 record and Berdych knows he faces another tough challenge if he is to progress in the year's opening Grand Slam.
"If there is any plan or any key to success then I would like to know that," he told reporters to the oft-asked question about his chances against Federer.
"I'm definitely going to go out there, try my best, try to play good tennis, and believe myself that I can do it.
"I did it in the past, and also, I did it in the slams, so I know how it is to beat him for the best-of-five sets.
"But obviously he's an extremely tough opponent. I will just to go out there and swing at some balls."
Berdych was in little trouble against the maverick Fognini, breaking the Italian's serve six times, hitting 37 winners and offset with 20 unforced errors.
"I won in three sets, and that's it. So if we're going to go play tomorrow again, it would be probably a different match," Berdych said.
"You just have to take it as it is. I was expecting a tough one and I was ready for it. I had a good game plan, and I was able to execute it all the way through the three sets, so I did it way better today."
Berdych went into Monday's match holding the record for the most number of Australian Open round of 16 appearances by a Czech man with 10 ahead of Ivan Lendl's eight.
He said he was feeling much better after back issues flared late last year.
"I'm enjoying it a lot. I'm glad to be back in the shape that I am right now, which is finally healthy and that makes the difference," he said.
"I can play freely and I can have joy from the tennis. I can enjoy the time being on the court. Yeah, the results are coming with that."
He improved his record to 44-14 at the Australian Open, representing his most successful major tournament in terms of matches won and quarter-finals reached.
Berdych has reached the semi-finals twice in Melbourne, losing to Stan Wawrinka in 2014 and against Andy Murray the following year.
Sports
Wimbledon 2022 will be devoid of Russian and Belarusian players after their players were banned by the organisers. Also notable absentees are Roger Federer and Naomi Osaka.
Sports
The three-day Laver Cup competition pits six of the best players from Team Europe against six leading players from Team World.
Sports
The singles and doubles seeding lists were announced on Tuesday ahead of the draw ceremony on Friday morning