Australian Open 2018: Tennys Sandgren, Hyeon Chung's unexpected runs finds them in uncharted territory
Two of the most surprising, and endearing, runs of the tournament will meet head-on in the quarter-final on Wednesday, and it will be the experience and poise of Sandgren against the indefatigable energy of young Chung as they traverse the unfamiliar space.
Tennys Sandgren, a tennis player from Tennessee, mostly drew attention for his name till a few weeks ago.
At 26, the American journeyman was mostly earning a living off the scraps that come from the lower Challenger tour. He has tried his luck at the ATP events, but has a 2-8 record (one win was through a retirement). As far as the Grand Slams are concerned, he has tried getting past the qualifying stages 13 times but never made it. His only two appearances in a major came through wildcards at Roland Garros and the US Open of 2017.
With that record, not many would have noticed him making a main draw debut at the Australian Open. But after winning the opener against Jeremy Chardy, there he was in the second round, toppling over three-time Grand Slam champion Stan Wawrinka in straight sets. And five days later, in the fourth round at the Hisense Arena, the World No 97 made his biggest kill as he beat fifth seed Dominic Thiem 6-2, 4-6, 7-6(4), 6-7(7), 6-3.
Though he had waited in the wings long enough for a moment on one of tennis' grandest stage, the big-built Sandgren gave only a blip of emotion. After he sent a nerveless forehand winner down the line, he dropped his racquet, raised his arms, flashed a few thumbs-up and thanked the crowd. The feeling was yet to sink in.
"I definitely had a real pinch-me moment. This is hopefully real. If I wake up now, I'm going to be real upset," he said in his post-match press conference.
At the Rod Laver Arena, another player was living his dream.
Hyeon Chung, a 21-year-old South Korean, matched six-time Australian Open champion Novak Djokovic in both style, strokeplay and grit to come up with an astonishing 7-6(4), 7-5, 7-6(3) in 3 hours and 21 minutes.
Chung's rise has been faster than expected. Ranked 58th, the youngster won the inaugural NextGen ATP Tour Finals in Milan last year but whether he could disturb the established order of men's tennis was still to be seen. To get to the fourth round, he outplayed World No 4 Alexander Zverev in five sets. On Monday, he gave Djokovic a taste of some of his own medicine, split-sliding and making unbelievable returns to defeat one of the best defenders of the game at his most successful Slam.
"He was like a wall," said Djokovic, an expert at building fortresses on the baseline. The Serb looked troubled throughout the match as the elbow injury seemingly resurfaced. Wearing a sleeve and often seen grimacing or shaking out his right playing hand, Djokovic still hung in gamely. But, on the day, Chung was just that shade better at counter strike.
At the post-match interview, Jim Courier said to Chung, "It's like watching Novak do it, but it's you."
Chung replied, "I don't know. I'm just trying to copy Novak because he's my idol."
Up 3-0 in the third set tiebreaker, Djokovic came back to level the scores. Two rallies later, Chung pulled off arguably the shot of the match.
With an inside-out forehand down the line, Djokovic had started to build his point. He forced the Korean to the backhand next, came up to the net and hit a deep volley back onto the forehand side. Chung saw the ball well and chanced a cross-court pass on the run. He didn't celebrate after winning the match, but he certainly did after winning that point.
"(At 3-3) I thought I'm 2-0 up in sets. If I lose, I have another chance in two more sets," Chung, who became the first Korean to reach a Grand Slam quarterfinal, said. "I'm ready to play two more hours. I'm younger than Novak, so I don't care. Dreams came true tonight."
The bespectacled Chung was clearly enjoying the big stage; Sandgren has played like he belongs to it.
The second round win over Wawrinka might have been rated a flash-in-the-pan for Sandgren. This was the Swiss veteran's first appearance on tour after a six-month layoff, and he did look rusty in his first match. Beating Thiem though, was a tougher prospect. The Austrian, who primarily blooms on European clay in spring, has the all-court game and power off both wings.
But Sandgren stood strong, especially on his serve. It was his biggest weapon, as he would be broken by the young Austrian only twice compared to the four times he broke back. In fact, he has served consistently throughout the tournament, notching over 70 percent first serves (including 74 percent against Thiem who had a 69 percent). He also had 20 aces to show for it in the three hour and fifty-four-minute contest.
"I know that I serve well. I know I can take care of business on my serve," he said. "I had that advantage that maybe the guys don't know what to expect. They don't know I'm serving well or what spots I like, or how I go about playing the points."
Eventually, he'd rake up 63 winners to cancel his 38 errors.
Displaying great composure for a man playing in only his first ever Grand Slam main draw,  he served out the match. Up 5-3 in the fifth, he started by serving wide, forcing Thiem deep into the corner. The Austrian would get a return, but Sandgren would coolly finish with a forehand down the line. He did the exact same thing on his first match-point opportunity at 40-15.
Two of the most surprising, and endearing, runs of the tournament will meet head-on in the quarterfinal on Wednesday. They have played each other once, with Chung edging past Sandgren in a tight three-setter at the Auckland ATP a couple of weeks ago. But it will be the experience and poise of Sandgren against the indefatigable energy of young Chung as they venture into uncharted territory.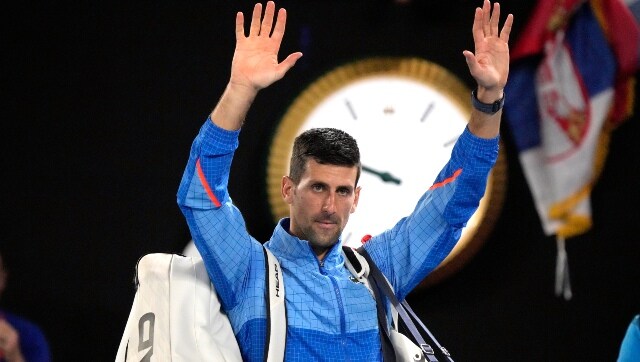 Tennis
Novak Djokovic has dropped just one set in the first four rounds, despite the pain and physical duress.
Tennis
Novak Djokovic's quest for a record-extending 10th Australian Open title was far from smooth at the start, plagued by a hamstring strain suffered en route to the title at Adelaide this month.
Tennis
After beating Russia's Rublev in the quarter-final, Djokovic's father Srdjan was filmed posing with Russian flags