Australian Open 2018: Tennys Sandgren deletes all tweets after facing critisim over links to alt-right activists
Sandgren, a devout Christian, came from nowhere to make the Australian Open quarter-finals, and it has brought increased scrutiny of his life.
Melbourne: Newly-minted star Tennys Sandgren has wiped his Twitter account to create a "clean start" after a backlash over his political views and links to right-wing activists.
The unheralded American, a devout Christian, came from nowhere to make the Australian Open quarter-finals, and it has brought increased scrutiny of his life.
That included his political views and his seeming support of the alt-right movement in the United States.
Among his tweets was one where Sandgren appeared to back a debunked online conspiracy in 2016 which linked Hillary Clinton to a supposed child sex abuse ring at a Washington pizzeria.
He also retweeted a video from white nationalist Nicholas Fuentes.
After facing a backlash, he decided to wipe the slate clean, deleting years of social media postings.
"Some things are being said about me that are untrue and not particularly fair," he told broadcaster ESPN in an interview late Tuesday.
"People have the right to voice those opinions and to say what they think, but I think my persona and my character speak for themselves. I'm comfortable with the person that I am."
In a bid to douse the fire, he said: "I put a program on that just deletes all the tweets.
"It's not something I'm really embarrassed about, but I just felt like creating a cleaner start is not a bad call. I thought it wouldn't be a bad way to move forward."
He denied that he supported far-right figures and said who he followed on Twitter "doesn't matter".
"I don't. I don't (support them). I find some of the content interesting," he said of the controversial figures.
"But no, I don't, not at all. As a firm Christian, I don't support things like that, no. I support Christ and following him."
Sandgren, from Gallatin in Tennessee, is only the second man in the last 20 years to make the Australian Open quarter-finals on his debut.
Amazingly, the 26-year-old missed out on qualifying in the last four years to reach the main draw in Melbourne.
He conquered former winner Stan Wawrinka and fifth seed Dominic Thiem before losing to South Korean giant-killer Hyeon Chung, who knocked out six-times champion Novak Djokovic.
Sports
Nadal's path to a possible sixth Madrid title was cleared of second seeded Daniil Medvedev and fourth-seeded Monte Carlo champion Stefanos Tsitsipas who were both shock third round losers.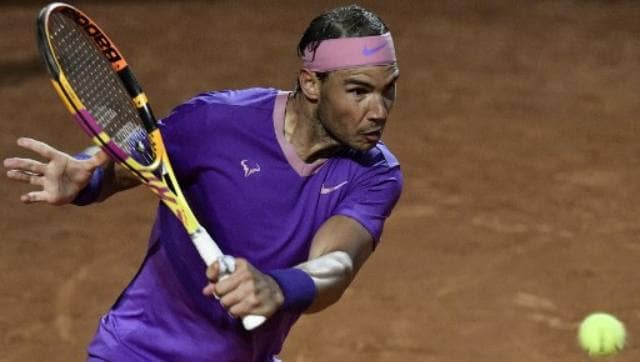 Sports
Rafael Nadal won through 7-5, 6-4 in two-hours 10-minutes to bring his record to 16-1 in his opening matches in the Foro Italico.
Sports
Zverev's impressive straights-set win at the Caja Magica earns him a meeting with Dominic Thiem in the Madrid semis, in what will be a repeat of last year's US Open final, which was won by Thiem.