Australian Open 2018: Rafael Nadal calls on tour organisers to protect players' health, take steps to reduce injuries
Nadal retired with a muscle injury in his upper right leg while trailing 0-2 to former US Open champion Marin Cilic in the fifth set of their quarter-final.
Melbourne: Rafael Nadal called on tour organisers to do more to halt injuries to top players after heartache at the Australian Open as he pulled out of his semi-final on Tuesday.
The Spanish World No 1 retired with a muscle injury in his upper right leg while trailing 0-2 to former US Open champion Marin Cilic in the fifth set of a titanic quarter-final struggle on Rod Laver Arena.
It is the second time he has been forced to pull out with an injury in Melbourne after calling it quits in the third set of his 2010 quarter-final against Andy Murray with a knee problem.
The look on Nadal's face said it all as he came to terms with missing a big opportunity to go after his 17th Grand Slam title after looking impressive in his early round matches.
"Tough moments. It is not the first time an opportunity that is gone for me," he told reporters.
"I am a positive person, but today is an opportunity lost to be in the semi-finals of a Grand Slam and fight for an important title for me.
"This has already happened to me a couple of times in this tournament and it's really tough to accept, especially after a tough December when I missed starting the season in Abu Dhabi and then Brisbane."
Nadal went into the year's opening Grand Slam tournament with knee concerns, but ironically that wasn't the problem that finally brought him undone in the heat of battle with Cilic.
"I was playing okay. I was playing a match that anything could happen: could win, could lose. He was playing good, too," Nadal said.
"But I was fighting for it. I was two sets to one up. Yeah, just have to accept, recover, go back home, stay with my people and keep going. That's all."
Nadal said his problem was not hip-related, more a muscle issue high up on his right leg.
"I can't tell you exactly the muscle. It's high on the leg. Tomorrow we're going to communicate what's going on after an MRI scan," he said.
"Now is not the moment to say what's going on because we really don't know and the doctors really don't know yet."
Nadal said tour organisers had to do something about the growing number of injuries among players after the withdrawals of Andy Murray and Kei Nishikori before the tournament and Novak Djokovic struggling ahead of his exit on Monday.
"Somebody who is running the tour should think a little bit about what's going on. Too many people are getting injured," Nadal said.
"I don't know if they think a little bit about the health of the players. I don't know if we keep playing on these very hard surfaces what's going to happen in the future with our lives."
Nadal said he was having no problems with the knee that forced him out of lead-up tournaments in Abu Dhabi and Brisbane.
"I was playing three hours 50 minutes the other day. Today I was playing over three hours. I was running quite well."
Tennis
Novak Djokovic praised his efforts and said that it was a great performance from start to end, considering it was the first match of the tournament in new conditions.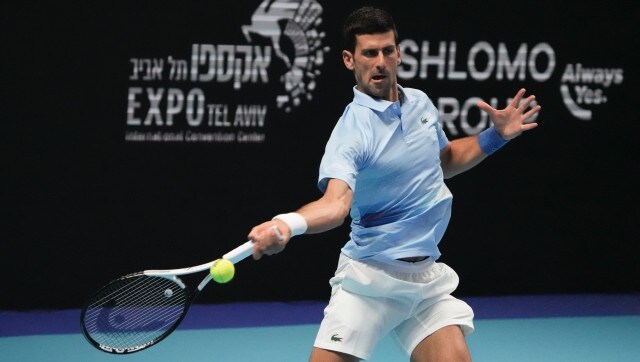 Tennis
Novak Djokovic next takes on 104th ranked Russian Roman Safiullin who beat France's Arthur Rinderknech 6-4, 6-1.
Tennis
Djokovic eased to a 6-0, 6-3 win over Andujar in 86 minutes, firing 30 winners and breaking the Spaniard four times.