Australian Open 2018: Novak Djokovic and Stanislas Wawrinka make statement on day of comebacks
It's been over six months that the tennis world had seen Djokovic and Wawrinka play a competitive match, and two years since Sharapova featured in the year's first Major. Upon their return to Melbourne Park, they took contrasting paths to 1st round victories.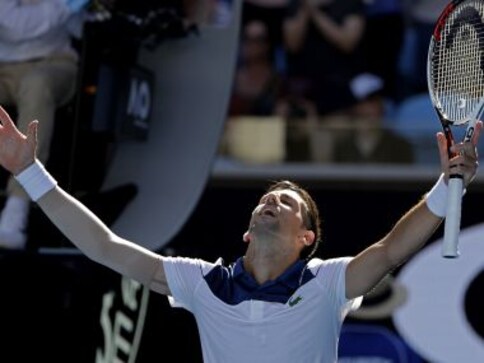 If Day 1 of the Australian Open was all about upsets, Day 2 was about the comebacks.
Three of the biggest names, and former champions at the Slam — Novak Djokovic, Stanislas Wawrinka and Maria Sharapova — made their return on Tuesday.
It's been over six months that the tennis world had seen Djokovic and Wawrinka play a competitive match, and two years since Sharapova featured in the year's first Major. Each left the tour for varying reasons, and upon their return to Melbourne Park they took contrasting paths to first round victories.
Djokovic, the most successful man at the Major, looked dominant again. The 30-year-old had last competed in the quarter-final of Wimbledon, where he had to retire because of an elbow injury. Changes were in order, none more so than a remodeled service action to take away some of the impact from the elbow.
At the Margaret Court Arena, the 12-time Grand Slam champion was to come up against the once-promising Donald Young. On his day, the 28-year-old, who finished runner-up in doubles at the French Open last year, does have the ability to be a handful. But the World No 68 was no match for the motoring Djokovic, who raced to a 6-1, 6-2, 6-4 win in only 111 minutes.
Djokovic, admittedly, had some comeback nerves but out on the court he was efficient and showed no signs of having come from a long hiatus. "I did feel nerves and I did feel a bit skeptical whether I'm going to be able to continue playing (as) well as I have the last couple weeks in the practice sessions," said the six-time Australian Open champion after the match.
A part of the reason for the nerves would be to see how the new service action would hold, but it was a necessary addition to his game. "I haven't had this long a break before in my career, and I had time to look at my game and my body and figure a new strategy," he said before the tournament started. "The service motion is not entirely different. But the small tweaks and changes have made differences mentally. It's just some corrections and improvements in the technique which are allowing me to be more efficient in the serve, and allowing me to release the load from the elbow which is something I had to do."
Against Young, the new serve was had a visibly truncated backswing, and not as explosive — his fastest in the match was 187 kmph. The Serb was more daring on his second serve, but his first serve percentage remained in the 50s. But he was efficient and did the job on the day — he faced break point twice in the match and dropped serve once. His solid ground strokes, which also picked up 33 winners, carried him easily over the first-round bump.
Ruthless Sharapova
Equally dominant was Sharapova. Ever the fashionista, 2008 Australian Open champion walked onto the Margaret Court Arena looking pretty in pink. But the elegance of her attire sharply contrasted her ruthless groundstrokes that simply ran through Tatjana Maria, as Sharapova would hit 22 winners compared to the seven from her German opponent.
In fact, barring just one break of serve, Sharapova, with that ever-so-famous grunt, stormed her way into a 6-1, 6-4 win. But for a veteran with five Majors to her name, her return to Australia was bound to be an emotional one. For it was at this very tournament in 2016 that she had tested positive for banned substance meldonium.
A 15-month suspension ensued, and the Russian started clawing her way back up the rankings. She did manage to return to the Grand Slam scene at the US Open last year, courtesy of a wild card. Now ranked 48th — she's one place behind her opponent Maria — she's made a rightful entry into a Major for the first time in two years, and marked it with a perfect start.
"I made a choice by coming back and playing again," she said in her post-match press conference. "And with that choice I face difficulties and challenges on the court. That I might start with no ranking, and that I might start on some outside court, I understand that. I learned what it feels like to being on the ground and seeing life from the ground and I'm not shying away from any part of that. I love what I do, I'm a competitor and that's why I do that. And the moment I don't have that anymore will be the reason for me not to play."
Of the trio, it was Wawrinka who had the toughest outing. Like Djokovic, the Swiss veteran last featured in a competitive match back at Wimbledon.
In the 32-year-old's case, the hiatus was due to a surgery on his left knee. Before the Major kicked off though, there were concerns that Wawrinka might join the list of players pulling out due to injury. A week earlier, he had skipped participating in an exhibition event, Tie Break Tens, due to a shoulder injury.
Yet there were no visible signs of any strain when he stepped onto the Hisense Arena — save for the scar down his left knee. The movement was sluggish on occasion. What was on display were glimpses of his trademark hammer-like one-handed backhand that mixed grace and brute force, as he'd go on to win 6-3, 6-4, 2-6, 7-6(2) against Lithuanian Ricardas Berankis.
What the soft-spoken 2014 Australian Open champion was missing however, was consistency and match sharpness. Meanwhile Berankis, who is undergoing a comeback of his own after returning to the tour last May after a hip surgery, came out in full-flow against the rusty Swiss.
The Swiss is used to hammering winners off both blanks, and it is not usual that a losing opponent outranks him in that stat. But with Wawrinka still feeling his way back, his 36 winners came second best to 59 by Berankis. Though he lost serve four times in the match, Wawrinka played the big points like a multiple-Slam champion. In the last set tiebreak, he won seven of the nine points to secure the match.
"I still have some pain. It depends the way I'm moving, how I push on it," said the Swiss. "In general, it's going the right direction. That's the best news."
Tennis
Roger Federer and the other two members of that distinguished trio, along with Serena Williams, managed to do was demonstrate that it is possible to dominate for decades, not merely years, at a time.
Tennis
Novak Djokovic praised his efforts and said that it was a great performance from start to end, considering it was the first match of the tournament in new conditions.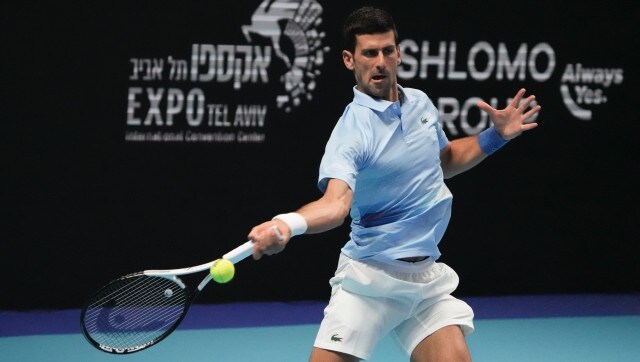 Tennis
Novak Djokovic next takes on 104th ranked Russian Roman Safiullin who beat France's Arthur Rinderknech 6-4, 6-1.