Australian Open 2018: Mats Wilander feels pressure of tough matches will determine if Novak Djokovic is back
Djokovic routed Donald Young 6-1, 6-2, 6-4 to reach the second round, his first match since retiring with elbow trouble during the Wimbledon quarter-finals.
Melbourne: Novak Djokovic exceeded expectations on his return to grand slam action at the Australian Open on Tuesday but the Serb should brace for doubts to re-surface during tougher matches, according to former World No 1 Mats Wilander.
Djokovic routed 63rd-ranked American Donald Young 6-1, 6-2, 6-4 at Margaret Court Arena to reach the second round at Melbourne Park, his first match since retiring with elbow trouble during the Wimbledon quarter-finals.
The 12-times grand slam champion was thrilled with his performance, having known only a few weeks before that he would compete in the tournament.
"I thought he looked very good. He was fresh, he was moving well," Wilander, host of the "Game, Set and Mats" show for Eurosport at the Australian Open, told Reuters on Tuesday.
"You would think maybe on paper it would have been a little bit closer because Donald Young is a solid player, but maybe Djokovic was too just good. He looked great.
"I think it was above expectations.
"I think physically he has a level that could make a deep run. Plus he's won here six times.
"It makes it easier when the courts are playing quick because if you're lacking a little bit of confidence ... he doesn't have too be so eager to get on to the ball to add body weight, literally, so I think the courts really suit him there."
Djokovic, who holds a professional era record six titles at Melbourne Park, was wearing a compression sleeve on his elbow and his newly modified serve remains a work in progress.
He landed barely half of his first serves against Young but it barely mattered as he amassed 33 winners in a dominant display.
Seeded 14th, he faces a bigger test in the next round against Frenchman Gael Monfils, a former quarter-finalist at Melbourne Park.
"You would think maybe, because (Djokovic) hasn't played matches, at some point he would lack some confidence in a close match or a close set," Wilander said.
"You never know. When it's easy it's going to be no problem. When it gets tough that's when you know what's going to hold up and what's not."
Beyond Monfils, Djokovic's path to a record-extending seventh title gets no easier.
The fourth seed and highly fancied tyro Alexander Zverev looms as a possible fourth round match-up, with three-times grand slam champion Stan Wawrinka a potential quarter-final opponent.
Sports
Novak Djokovic is back from six months off the ATP Tour with a remodeled service motion and a growing confidence he can get his sore right elbow through the Australian Open.
Sports
Two of the most surprising, and endearing, runs of the tournament will meet head-on in the quarter-final on Wednesday, and it will be the experience and poise of Sandgren against the indefatigable energy of young Chung as they traverse the unfamiliar space.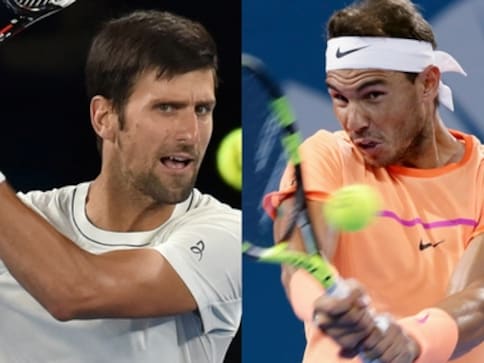 Sports
Federer is bidding for a record 20th Grand Slam title and is in form and fit, unlike the Spaniard and the Serb who enter the tournament under injury clouds.