Australian Open 2018: From Serena Williams to Rod Laver, sport's icons praise Caroline Wozniacki for 1st Grand Slam title
From Serena Williams' touching tribute to her best friend to a nod from tennis great Rod Laver, a look at the best tweets on Caroline Wozniacki's Australian Open triumph.
A determined Caroline Wozniacki held firm to shake off a tenacious challenge from Simona Halep, edging a classic Australian Open final 7-6(2), 3-6, 6-4 to claim her first Grand Slam title on Saturday.
After a captivating tussle played out in stifling humidity at a floodlit Rod Laver Arena, the Dane hung tough in a see-saw final set to claim the thriller when Halep wavered on serve.
The result ensured Wozniacki swiped Halep's world number one ranking, six years after losing it at the 2012 Australian Open.
Former and current players, coaches, pundits and fans took to Twitter after the epic match to congratulate the Dane.
Serena Williams said she is "so proud" of her long-time friend.
Williams, who has not played a competitive match since capturing the title at Melbourne Park exactly a year ago, was too on edge to watch.
Williams was pregnant when she won the Australian Open last January. She gave birth to a girl, Alexis Olympia, last September and married father Alexis Ohanian in November.
She is set to make her return next month at a Fed Cup tie when the United States play host to the Netherlands on an indoor hardcourt at Asheville, North Carolina.
I got too nervous to watch but woke up to @CaroWozniacki new number one and aussie open champ. So awesome. So happy. Are those tears? Yup they are. 😭 from a year ago to today I'm so proud my friend so proud. Literally can't even sleep now

— Serena Williams (@serenawilliams) January 27, 2018
Wozniacki also won praise from Rod Laver -- with the court on which she won named after the Australian legend.
Congratulations @CaroWozniacki - welcome to the Club.

— Rod Laver (@rodlaver) January 27, 2018
Pam Shriver said on Twitter that it was "a breathtaking final" while Boris Becker stated that "both players deserve all the credit in the world".
That was a breathtaking final

— Pam Shriver (@PHShriver) January 27, 2018
What a match !!! @CaroWozniacki v @Simona_Halep ...both players deserve all the credit in the world but it's #Wozniacki time to shine ! #1 #Champion

— Boris Becker (@TheBorisBecker) January 27, 2018
Here's a look at some of other tweets from the tennis fraternity as well as sporting celebrities
What a final of the @AustralianOpen thank you @Simona_Halep and @CaroWozniacki for this amazing fight. Congratulations to both of you #womentennisrocks

— Conchita Martínez (@conchitamartinz) January 27, 2018
I think one of the best women's final I ever seen. Talking about incredible fighters on the court tonight. I am so sad one had to lose because they both were beyond AMAZING!!! @Simona_Halep @CaroWozniacki @AustralianOpen @EurosportFrance #AusOpen #Wozniacki #Halep pic.twitter.com/ErOfw5x0md

— Marion bartoli (@bartoli_marion) January 27, 2018
I'm so incredibly proud to be a part of women's tennis in this day and age. What a tournament for both @CaroWozniacki and @Simona_Halep 👏🏻👏🏻👏🏻 @WTA @AustralianOpen

— Johanna Konta (@JoKonta91) January 27, 2018
Congratulations to both @CaroWozniacki and @Simona_Halep for gutsy performances tonight and welcome to the Major Winner Club,Caro:), and #1 again!!! https://t.co/LiGWkHNgzA

— Martina Navratilova (@Martina) January 27, 2018
#AusOpen 🏆 and 🌎 #1! Huge congrats, @CaroWozniacki! 🎉 Nobody more deserving. #hardworkpaysoff #goodpeople

— Bob Bryan (@Bryanbros) January 27, 2018
How good was that match?! Women's tennis keeping everyone on the edge of their seat! Congratulations to both @CaroWozniacki and @Simona_Halep - Thank you for representing us in such a remarkable way on and off the court! What a tournament.💞🎾@AustralianOpen @WTA

— Shelby Rogers (@Shelby_Rogers_) January 27, 2018
Many congratulations 🍾👏@CaroWozniacki you are making all of us 🇩🇰 so very proud. #PureClass #No1 #champion #Australienopen

— Peter Schmeichel (@Pschmeichel1) January 27, 2018
After 12 and a half years as a professional, 67 weeks as world No.1 and 811 matches, @CaroWozniacki is at long last a Grand Slam champion 🏆

She beats Simona Halep 7-6(2), 3-6, 6-4 to win the @AustralianOpen 🇩🇰#AusOpen pic.twitter.com/wpIb4FxVeS

— Wimbledon (@Wimbledon) January 27, 2018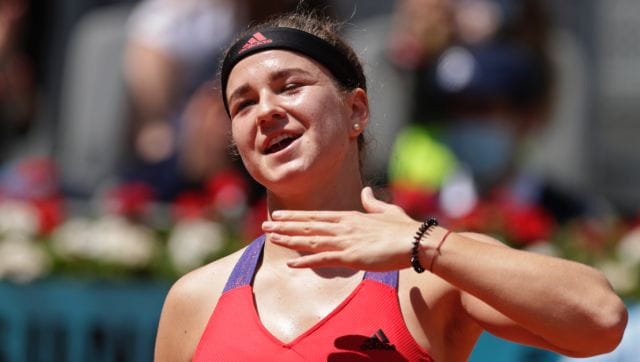 Sports
Osaka, the reigning US and Australian Open champion, has seven career hard-court titles, but has never managed to lift a clay- court trophy.
Sports
A leg injury meant Osaka missed last season's clay-court swing, and her last individual tournament on the surface was at Roland Garros in 2019.
Sports
The 39-year-old eighth seed fell 7-6 (8/6), 7-5 in under just two hours to the 44th-ranked Argentine, a surprise semi-finalist at last year's Roland Garros.