Australian Open 2018: From rising temperatures to 'miraculous' comebacks, a recap of Week 1 highlights
As the Australian Open heads into the second week, here's a look at some of the defining moments so far from Melbourne Park.
The pretenders have been left on the wayside, the contenders have survived. As the Australian Open heads into the second week, here's a look at some of the defining moments so far from Melbourne Park.
There have been collapses and comebacks. Miracles and marathons. Dreams and drama.

We hope you enjoyed the show. This was Week 1.#AusOpen pic.twitter.com/dX9fSOGs62

— #AusOpen (@AustralianOpen) January 21, 2018
Day 1 - Monday, 15 January
American carnage
Venus Williams, Sloane Stephens and CoCo Vandeweghe — all semi-finalists at least at the 2017 — led a string of seeds sent tumbling out. Men's eighth seed Jack Sock soon joined them in a calamitous day for American players with only three of the 15 in action progressing. With Venus departing, it became the first time since 1997 that no Williams sister made the second round, with Serena not playing after giving birth to her first child.
Day 2 - Tuesday, 16 January
'Don't be robots'
Consummate media performer Roger Federer urges his fellow professionals to act themselves and not like "robots" with the press to keep tennis interesting for the sporting public. With some of the greats of the modern game in their twilight years, he understands the need for more players to step up, and open up. "I would like to see more players just being really themselves in front of the press, being more relaxed about it, not worrying so much about making mistakes. You'd rather see that than robots left, right and centre," he said. The Swiss great said he always tried to "give it a little bit something extra" during his interviews to keep everyone happy.
Day 3 - Wednesday, 17 January
Back from brink
Day 3 sees two Houdini acts in tennis. Caroline Wozniacki and Jo-Wilfried Tsonga pull off seemingly impossible comebacks to survive their second round encounters. The Dane saves two match points as she battled back from 5-1 down in the deciding set to beat Melbourne Park debutante Jana Fett 3-6, 6-2, 7-5. Tsonga, on his part, recoveres from 5-2 down in the fifth set of his match with Canadian teenage sensation Denis Shapovalov to secure a 3-6, 6-3, 1-6, 7-6, 7-5 victory.
Day 4 - Thursday, 18 January
Heat is on
Melbourne's notoriously fickle weather dished up a day of 40 Celsius (104 Fahrenheit) and it played havoc. Novak Djokovic and Gael Monfils copped some of the worst of the scorching conditions in an afternoon match. The Serb called it "brutal" on court while Monfils complained he was suffering heatstroke. Caroline Garcia said her feet were on fire, but ice queen Maria Sharapova said she "loved summertime". No matches were called off with the weather not considered severe enough to enforce the tournament heat policy.
Day 5 - Friday, 19 January
Lesson from god
Fifteen-year-old sensation Marta Kostyuk was the youngest woman into the Australian Open third round since "Swiss Miss" Martina Hingis in 1996, but her fairytale unravelled against fourth seed Elina Svitolina. She lost 6-2, 6-2 and was seen sobbing on her mum's shoulder. Despite the loss, she relished the "free" tennis lesson from her fellow Ukrainian. "I had the chances, but because I thought, like, she is incredible, she's a god, I cannot do anything against her, that's the problem." Kindly Svitolina predicted Kostyuk had a big future ahead.
Day 6 - Saturday, 20 January
'Almost dead'
World number one Simona Halep said she was "almost dead" after one of the longest Australian Open women's matches ever. "I never played a third set so long. I'm almost dead," said the Romanian after finally edging across the finish line 4-6, 6-4, 15-13 against Lauren Davis in 3hr 44min. "My muscles are gone. I don't feel my ankle any more." The longest match at Melbourne Park was in 2011 when Francesca Schiavone of Italy beat Russia's Svetlana Kuznetsova 6-4, 1-6, 16-14 in 4hr 44min.
"My muscles are gone. My ankle - I don't know how it is because I can't feel it... It's great to be in 4R."

The world number 1️⃣, @Simona_Halep wins an incredible match to keep her #AusOpen campaign alive. pic.twitter.com/ddtJTR3ewL

— #AusOpen (@AustralianOpen) January 20, 2018
With inputs from agencies
Sports
World number 10 Matteo Berrettini saw off his fellow Italian Fabio Fognini, winning 6-3, 6-4 to book a third-round spot.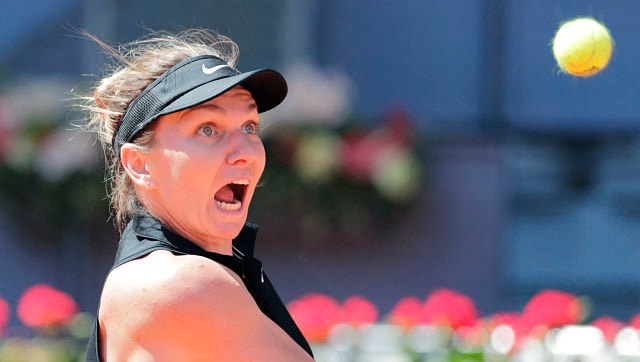 Sports
Halep had sailed through the first two rounds on the Spanish clay without dropping a set but she ended up second best in a match which yielded 15 breaks of serve.
Sports
The Australian will be one of the favourites at Roland Garros after her victory there in 2019 and because of her excellent recent form.