Australian Open 2018: Angelique Kerber says she wants to recreate 2016 feeling to win second title at Melbourne
Kerber said she was enjoying life and tennis again after a torrid 2017 that she began on top of the rankings and ended outside the top 20.
Melbourne: Angelique Kerber ominously says she is getting her 2016 Grand Slam winning feeling back, signalling her intent to reclaim the Australian Open with a quarter-final demolition of Madison Keys Wednesday.
The champion at Melbourne two years, seeded 21, ruthlessly brushed aside last year's US Open finalist 6-1, 6-2 — breaking her much-vaunted serve at will in 51 one-sided minutes on Rod Laver Arena.
Kerber will go back into the world's top 10 after reaching the semi-finals and is on a 14-match winning streak in Australia after an unbeaten singles campaign in the Hopman Cup and her triumph in the Sydney warm-up.
"I know that I was working hard in the off-season, and I know that I can play good matches. I'm just trying to find the feeling back I had like 2016," said Kerber of the year in which she also won the US Open.
Kerber said she was enjoying life and tennis again after a torrid 2017 that she began on top of the rankings and ended outside the top 20.
"I just try to enjoy myself again on court. You know, I had a tough last year," said the German. "I'm proud how I got through all the last weeks and being in the semis again in a Grand Slam. So I'm feeling good."
For Keys, the 17th seed who hadn't dropped a set to reach the quarter-finals, it's back to the drawing board after another big-match choke — she capitulated 6-3, 6-0 to Sloane Stephens in the final at Flushing Meadows last year.
She said she would sit down with her coach, the 2000 Australian Open winner Lindsay Davenport to try and figure out a way forward.
"I think she has helped me in a lot of big moments and a lot of big matches," said Keys, who reached the semi-finals at Melbourne in 2015.
Final indignity
"She knows what to say in those moments to calm me down or get me going. I think I have handled a lot of the bigger situations better, and I just need to keep working on that.
"I'm not going to walk away from this tournament and think it was terrible because I had one bad match. I think it's just going to take a little bit of time."
The match was billed as a classic contrast of styles, the big-serving power game of Keys versus the scurrying, chase-everything-down, all-action approach of Kerber.
For Keys so much depends on the serve, which let her down badly on this occasion as Kerber won 57 percent of points on the American's first serve.
Keys was broken four times in five error-riddled service games as the German raced to the first set 6-1 in 22 minutes and went 3-1 up in the second.
Keys momentarily held back the tide with a break to love to get back to 3-2.
But the German juggernaut rolled on with a break back and a dominant hold, sealed with a tremendous overhead from near the baseline.
For Keys the final indignity came as, serving to stay in the tournament, she opened with back-to-back double faults.
Moments later her ordeal was over and Kerber was back in the semi-finals where she will face either top seed Simona Halep or sixth seed Karolina Pliskova.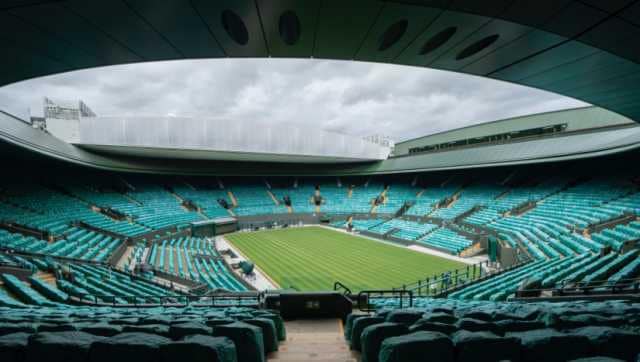 Tennis
Here's all you need to know about Wimbledon 2022, the 135th edition of the historic Championships, that gets underway on Monday.
Sports
Wimbledon 2022 will be devoid of Russian and Belarusian players after their players were banned by the organisers. Also notable absentees are Roger Federer and Naomi Osaka.
Sports
The three-day Laver Cup competition pits six of the best players from Team Europe against six leading players from Team World.