Australian Open 2018: Angelique Kerber back in title reckoning with dominant win over Maria Sharapova
The victory over Maria Sharapova was the best statement of intent Angelique Kerber could make. 2017 now behind her, she is back in title reckoning.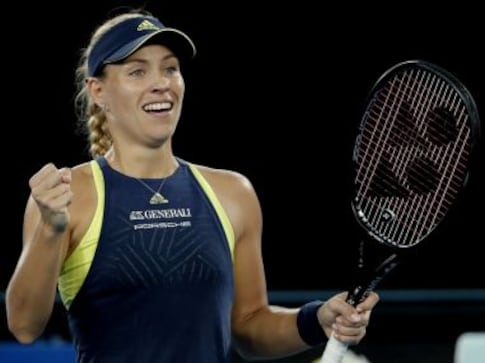 Angelique Kerber is back, smiling again, and talking at a million miles an hour.
"I'm just so happy it's 2018 and not 2017 anymore," the German exclaimed during the courtside interview after scoring a fluent, and dominant, 6-1, 6-3 win over Maria Sharapova on Saturday evening.
Kerber was back at the Rod Laver Arena, the stage where she had claimed her first Grand Slam, by beating the resident queen of women's tennis — Serena Williams — in 2016. She reached the final at Wimbledon that year and then went on to win the US Open and sailed to the top of the rankings. Like the rise to Slam stratosphere, her crash was also sudden and drastic.
She struggled to keep pace the following year. As a defending champion at the Australian Open last season, Kerber was knocked out in the fourth round. She suffered opening round defeats at the US and French Open. At Wimbledon, she fell to eventual champion Garbine Muguruza in the fourth round. The German failed to win two matches in a row at 13 events, had a win-loss record of 29-24 and finished the year ranked 21 in the world. The fairytale had gone sour.
Like Sloane Stephens' slump post her US Open triumph has made it apparent, the players have found the going tough with a target on their back.
But at the end of last season, the German started to regroup. She ended the successful five-year partnership with her coach Torben Beltz, and brought in Wim Fissette — who once worked with Kim Clijsters. A tireless defender, Kerber worked on her offence, starting with the first shot: the serve.
"It's a new voice who is speaking to me," Kerber said. "I think I needed the change and that's why I decide to change everything. I think it was a good decision to do it. For me, it's important to speak German, which is my first language. So this is for me much easier. He's speaking German, so that was actually my first choice. He agreed."
Her game now laced with an attacking zeal, Kerber has rushed to a 12-0 start in 2018. She claimed the crowd in Sydney — her first title win since the 2016 US Open and also made it to the Hopman Cup final.
In Melbourne, she has mowed down opponents as if to wipe off the haunting memories of 2017 in a flash.
Her third round against former champion and World No 1 Sharapova was billed to be a blockbuster. They had played each other seven times before this and Kerber held a slender 4-3 lead. The Russian was seeking her own redemption story at the Australian Open. She is playing for the first time in Melbourne after testing positive for the banned drug meldonium at the Grand Slam in 2016.
Aware of the threat that Sharapova's booming game posed, Kerber never really let the Russian settle into the match. She wasn't to be intimidated; neither by Sharapova's reputation nor her death stare.
Kerber was off the blocks quickly, rushing to a 2-0 lead and taking a first crack at the rallies. Her aggressive, but ever in control, baseline painted Sharapova in a corner.
"I know that I can always trust my legs, that I can run forever, that I can bring a lot of balls back," the German said. "This is what I know that I can do it. But I wanted also to improve my game, to being more aggressive."
Kerber sealed the first set in just under half an hour, winning six games in a row after being 2-1 up.
Her statuesque opponent rarely goes down silently. And so it was that Sharapova finally sought to turn it into a contest by breaking Kerber's serve at 1-2 in the second set. At 30-30 in the seventh game, she struck three winners, two off the forehand, to earn a break point. But Kerber quickly doused off the challenge, held her serve, and broke Sharapova at 15 in the next.
Kerber closed out the match with a strong service game, which started with an ace. A cracking forehand winner brought the German a triple match point, and she converted on the second as a Sharapova backhand flew wide.
"I think she played extremely well," Sharapova summed it up. "She was the more aggressive player. She took a lot more risks than I did."
In the end analysis, the Russian had made 27 unforced errors to Kerber's seven.
While her fellow competitors have suffered in the unrelenting Australian heat in the first week, Kerber has made short work of her first three rounds. She has lost a combined 13 games, and has wrapped up the three matches in 66, 70 and 64 minutes respectively. The conserved energy might serve her well when she takes on the immensely crafty Su-Wei Hsieh in the round of 16. Having entered the singles draw as a rank outsider, the 32-year-old Taiwanese — primarily a doubles player — has already taken out Wimbledon champion Muguruza and former World No 2 Angieszka Radwanska.
The victory over Sharapova, however, was the best statement of intent Kerber could make. The year 2017 now behind her, she is back in title reckoning.
Tennis
Srdjan Djokovic was absent from the Serbian's box for his final against Stefanos Tsitsipas at Rod Laver Arena, where Djokovic won a record-equalling 22nd Grand Slam title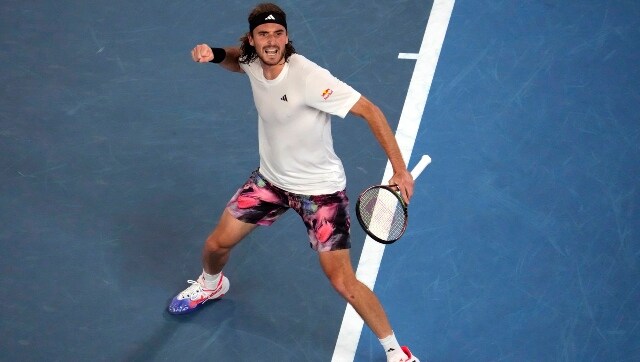 Tennis
Stefanos Tsitsipas, who will become world number one if he wins the title, has thrived on the energy from the crowd in Melbourne.
Tennis
Australia has a long history of strong doubles teams. This pair was the 16th all-Australian team to win a Grand Slam men's doubles title in the Open era.