Australian Grand Prix: Red Bull's Daniel Ricciardo gets three-place grid penalty for violating red flag conditions
Ricciardo, who did not finish in last year's Melbourne race, cannot now start Sunday's race any higher than sixth place.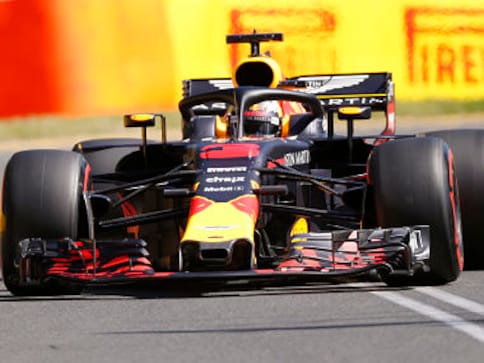 Melbourne: Australia's Daniel Ricciardo received a three-place grid penalty at his home Formula One race for driving too fast under red flag conditions during practice in Melbourne on Friday.
The Red Bull driver was found to have failed to stay above the mandatory minimum time set by the FIA in the final two mini sectors of the lap in the second practice session.
As a result, Ricciardo was handed a three-place grid penalty and two penalty points.
Stewards said the penalty was lessened as Ricciardo had slowed to a degree, and no 'danger was created'.
"The stewards reviewed the data and video and found that Ricciardo did, in fact, fail to stay above the minimum time set by the FIA ECU in the penultimate and final mini marshalling sectors," read the report.
"The stewards also found that Ricciardo slowed by as much as 175km/h from his fast times at Turn 12 and was consistently and significantly slower in the final three turns, indicating that he was fully complying with the requirements of the International Sporting Code.
"However, he admitted an error in reading his dash and was slightly below the minimum time."
Ricciardo, who did not finish in last year's Melbourne race, cannot now start Sunday's race any higher than fourth place.
No home driver has finished on the podium in the 33-year history of the Australian GP, although Ricciardo did climb the rostrum in second place in 2014 only to be disqualified for a fuel flow technicality on his Red Bull car.
Find latest and upcoming tech gadgets online on Tech2 Gadgets. Get technology news, gadgets reviews & ratings. Popular gadgets including laptop, tablet and mobile specifications, features, prices, comparison.
Sports
Four-time world champion Vettel, in his last season with Ferrari, qualified 12th, but gained a place thanks to a grid penalty for Renault's Esteban Ocon.
Sports
Max Verstappen gave Red Bull its first race win this season at the 70th Anniversary GP and it came due to a superior tyre strategy to Mercedes. Meanwhile, Ferrari's Charles Leclerc successfully pulled off a one-stop strategy to finish fourth. Here are the biggest talking point from the Silverstone Circuit.
Sports
Márquez needed a second surgery on Monday after re-injuring his arm at home. Honda team manager Alberto Puig said on Thursday that Márquez damaged a titanium plate in his right humerus while trying to open a window in his house.