Australian Grand Prix: Mercedes' Lewis Hamilton believes he hasn't peaked yet, targets fifth championship title
Lewis Hamilton, who beat Ferrari arch-rival Sebastian Vettel to win last year's world title with two races to spare, said he is eyeing new highs this year.
Melbourne: Defending champion Lewis Hamilton said on Thursday that he hadn't yet reached the peak of his powers as he embarks on the weekend's Australian Grand Prix in search of a fifth Formula One crown.
Hamilton, who is reportedly about to sign a new contract with Mercedes, says he is ready to break down new barriers at the age of 33.
While appearing disinterested for large parts of the drivers' news conference ahead of Sunday's Melbourne opener, Hamilton said he was definitely ready to take on all-comers in the 21-race season.
The British driver was asked if he had reached his peak. "I hope not," said Hamilton.
"I'm sure there is a peak for a driver when his fitness levels get harder to reach when your interest and drive starts to decline.
"I guess that's when you're over your peak, but I definitely feel I'm not at that (stage)."
The Englishman, who beat Ferrari arch-rival Sebastian Vettel to win last year's world title with two races to spare, said he is eyeing new highs this year.
"In my mind, I'm trying to break down new barriers, push the envelope and see how far I can take (it) — firstly, the opportunity that I have and obviously the ability I have to realise my full potential," he said.
"I don't know what that is and that's what I'm discovering."
Exciting year
Hamilton said inconsistency issues were now in the past as he seeks his fourth world title in five years after winning his first one with McLaren in 2008.
"I think there are a lot of people that need to get headlines, so that's one way of saying it," he said.
"But, I think the important issue is to be more consistent than I was last year. I think consistency was the reason I won the world championship."
Hamilton, who showed little interest in elaborating on his answers to media questioning at his conference, said he was focused on racing.
"I'm definitely not tired, this is the 12th season I'm doing the press conferences," he said.
"I'm definitely not the most excited about this section of the season and the race weekend, but I'm looking forward to getting in the car."
He had words of praise for his rival Vettel, sitting alongside him at the media conference.
"The ultimate goal to be the best is that you're going to have to go up against the best," he said of Vettel.
"He's got the four world titles, had the most of any other driver at the time and I think this is an exciting year for Formula One fans that we have two four-time world champions battling it out."
Hamilton has won twice in Melbourne, in 2008 and 2015, and has won 62 of his 208 GPs.
He already holds the record for most pole positions with 72 ahead of Michael Schumacher's 68.
Find latest and upcoming tech gadgets online on Tech2 Gadgets. Get technology news, gadgets reviews & ratings. Popular gadgets including laptop, tablet and mobile specifications, features, prices, comparison.
Sports
Bottas was 0.229 seconds faster than Carlos Sainz and 0.323 quicker than Lando Norris after an impressive showing from the McLaren pair.
Sports
Lewis Hamilton, who won the Tuscan GP, wore a t-shirt bearing a message that said "Arrest the cops who killed Breonna Taylor" before and after the race, during an anti-racism ceremony and television interviews.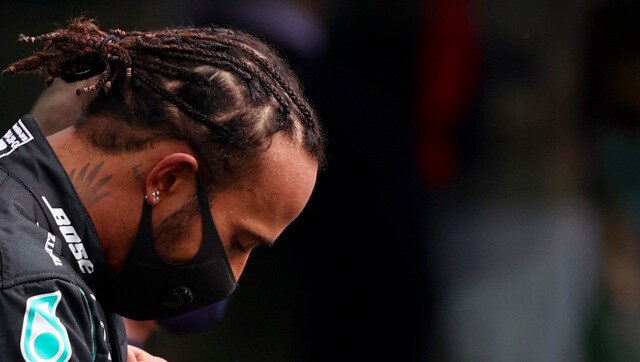 Sports
Hamilton had said in July that he expected it to be a relatively straightforward process and "not a big effort" and he had no desire to move to another team.