Australia Superseries: Kidambi Srikanth's aggression, stamina help him make a hat-trick of finals
Srikanth switched to an all-out attack from 9-6 in the opening stanza, after an initial period of wariness, when both players tried keeping each other away from the net by playing long rallies.
Kidambi Srikanth has just been granted the membership of a very exclusive club. The 24-year-old Indian became only the sixth member of a small coterie of male badminton players to have entered three consecutive finals of Superseries tournaments.
It may add further lustre to Srikanth's achievement to identify the other five – three living legends in China's Lin Dan and Chen Long, and Malaysia's Lee Chong Wei, apart from Indonesia's Sony Dwi Kuncoro (silver and bronze medalist at two earlier World Championships and bronze medalist at the 2004 Athens Olympics) and Denmark's Viktor Axelsen (2010 world junior champion and 2016 European champion).
Hitting devastating form at the Sydney Olympic Park Sports Centre while playing in the men's singles semi-finals of the Australia Superseries, Srikanth steam-rolled fourth-seeded Shi Yuqi by a 21-10, 21-14 scoreline, in a mere 37 minutes of breathtakingly fast-paced badminton that left the 21-year-old Chinese player stunned and defenceless. Srikanth had earlier made the finals of the Singapore Open Superseries and the Indonesia Open Superseries Premier events.
Having gone into the last-four clash with a 1-0 career head-to-head record against the 2017 All England runner-up, Srikanth appeared ominously confident that he could repeat his facile 21-14, 21-16 Singapore Open semi-final triumph over Yuqi in a similarly dominant fashion.
After an initial period of wariness, when both players tried keeping each other away from the net by playing long rallies, Srikanth switched to an all-out attack from 9-6 in the opening stanza. Catching the shuttle early and controlling the net with tight dribbles, the Indian began finishing off the boosted returns with powerful, yet steeply angled, smashes on both flanks. Yuqi was completely overwhelmed by the barrage of smashes and half-smashes that tore his defence to shreds.
Again, until the halfway stage of the second game, the Chinese player remained on Srikanth's heels, slowing down the pace by lofting the shuttle deep to keep the Indian away from the net. However, to Yuqi's discomfiture, the drift would not let him control the length of his clears; and he either pushed them out or left them hanging tantalisingly in midcourt for his opponent to apply the finishing touches.
Now appearing well on course for his second successive Superseries title, to add to the 2014 China Open and 2015 India Open crowns, Srikanth will cross swords in Sunday's final with the unseeded 28-year-old two-time reigning world champion and Rio Olympics gold medallist, Chen Long. The gangling Chinese star with the fluid, ballet-like movements on court squeaked into the title round at the expense of another unranked player, South Korea's Lee Hyun Il, by a 26-24, 15-21, 21-17 verdict.
Chen's win came less than 24 hours after he had eliminated compatriot and five-times former world champion and two-time Olympic gold medalist, Lin Dan, by 21-16, 12-21, 23-21 in an epic 78-minute tussle that remains the longest singles match of this tournament.
These two tough matches in quick succession, added to the emotional turmoil of beating his childhood idol for the second time in two months (the earlier occasion was in the Badminton Asia final), are bound to have a deleterious effect on Chen's legs, despite the fact that he is one of the fittest players on the world circuit. It is far from easy to be at your best when you have been kept on court for nearly two-and-a-half hours over the two preceding days.
Srikanth, on his part, has not been unduly stretched in his last two matches; and has lost only a solitary game in the four rounds he has played at this Australia Open – to South Korea's top-seeded Son Wan Ho in the second round.
The Indian's major problem in earlier days, his suspect stamina, has shown remarkable improvement in his last two tournaments, as he so amply demonstrated when saving a match point against Son in their long-drawn Indonesia Open semi-final. Yes, Srikanth appears all set to claim the thunder Down Under.
However, the Indian's 0-5 career head-to-head record against Chen does give cause for concern. Srikanth has taken the current world champion to three games only once (at the Hong Kong Open in November 2014), and has capitulated in straight games on four occasions, over the past three years. On the last occasion that the two met, in the Sudirman Cup mixed team event, exactly a month back, Chen Long won with a degree of comfort, by 21-16, 21-17.
It must not be forgotten that Chen is temperamentally extremely strong. You certainly need to be, if you wish to slip it across the great Lin Dan, who is also a giant mentally. Chen's sole aberration in recent weeks has been the 18-21, 21-16, 19-21 loss to India's HS Prannoy in the Indonesia Open quarter-finals; and he showed in his wins on Friday and Saturday that he has not lost any of his mental edge.
But then, let it be placed on record that the seemingly invincible Tai Tzu Ying, titlist in six of her previous seven tournaments, also suffered a meltdown on Saturday, and went down 19-21, 12-21 to the No 3 seed, Akane Yamaguchi of Japan.
No doubt feeling the combined after effects of the influenza that had laid her low last week, and the lengthy duel the previous day against India's PV Sindhu, Tai looked distinctly winded in the second game, and lost to the stocky Japanese for the fifth time in nine career meetings. Yamaguchi's accurate reading of some of Tai's most deceptive strokes meant that the Chinese Taipei player had to play additional strokes to try and win the rally – and that could be very tiring.
Yamaguchi's opponent in Sunday's final will be her fellow Japanese Uber Cup teammate, Nozomi Okuhara, who looked very near her best form while showing China's Sun Yu the door, by a 21-18, 18-21, 21-14 scoreline. Okuhara, who had captured international headlines by winning the 2015 Destination Dubai season-ending grand finals, and then the 2016 All England crown, appears to have finally recovered from her lengthy injury lay-off, and is set to claim her place in the Antipodean sun.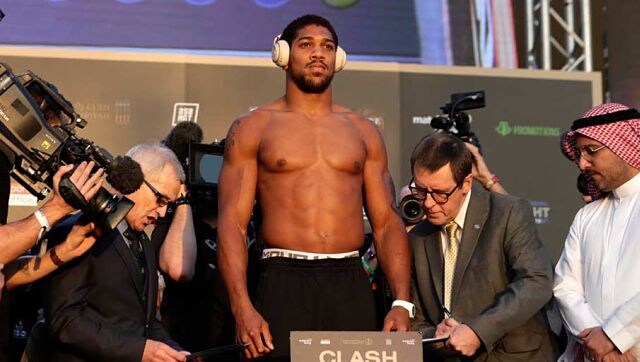 Sports
Talks of a unification 'superfight', which went on for months, appeared to be on the brink of ending in an agreement earlier this year only for a United States arbitrator to rule Fury had to fight Deontay Wilder for a third time.
First Cricket News
Nortje, who picked 22 wickets in 16 matches in his first-ever IPL season in 2020, played an instrumental role in helping DC reach their maiden IPL final, where it came second-best against Mumbai Indians last year.
Sports
Japan has seen the number of infections decline following a record spike last month, which prompted the government to expand and extended virus restrictions, despite the national vaccination programme ramping up.