Australia Superseries: Kidambi Srikanth gives timely reminder of his worth to world badminton elite
Kidambi Srikanth's patient and offensive play from backcourt allowed him to finally break the Chen Long jinx in the men's singles final at the Australia Superseries badminton tournament.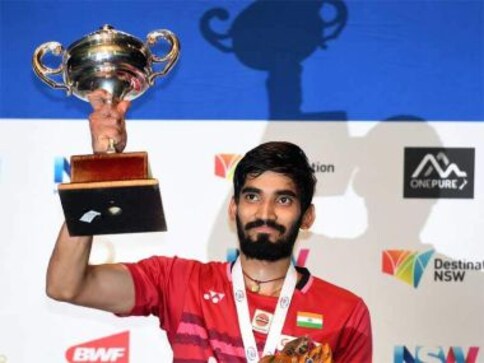 Ahead of his final against Kidambi Srikanth, Chen Long, who had always beaten the Indian, was expecting a similar outcome on a Sunday afternoon in Sydney. Little did he know that the boy from Guntur was in the best phase of his career. Having recently knocked Srikanth out in straight games at the Sudirman Cup in May, Chen saw a very different Srikanth dazzle on the court right since the umpire called 'love-all, play'.
He jumped, he lunged and he smothered Chen's hopes of winning yet another encounter. The reigning Olympic and world champion's impenetrable defence was breached as Srikanth claimed his second successive Superseries title.
Another Indian shuttler HS Prannoy, too, had got the better of Chen in the quarter-final of the Indonesia Open earlier this month, which indicated two things – Srikanth and Co's upward trajectory, and the hard yards put in by the wards of Pullela Gopichand and Mulyo Handoyo starting to bear fruit.
Attack is the best form of defence
There are absolutely no doubts about Srikanth's ability to attack throughout the match and his love for playing winners. Shuttlers on the other side of the court often fail to match up with the 24-year-old's artistry from the backcourt. To be precise, it was evident since the first round of the Indonesia Open how he proved to be a handful for defensive players. Wong Wing Ki Vincent was beaten in three games, so was Son Wan Ho and to make it sound convincing, the man with the best defence, Chen was floored in straight games.
"Srikanth is a kind of a player who is very attacking, offensive from the back of the court. It is really tough to defend his smashes and the strokes coming from the backcourt. So, I feel it is the biggest strength of the game," Prannoy told Firstpost. "There wasn't going to be a surprise about Srikanth's style of play since the duo met at the Gold Coast event, but it was his confidence which actually made the difference," he added.
The Hyderabad-based shuttler made a mockery of Chen's classy defensive prowess that allowed him to dominate Srikanth during the Sudirman Cup. But this time around, Srikanth did not rush while playing long rallies and waited for the right moment. "Srikanth has got a really good hand and in every condition, the shuttle drops well. The kind of strokes and trick shots we play, I don't think anybody else plays it," observed Prannoy.
One of the major issues with Indian shuttlers has been finishing the game after taking the lead early on. Srikanth did start the first game with a service error but once his racquet started talking, Chen was left tight-lipped. In the early stages of the second game, Srikanth played long clears and pushed Chen towards the backcourt, just like those pre-match rallies, before hammering a jump smash down the line. This was the point where the World No 11 saw a change in Chen's attitude.
Moments after dismantling Chen, Srikanth admitted how that proved to be the game-changer.
"I was not challenging him; I was challenging myself, about how long I can last. It was a critical point, I think it changed his attitude maybe if he had won that rally he would've kept playing that way," he told the BWF website. "But not many of those rallies happened in the second game after that. So I think that really changed the attitude of both of us," he added.
The first game was still hanging in balance until Srikanth snatched it late but he barely put a foot wrong in the second and took complete control of the rallies which eventually handed him the title in the end.
India's men's doubles player, Sumeeth Reddy, too heaped praise on the Guntur lad and said: "Looking at his consecutive Superseries success, I believe he will slowly join the elites of world badminton."
Change in training methods gave confidence 
Indian badminton is reaching new heights with each tournament and since the arrival of Indonesian coach Handoyo, there is no denying that the past five or six months have been like a transition period. Srikanth's win proved to be the icing on the cake because he has ended a jinx by finally beating Chen.
When asked about the introduction of new training methods at the Gopichand Academy, Prannoy said: "The training sessions have been longer in comparison. We haven't been involved in longer sessions earlier and all of a sudden he (Handoyo) wanted us to practise for three-four hours in the morning. That slowly started building patience and that patience is now helping us on the court."
The credit can be given to the drastic changes in the regime that allowed Srikanth to raise the bar with precision on a day when he wasn't even in the best shape.
"There have been a couple of changes in the training programmes and that is one of the reasons why we are being able to be more confident on the court with the stroke. Initially, we thought a couple of patterns were not working but when I played in Indonesia, I felt the difference. Even Gopi (Pullela Gopichand) sir has been instrumental in coming over in the practice sessions and making last minute changes that we need to do against certain players," he added.
Prannoy, who missed out on facing Srikanth in the Indonesia Open final said that all the academy trainees spend more time on training than usual. He revealed how the initial build up to their fitness was 80 percent of physical training every day and that it took more than six weeks to get used to it. However, the programme has successfully instilled a lot of confidence to play better.
Huge boost ahead of World Championship
It is a fact that Indians were never considered as formidable opponents in front of traditional powerhouses like China, Indonesia, South Korea and Denmark. However, the recent success has allowed enthusiasts and players to believe they can achieve the unthinkable.
"Srikanth and Sai Praneeth are going to play the World Championship in August. It's going to be really good for both and especially for Srikanth as he already has two Superseries titles in his pocket and I feel when he gets going, it is very difficult to beat him," Prannoy said.
With Srikanth winning both the Indonesia and Australia Opens, players will be much prepared to face the Indian. And, to counter that, Prannoy believes his compatriot must have alternate plans ready.
"Srikanth needs to have different kind of game plans, if one doesn't work, try the other. You never know when a player like Chen is going to be steady and start picking up shots. That's when we need to have something in our armoury to tackle the situation. If he is fit, he has all the chance to win it," he concludes.
Sports
The 26-year-old Indian, who had claimed a silver medal in the last edition in Rio, prevailed over World No 34 Cheung 21-9, 21-16 in a 35-minute match to top the group. This was Sindhu's sixth win over Cheung in as many meetings.
Sports
Murgunde talks about Sindhu's transformation into a bonafide medal contender, Sai Praneeth's draw and more.
Sports
Sindhu's aim of becoming the first Indian shuttler to win Olympic gold came to a screeching halt as she suffered a straight games defeat against Chinese Taipei's Tzu-ying.