Australia, sledging and hard cricket go well together
World cricket doesn't need an Australia it loves, it rather needs an Australia it can loathe and grudgingly admire.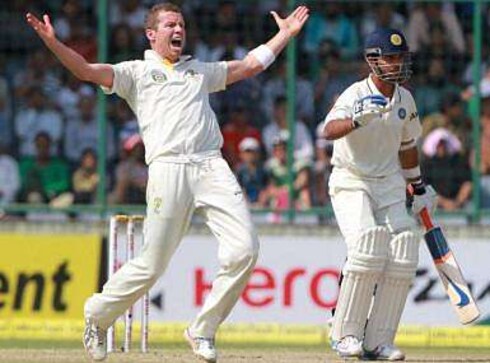 It was during the Mohali Test that the Aussies made their new face visible to the world. The match was on the line, India were under pressure, no runs were being scored – in the scenario a draw would have been as good as a win for Australia.
The old Aussie teams would have done the hard yards and they would have played hard ball. They would have bowled wide off the stumps, they would have bowled unplayable bouncers, and they certainly would not have bowled at the stumps and allowed Ravindra Jadeja and Mahendra Singh Dhoni to hit boundaries.
But they did. And that's when the shock really hit home. This wasn't a 'real' Australian team. Instead, this was a bunch of naïve cricketers making their way into international cricket; showing too much respect and being too un-Australian. The broadcasters would have been worried too.
They seemed like a team that was too obsessed with looking 'good.' They wanted to do the right thing; they wanted homework done on time; there wasn't any of the old Aussie spunk on display either. This was a strangely meek bunch.
So we thought.
On the second day of the fourth Test at Delhi, the Australians finally dropped the mask. And truth to be told, it was a relief. World cricket doesn't need an Australia it loves, it rather needs an Australia it can loathe and grudgingly admire.
And on the second day, through Watson, Warner, Siddle, Pattinson and others, Australia made a welcome return to form.
It started with Ajinkya Rahane, who interesting hails from 'khadoos' Mumbai. But he was shown no mercy. The right-hander was given the treatment by Siddle after he was rapped on the pads off the first ball he faced.
Then, Ravindra Jadeja and David Warner got into a spat. Warner looks like he had been set free for the first time in the series. He was clearly enjoying it. Jadeja wasn't backing off and everyone watching the game was entranced. This is the kind of cricket we were promised at the start of the series and it wad fun. Suddenly, even the dead rubber had some meaning.
Things deteriorated further when James Pattinson objected to Mahendra Singh Dhoni running on the centre of the pitch. Given how the pitch was playing, Dhoni's actions could have scuffed up the pitch even more and that would not be good news for Australia.
Even as Watson and Dhoni tried to sort out the issue with the umpire, Jadeja called for drinks from the dressing room. Warner intervened and Jadeja 'reportedly' made an obscene gesture.
In the dressing room, Virat Kohli was ready to jump into the fray. He was mouthing some expletives of his own – itching to get stuck in.
Come the third morning of the Test, one expected the nerves to have settled. But you couldn't have been more wrong. Even before play started, Shane Watson gave Ishant Sharma and Bhuvneshwar Kumar a lesson in cricketing protocol.
The batsmen entered the field before the Australian team and that was all it took for Watson to call out to them and make stop in their tracks.
Australia have found themselves; their real selves but it has come a tad too late in the day for them. However, if this rediscovered fighting spirit can give us a great fourth Test, no one will complain.
First Cricket News
A rampant David Warner scored 92 off 58 balls as Delhi Capitals defeated his former side Sunrisers Hyderabad by 21 runs in IPL 2022.
First Cricket News
Delhi Capitals have fluffed their lines during a few chases and the current mid-table 'congestion' only means DC will have to win their remaining games while checking out RCB's results, said Warner.
First Cricket News
Ravindra Jadeja has only scored 166 runs this season in 10 IPL 2022 matches besides taking five wickets.