ATP Finals: Roger Federer eyes seventh straight win over David Goffin in semis; Grigor Dimitov faces Jack Sock
Roger Federer will walk out on court for his 14th semi at the ATP Finals against David Goffin on Saturday as the hot favourite.
London: Roger Federer will walk out on court for his 14th semi at the ATP Finals against David Goffin on Saturday as the hot favourite, with the Swiss veteran bidding for a seventh end-of-season title.
In the absence of Novak Djokovic and Andy Murray, the event at London's O2 Arena was billed as a potential showdown between Federer and Rafael Nadal, until the Spanish world number one was forced out by injury.
Nadal's withdrawal -- after a punishing three-set defeat by Goffin -- has given a rather lopsided look to the tournament, with Federer facing Goffin in the semis and, if he wins, either Grigor Dimitrov or Jack Sock in the final.
Federer, who has had an extraordinary season since returning to the Tour after a long lay-off in 2016, will not be losing too much sleep over his opponent, whom he has beaten six times out of six, conceding just two sets in those matches.
In fact he has never lost a single match to any of the remaining players in the competition.
The world number two, who has won the ATP Finals a record six times, but not since 2011, said he was relishing his success at the age of 36, but it felt different from his early days.
"In the beginning it was like being a kid in a candy store, sharing the locker room with legends of the game, seeing them prepare, being able to practise with them, playing doubles with or against them," he said. "Special times."
"I'm very calm," Federer added. "But there's a deeper understanding of what I'm going through. So maybe the satisfaction is when I do win and I do show up at the best tournaments in the world, like here, I know it's not normal maybe to be here, so I appreciate it actually maybe even more so now at this age."
For his part, Goffin, who reached the semis after thumping his good friend Dominic Thiem on Friday, is not going into the match full of confidence, despite his victory against Nadal earlier in the week.
"Honestly, I don't know what to do tomorrow," said the 26-year-old Belgian. "But I'm going to try something, something different, something that I've never done in the past."
Revitalised Dimitrov
In the other semi-final on Saturday, a revitalised Dimitrov takes on American surprise package Jack Sock, who reached the ATP Finals courtesy of victory at the Paris Masters earlier this month and finished behind Federer in the Boris Becker group.
Dimitrov, 26, topped the Pete Sampras group after an impressive week that included a tight three-set win against Austria's Thiem and a thumping victory against Goffin, punch-drunk after his victory against Nadal.
The sixth-seeded Bulgarian, long touted as a potential member of tennis's elite group, has enjoyed the best season of his career, winning three titles including the Cincinnati Masters.
"I've worked a lot on and off the court," he said. "I felt I've been pretty consistent, playing well. Yeah, I think just a little bit of everything.
"I think every small success we're trying to build on and build on. That's why you're here on that stage right now, because this is what you deserve. Also you get what you put in."
American number one Sock has enjoyed a fairytale few weeks, following up his victory in Paris by beating Wimbledon finalist Marin Cilic and shocking world number three Alexander Zverev in London to reach the last four.
"I didn't expect to be in London in the first place," said the 25-year-old. "To be here was a good achievement given the way my second half of the year was going. Paris was a big step for me.
"Now to put myself in the position to play on the weekend is another big step forward, another confidence booster."
Sports
Djokovic, bidding to be the first man in more than half a century to win all four majors on multiple occasions, can reach the last 16 for a 12th consecutive year with victory over the sea-loving Lithuanian.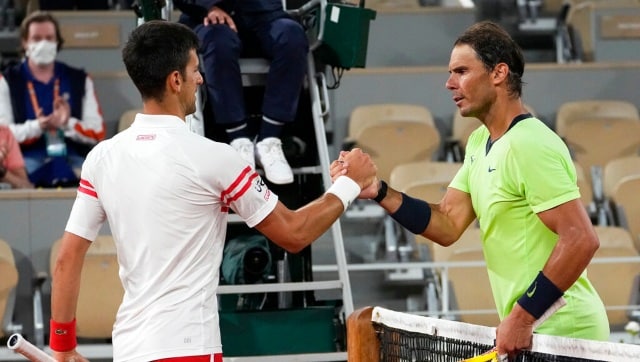 Sports
Here's how Twitter reacted to Novak Djokovic's landmark win over long-time rival Rafael Nadal in the French Open 2021 semi-finals!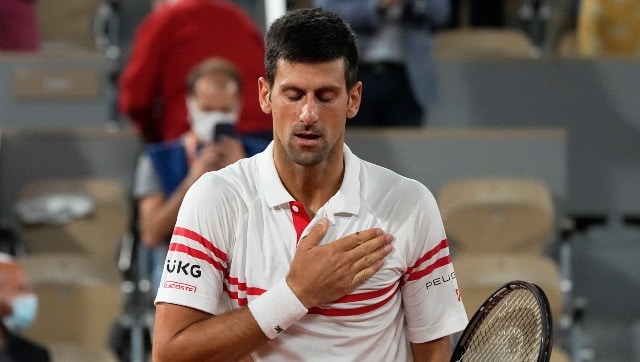 Sports
In their 58th career clash, Djokovic triumphed 3-6, 6-3, 7-6 (7/4), 6-2 and stays on course to capture a 19th major and become the first man in over 50 years to win all four Slams twice.