ATP Finals: Dominic Thiem beats Rafael Nadal's replacement Pablo Carreno Busta to stay in semis race
Dominic Thiem defeated Pablo Carreno Busta 6-3, 3-6, 6-4 and now needs to defeat David Goffin to reach the last-four of the ATP Finals.
London: In Wednesday's late match at the ATP Finals, Dominic Thiem defeated Pablo Carreno Busta 6-3, 3-6, 6-4.
Thiem is now 1-1 and will next face David Goffin, who is also 1-1, on Friday for a spot in the semi-finals.
Carreno Busta was playing in the place of Rafael Nadal, who withdrew after his opening loss because of a right knee injury. He will next play Grigor Dimitrov on Friday.
After losing to Dimitrov in his opener, Thiem had little margin for error when he faced Carreno Busta.
Thiem had won all four of their previous meetings and he extended that unblemished streak in a bruising baseline battle lasting over two hours.
"It got very tight at the end, luckily I got the deciding break," Thiem said.
"I'm happy I'm still playing for the semi-finals."
Dimitrov made his way into the semi-finals at the ATP Finals on Wednesday by beating David Goffin 6-0, 6-2, but he was given a violation for coaching during the second set.
The coaching seemed to have helped, whether Dimitrov heard it or not.
A linesman informed the chair umpire of the infraction during the fifth game of the final set, and sixth-seeded Bulgarian reacted by saying he didn't hear anything.
He probably didn't need any extra advice anyway, not after the way he was playing, and the way Goffin was, too.
"Yeah, that was very weird, to be honest," Dimitrov said of the violation. "I have no idea why. But it's fine. ... I mean, when you're so zoomed into the match, I don't even pay attention to all that."
Dimitrov ended up winning 34 of the 47 points he served and won 32 of the 57 points served by Goffin.
In the first set, Dimitrov lost only two points on his serve and twice broke Goffin without even going to deuce. Goffin finally managed to hold serve in the second set, but Dimitrov still was able to break the Belgian's serve two more times.
"I was just following my game. Just simple as that," Dimitrov said. "I was using every opportunity. I took care of all of the balls that I had to."
And he gave Goffin few chances to make a comeback.
"He came to the net from the beginning, from the first point," Goffin said. "It was not easy for me to lose my serve from the start. It was tough for my confidence after that when it was 0-4."
The win gives Dimitrov a 2-0 record and ensures he will play on the weekend in his debut at the season-ending tournament. Roger Federer has also already qualified for the semifinals.
Goffin beat Nadal in his opening match, calling it the best win of his career. But regardless of what happens against Thiem on Friday, Goffin still has more tennis this year with Belgium playing France in the Davis Cup final at the end of the month.
"This event is really important. It's one of the biggest events of the year. I'm going to focus on the next match. If there is another one, I will be focused on the next one. Then we will see," Goffin said. "The Davis Cup, I'm not thinking about the Davis Cup for the moment. I know it's just after this event. We will see. I'm just focused on this event first, then we see after."
With inputs from agencies
Sports
The British pair led Cilic and Dodig by a set and a break but suffered a late collapse as the Croatians prevailed in a deciding tie-break to win 4-6, 7-6 (7/2), 10-7
Sports
The Greek third seed downed American Tiafoe 6-3, 6-4 under the centre court roof at Ariake Tennis Park, where all play on outside courts was delayed an hour by morning drizzle.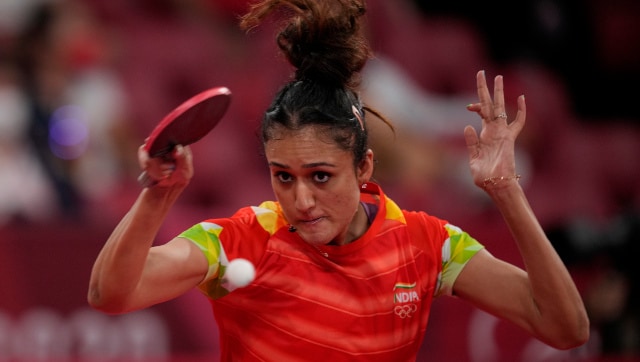 Sports
Manika, ranked 62, made a remarkable comeback after losing the first two games to prevail 4-11, 4-11, 11-7, 12-10, 8-11, 11-5, 11-7 in a second round match that lasted 57 minutes.