Asian Games Wushu: India upset over Grewal's loss in semis; lodge protest
Wushu fights are a best of three rounds, with each round lasting for three minutes.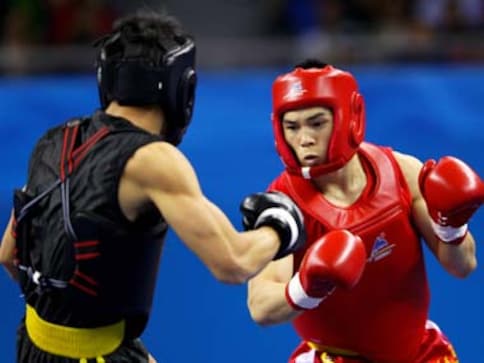 India have filed an appeal with the Asian Games jury of appeal after Narender Grewal was adjudged to have lost his 60 kg Sando semi-final 2-0 to Jean Claude Saclag of the Philippines.
Grewal successfully threw Jean Claude to the ground in the first round on two occasions and knocked him off the platform multiple times in the second round. He was the aggressor through most of the fight and to the naked eye appeared to have the edge, but the head judged ruled in his opponent's favour in each round.
Kuldeep Handoo, India's national coach, told Firstpost that all the five line judges felt Grewal had won the fight but the head judge and assistant head judge ruled in Jean Claude's favour. India claimed that politics was at play because, according to Handoo, the assistant head judge was from the Philippines.
Wushu fights are a best of three rounds, with each round lasting for three minutes.
The scoring system involves punches, kicks and throws and participants are awarded one or two points for a successful move. For example, two points are awarded if your opponent falls off the platform or is thrown to the mat while you are standing. A successful kick to the body also earns two points while a hand strike would get you one point.
Unlike in boxing, points are not awarded for each round. A competitor is simply awarded the round. So there is no way of knowing how each round is scored.
According to Handoo, the jury will issue a decision on the appeal tomorrow after reviewing the fight and hearing both sides.
Controversies over judged events are not new. The Winter Olympics were rocked by a figure-skating scandal in 2002, when French judge, Marie-Reine Le Gougne admitted to being pressured to vote for the Russian pair of Elena Berezhnaya and Anton Sikharulidze over the others. That scandal led to a revamp of the scoring system for figure skating.
And boxing has been rife with instances of judges favouring one fighter over another despite contrary evidence to the naked eye throughout its history.
Sports
The state Cabinet also gave its approval to the Operation and Management Agreement signed with the Airports Authority of India (AAI) for development, operation, and management of smaller airports in Aligarh, Azamgarh, Shravasti, Chitrakoot and Muirpur (Sonbhadra).
Sports
Firstpost takes a look at the mood at some of the major national camps across multiple disciplines throughout the country and the impact the Asian Games postponement is going to have on their season.
Sports
Asian Games 2022, the 19th edition of the continent edition, were scheduled to take place from 10 to 25 September in China.