Asian Games 2018: With foreign coaches-backed sailors bagging three medals, onus on Indian authorities to support sport
Along with Jonas Warrer and Alexandr Denisiuc, Francesca Clapcich played an important role in getting India three medals in the Asian Games regatta.
Varsha Gautham and Shweta Shervegar were basking in the glory of their 49er FX Women sailing Asian Games silver medal-winning performance, brighter than the harsh sunshine on the coast in North Jakarta. Some distance away, their Italian coach Francesca Clapcich, satisfaction cloaking her persona after helping the Indians get the nuts and bolts right, got busy derigging their boat.
For, there was not much time to lose since the equipment had to be loaded in containers soon so that the Indonesian Sailing Centre would be free of Asian Games paraphernalia. A two-time Olympian and a world championship medallist, this was probably her last action in the parking bay for the Indian team.
The 20-year-old Varsha Gautham, who says she has been coached for the longest time by Peter Conway, conceded that Francesca Clapcich had been a big help. "She has been wonderful and helped us deal with the pressure," she said. Undoubtedly, Shweta and she had banked a great deal on Conway, a former national coach, to enable them to become a competitive team in just a year.
Francesca Clapcich had been hired for the duration of the Asian Games and she had done her job. Professionally. And diligently. During the competition, she helped the Indian pair the best she could, laying her knowledge at the disposal of the Indian pair. "It is important that I let the girls be in the limelight and do my job quietly," she said, using a pair of pliers to straighten a wire.
Along with Denmark's Jonas Warrer – a 2008 Olympic Games gold medallist in the 49er class – and Moldova's Alexandr Denisiuc, Francesca Clapcich formed a trio of coaches who played no mean role in getting India three medals in the Asian Games regatta, the first time since 1982 that it was reaping such a harvest.
By accident or design – and the Yachting Association of India will want us to believe that it is by design – the three coaches have each been associated with sailors who won a medal each for the country. The 21-year-old Nethra Kumanan, sailing in the Laser Radial class, was steady in the first six races of the 12-race event but fell away to fifth place in the event which had nine other sailors.
There were just five teams in the 49er FX Women and nine in the 49er Men. But it was not as if the medals were got on a platter. The women had to work hard to ensure that while the Singapore crew of Kimberley Min Lim and Rui Qui Cecilia was a runaway winner, they had to beat Thailand and China to get silver.
They got that by finishing fourth in only four of the 15 races, not to speak of a string of four second-place finishes starting with the sixth race. It left them with the task of having an error-free final race, not invoking a disqualification or a warning from the jury (as had happened in the trials in Chennai and in the Asian Championship in Jakarta in June).
Jonas Warrer's combined experience of sailing and coaching came in handy, not the least in the men's 49er team getting victories in five races and in preparing Varun Thakkar and KC Ganapathy to deal with the challenge posed by a shock disqualification in the penultimate race. Their bid to get gold was derailed when a protest lodged by Oman and Japan was upheld.
Like Francesca Clapcich, Jonas Warrer would maintain a low profile after the Indian team won bronze with a spectacular win in the final race in which Oman finished fourth. But he could also wear a satisfied smile that he had encouraged the Indian pair to leave negative thoughts behind on the coast and do their best on the Java Sea.
Having said that, it is a pity that sailing sometimes does not teach humility and grace to its practitioners. "This is about us, we have just won silver," Varsha Gautham said when asked if she had a word for Ekta Yadav, her 23-year-old rival from Bhopal, who teamed up with Shaila Charls to beat Varsha Gautham and Shweta Shervegar in seven of the 12 races in the trials in Chennai.
Perhaps it was wrong of the journalist to pop up the question, but it is usual for an achiever to acknowledge another's role. We are so used to a Federer, a Nadal and a Djokovic always speaking of the other glowingly. An athlete's fight can be with his or her selectors and/or Federation. And it can extend to the legal court as well.
But not with a competitor, unless of course, the battle is for positions in a race.
Be that as it may, as the Moldovan coach of the laser team, Alexandr Denisiuc, pointed out, sailing is not as expensive as cycling can be. He said cyclists need to have three or four bikes, each of which costs nearly twice as much as one boat. The three-medal haul should provide an impetus for India to encourage more young athletes to take to sailing.
With its vast coastline and countless lakes, it should be possible for India to discover talent and hone it. Much like Madhya Pradesh has started. For years, the Tamil Nadu has been speaking about establishing such an academy. It has remained on the anvils while Madhya Pradesh has stolen a march.
If India can sharpen its focus in sailing events and get its act together, there could be better results – at least more Asian Games medals. If Harshita Tomar, daughter of a contractor and a policewoman, can do it, surely there are others who have the credentials to get Asian Games medal for India, even in more competitive events.
There was a time when the now deceased CS Pradipak would lament about the domination of the Services sailors. Indeed, for years, sailing has depended on athletes from Navy and Army, but none of the nine athletes in the team that competed in Jakarta have come from such a background. Some quit formal school, one is in the final year of studying medicine.
Sports
Ganapathy and Thakkar's marriage of convenience has endured its share of tides. They now describe themselves as "each other's backbones." Come July, the boys will hit the high seas in Japan, sailing into a new dawn.
Sports
The four sailors created history last month when they became the first from the sport to qualify for the Olympics from the country.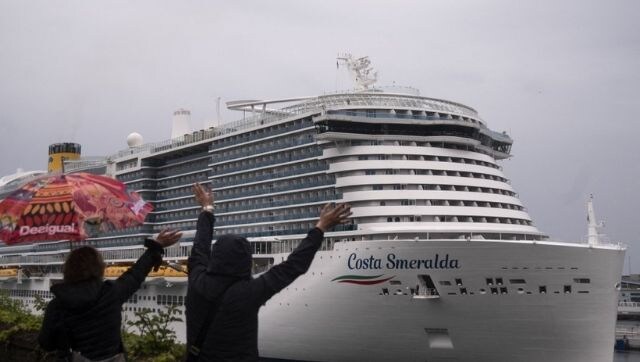 World
Before the pandemic, cruise companies had enjoyed a decade of strong growth, peaking in 2019 with 29.7 million passengers, more than half from North America, according to the Cruise Lines International Association.