Asian Games 2018: Shower of medals in athletics not enough to ease pain of India's shock loss in men's hockey
On Thursday, India discovered that the powerful, alluring and addictive scent of victory, floating from different events on track and field, is inadequate to quell the stench of a shock defeat in men's hockey.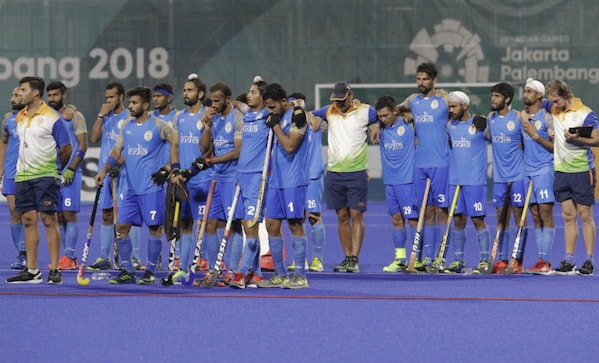 By its nature, the Asian Games can reflect life at large. On Thursday, India discovered that the powerful, alluring and addictive scent of victory, floating from different events on track and field, is inadequate to quell the stench of a shock defeat in men's hockey. The athletics squad and the table tennis players did admirably to take the focus away from hockey team, which lost to Malaysia.
Athletics ended in a blaze of glory with Jinson Johnson and the women's 4x400m relay team claiming facile victories in the span of 45 minutes. There were three other medals on Thursday night, a good silver for the men's 4x400m relay team and bronze medals for PU Chitra in the women's metric mile and discus thrower Seema Punia.
Johnson rallied from a loss in his favourite 800m to clinch a win in the 1500m with sensible racing that saw him turn in a powerful kick with about 250m to go. The women's relay team, led by teenager Hima Das, gained a handsome lead after MR Poovamma ran her leg, leaving new faces Saritaben Gayekwad and VR Vismaya with easy task.
By winning the gold — India's fifth straight Asian Games gold in the event – the team justified the officials' decision to exclude those who had not attended the National Camp under coach Galina Bukharina. The men's quartet of Kunhu Mohammed, Mohammed Anas, A Dharun and Arokia Rajiv had the collective pace to beat traditional rival Japan by 0.11 seconds but not Qatar.
There was redemption for Chitra when she won bronze in the women's 1500m with a brave run. She had been denied a chance to compete in the World Championship in London last year despite winning the Asian Championships. Punia, who was sanctioned money from TOP Scheme to train in Russia, recorded three throws over 60m to win bronze behind a Chinese pair.
The athletics contingent was, by and large, in a celebratory mood after it contributed seven gold, 10 silver and two bronze medals to India's haul in Jakarta. A whole hand of coaches, selectors and officials toasted the athletes, even while a few were disappointed at having missed out on something special in Jakarta.
Heptathlete Purnima Hembram, for instance, made her way to the media tribunes and castigated herself for a poor long jump and track events – she was wary of straining her hamstring – that led her to missing a podium finish. At the same time, G Lakshmanan rallied from his 10,000m disqualification, with the heart of an Armyman to put up a game fight in the 5000m.
It would be fair to say that Neeraj Chopra's 88.06m to win the javelin throw gold medal was the only truly world-class effort by an Indian athlete. For years, Indians have been content with doing well at the continental level, earning plaudits and rewards. Their work is now cut out if they wish to realign their sights and aim for glory at the Olympic level.
It is time the Athletics Federation of India (AFI) to recalibrate such thinking when it is done with celebrating the successes of Jakarta. Obviously, a lot of planning has gone into the training and preparation of the athletes and when the time came, they delivered their best, confidently and with an awareness that they could be among the best in the continent.
Away from track and field, India's table tennis players continued to delight. Achanta Sharat Kamal and G Sathiyan in men's singles and Manika Batra in women's singles won their way to the pre-quarter-finals. Mouma Das was the only Indian to face defeat on Thursday but the three Indians secured straight games' wins to raise the stake for the sport in India with its two bronze medals
There would be fair expectations from the squash teams that they would raise their game and go past the semi-finals. They lost needle league matches on Thursday that set up clashes against Hong Kong in the men's event and Malaysia in the women's draw. The women have the better chance of pulling off that magical upset.
The three pairs – men, women and mixed pairs – have raised expectations that the large bridge squad in the Indian contingent would add some more medals on Friday. Similarly, at least three medals can come India's way on the final day in different classes of sailing while there was no surprise from Canoeing and Kayaking in Palembang.
The canoeing team must be secretly pleased that its performances will largely go unnoticed in the wake of the Indian contingent looking set to breach the 64-medal showing of 2010.
This is the appropriate time to reflect on the men's hockey team's defeat by Malaysia in the semi-finals via a penalty shoot-out. A sluggish squad, facing tough opposition for the first time in the tournament, was leading 2-1 with under two minutes left on the countdown clock. Muhammad Razie Rahim pumped in his 52nd and perhaps the most important goal of his 241-game career.
The penalty shoot-out was always going to be a tricky, nervous affair — one that was not for the weak-hearted. Manpreet Singh missed while Dilpreet Singh and SV Sunil saw their shots being saved by the Malaysian goal-keeper, but the impact of those errors was immediately negated when Tengku Ahmed Tajuddin and Meor Hasan missed on either side of Sreejesh denying Faizal Saari.
With the teams tied at 6-6, Tengku Ahmed Tajuddin put Malaysia ahead. The pressure on Sunil was enormous as he took the responsibility of keeping India in the hunt. With 243 games under his belt, he would have expected to find a way past the goalkeeper but, much to his chagrin, the shock of his team-mates and the delight of the Malaysians, he missed.
The defeat is a massive setback to India's plans. If it had secured an Olympic Games berth with gold here, it could have focused on building a team for Tokyo after the World Cup in Bhubaneswar later this year. But now, it will have to look to do well in qualifying competitions and will lose crucial time in preparation for the Olympic tournament.
It is tempting to try and end with something nice and positive. But the pain of losing in the men's hockey semi-finals cannot have a ready balm. And it is best that we deal with that pain rather than console ourselves by looking at the performances in other disciplines. Sometimes, just sometimes, it helps to let the searing pain hurt our heart. Just enough to keep us grounded.
Perhaps, that will spur the women's team to go for gold in the final against Japan.
Click here to view the medals tally of the 2018 Asian Games
Click here to view the full schedule of the 2018 Asian Games
Find latest and upcoming tech gadgets online on Tech2 Gadgets. Get technology news, gadgets reviews & ratings. Popular gadgets including laptop, tablet and mobile specifications, features, prices, comparison.