Asian Games 2018: Shiva Thapa describes Asiad as one of toughest competitions, relives London Olympics experience
Firstpost caught up with Shiva Thapa at a send-off event organised by the BFI for the Indonesia-bound boxing team in New Delhi on Tuesday, with the young boxer commenting on the challenges at the Asian Games among other topics.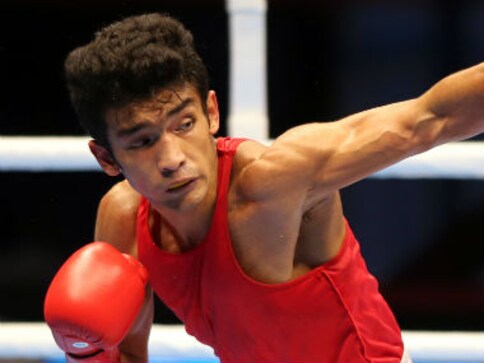 Indian boxing has been on the rise ever since the Boxing Federation of India (BFI) was reinstated as the governing body for the sport in the country in December 2016. Tournaments such as the India Open offering boxers from this part of the word more chances to hone their skills by competing against the best. Besides that, the number of practice tours arranged by the Federation has also contributed to the development of the sport in the country, a measure of which can be ascertained from India's nine-medal haul (three gold, and as many silver and bronze medals) in the Commonwealth Games 2018.
Young star Shiva Thapa wasn't in the Indian boxing contingent travelling to Gold Coast in April earlier this year. The Assamese boxer, who first came to the limelight with an appearance in the 2012 London Olympics at the age of 18, has had his share of lows in recent times along with the highs.
While the two-time Olympian has three consecutive Asian Championships medals to his credit, he is determined to make it count at an event in which he hasn't experienced much success in the past — the Asian Games. Thapa had reached the quarter-finals in the 2014 edition at Incheon, before losing to Filipino boxer Mario Fernandez.
Firstpost caught up with Thapa at a send-off event organised by the BFI for the Indonesia-bound boxing team in New Delhi on Tuesday. Following are some of the excerpts from the conversation:
How's your preparation coming along for the Asian Games?
It's going great. The time has come. It's a major event of the year, and Asian Games is one of the toughest competitions in boxing. So we are looking forward to it. We have a great team, great coaches and support staff as well. So we're all prepared, and it's time.
What's the challenge like at the Asian Games? Is it tougher than Commonwealth Games and other events?
Definitely it's a tougher challenge. Like I said, there have been setbacks, and I think it's very important, because it makes us stronger, and it makes us realise what needs to be done more to be better. Without that, you would not be able to do better in life. So it was important, and now the time has come. It's the major tournament I have not been taking part in since many months, so I'm looking forward to it, and I'm very confident about it.
Are you practicing much harder for this tournament?
Yeah definitely. Putting more hours, and trying to make the most of it. Trying to analyse what can be done better to make perfection in the moves which I have not been perfect at. We had a great training camp in Patiala. The coaches have been looking after us, and have been guiding us all the way.
Talking about your appearance at the London 2012 Olympics, did you, at the tender age of 18, have butterflies in your stomach before stepping into the ring?
I did not even realise when I was qualified for the Olympics. Because I think I was too young to take the pressure. People are saying there must have been a lot of pressure. But I don't think that was (the case). I think I was mentally very small to realise the pressure. I was enjoying it. I was enjoying the village, I was enjoying the fight, I was enjoying the pressure I think I would say. So I think it was a big experience of my life, the moment which I was waiting (for) since I started my boxing career, and to take India at the Olympic levels.
So, to go there and to realise what it takes to win an Olympic medal, it's a different feeling. So, I had been looking forward to it back in the Rio Games, I lost to Cuba, the defending Olympic champion. So, I think life has always been bringing tough challenges for me, so I think there is a big reason behind it. That is the reason I've been getting better and better because of those big setbacks in my life. So, it's live and learn, and that's what a champion's sign is.
What would you say are the key differences between Shiva Thapa back then and the Shiva Thapa now?
The key difference is that I have had those times when I used to think I'm perfect. But the times have changed, and things are not perfect all the time. But then again, when you learn how to be perfect, that's what makes you different from your past. So, I've learned how to make myself different. It's not just a one-hour or a two-hour practice, it's the dedication that we put into the entire day, the focus that we have in our training and even after the training that makes you different from other sportsmen. So I think those are some of the changes.
With so many star boxers coming out from the North East, including Mary Kom, Sarita Devi and yourself, would you say that the region is a hub of boxing as well aside from football?
First of all, North East is a sports hub. I believe it's not just football, not just boxing. There are lot of other sports that (folks from) North East is super talented at. I believe that there a lot of sportspeople like Mary Kom, Sarita Devi, Dingko Singh from Manipur, he made history in boxing, Suranjoy Singh — he was a Commonwealth champion — and a lot of other boxers who have done great at the international level, at the world-class level.
So I think North East has a great amount of potential, great amount of talent, and Hima Das, who recently won a medal (gold) in the U-20 World Athletics Championships. So I think these are the examples of what potential North East has in sports. Those days are not very far where you'll see Olympic medal winners (more often) from North East as well.
While there is immense sporting talent in the North East, would you say the same of the infrastructure that's provided to athletes there?
There is a huge amount of support that has been given by SAI. There are different regional SAI training centres in the entire North East, and I think time has changed a lot. The reason why the performance is there is because of the infrastructure.
But, to produce more Hima Das, to produce more boxers, there has to be more amount of infrastructure. If you want more quantity, the quality has to be more too. So definitely, without a doubt, I believe that SAI has been very supportive to the team and to the players, and in the coming days, there will be more infrastructure and facilities available.
The BFI has organised a number of tournaments, especially at home, and has also sent athletes abroad for training. What, in your opinion, is the impact that those initiatives have had on Indian boxers?
Definitely. I think it counts a lot. Exposure counts a lot. We had taken part in so many international tournaments since the BFI was there, and there has been a massive amount of support, massive amount of exposure that we have been getting. Number two, three four and five boxers also get a chance to prove themselves at the international tournaments at the Indian camp, and that has never been done before. So, that makes a big difference to the team.
Ever thought of turning pro?
Being a boxer I would always like to stick into the game, and no matter it's amateur, professional, but definitely it's always moment of pride, and I take pride in representing India at the amateurs. So if I ever get the chance to take pro and also represent India at the same time that would be a great moment.
Have you already started your preparations for 2020?
Yeah definitely. From the day Rio ended, I started preparing for 2020.
also read
Entertainment
The Kerala Story enjoys a phenomenal trending at the box office.
Entertainment
In its second weekend, Guardians of the Galaxy Vol. 3 added $60.5 million from North American theaters, according to studio estimates on Sunday.
Entertainment
It's on the lower end of openings for the series which peaked with Furious 7's $142.2 million launch, the sole movie in the series to surpass $100 million out of the gates.