Asian Games 2018: Good day in office for Indian wushu team with three players making it to men's quarter-finals
Indian wushu team enjoyed a successful outing with three players, including 2014 bronze medallist Narender Grewal progressing to the men's sanda quarterfinals at the 18th Asian Games
Jakarta: Indian wushu team enjoyed a successful outing with three players, including 2014 bronze medallist Narender Grewal progressing to the men's sanda quarterfinals at the 18th Asian Games on Monday.
The 24-year-old Narender (65kg) saw off Phillipines' Clemente Jr Tabugara 2-1 in men's sanda round of 16 to set up a clash with Uzbekistan's Rakhimov Akmal on Tuesday.
Besides Narender, Surya Bhanu Partap Singh beat Indonesia's Abdul Haris Sofyan 2-1 in another match. He will face Phillipines' Jean Claude Saclag on Tuesday.
Santosh Kumar also registered a 2-0 win over Zaid Ali Wazea of Yemen to set up a last eight meeting against Thailand's Phithak Paokrathok.
In men's sanda 70kg round of 16 match, Pardeep Kumar had defeated Mirzodalerkhon Khurshedzoda 2-0 to make it to the quarterfinals on Sunday.
If the Indians manage to enter the semi-finals, they be will assured of medal.
Wushu Sanda is a martial art which combines full-contact kickboxing, including close range punches and kicks, with wrestling, takedowns, throws, sweeps and kick catches.
Sports
India were assured of two medals in the debut sport of bridge in the Asian Games after the men's team and mixed team reached the semifinals.
Sports
The 60-year-old Pranab and 56-year-old Shibhnath finished at the top after scoring 384 points in the finals.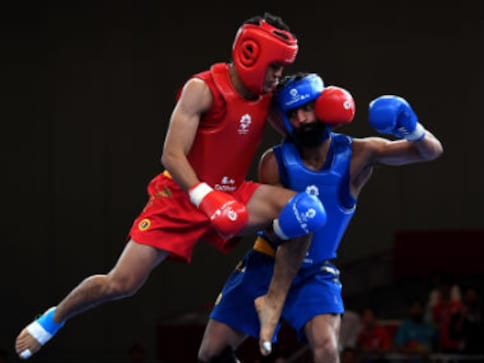 Sports
All the four Indian wushu players in action on Wednesday were assured of at least a bronze after reaching the semifinals but all of them lost their last-four bouts.