18 August
Opening ceremonies are like Test matches: they are too long, bore most people, but have the potential for this one, glorious moment. If it comes along, it makes your skin tingle, forces you to stand in your seat, and you will remember it forever (because, of course, that is the one Instagram story you decide to save).
This one needed no camera or social media to be branded in the mind. Branded. It's the right word I think, considering that moment for me was all about fire. The athletes parade bored me, I have no shame in saying. It's pretty cool to see the contingent coming in with the tricolour, but we are India, with an 'I'. That means eight countries before, and a possible 17 after. Yawn.
But the lighting of the Games Cauldron, that was quite something. You all saw it, of course, but your TVs can't show you how it felt, how your heart thrummed to the music, how your awareness peaked with the crescendo. You can't say, I was there. I'm lucky enough to say I was. If you get a chance, go. For the bright spot amid the boredom.
20 August
You really picked the worst tour as your first non cricket tour, my roommate tells me. Cricket tours have a rhythm: training day, preview day, match day, rest day, like shotgun shots with time to load in between. Multi sport events are the machine gun of sports reporting; if you survive the first event, the next few will get you. And the Asian Games is the heavy artillery.
After a night writing till 12:30 AM, a 3:45 wakeup has me on a groggy 6 AM flight to Palembang, apparently the oldest city in Indonesia (how does that work, I wonder?). There are medals in shooting to write about there, players to pursue and eyelids to prop up. For the first time ever, I deliberately take a nap in the press box. In terms of pure physical exertion, it is the toughest day of my journalistic life.
On the bright side, the Palembang Media Centre offers the best veggie food I've had in Indonesia so far.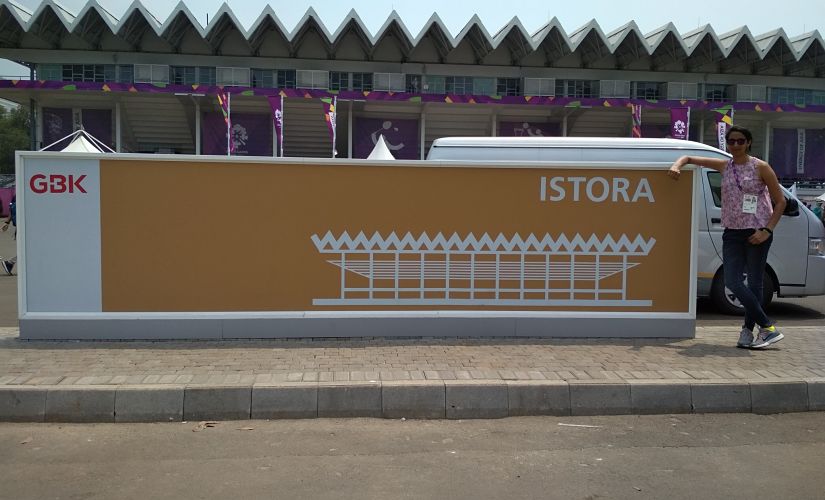 23 August
Everyone here knows Shahrukh Khan, and that the first Dhoom movie was the best of the lot. Over dinner some friends and I chat up with a young local radio reporter named Arif, whose favourite sport is drifting (yes, the Tokyo kind). He tells us stories about Palembang's river Musi, about the mysterious arms that pulled his friend into the water and drowned her. My plans of exploring Indonesia's snorkeling spots do a mental double take. They are assuaged by some late vanilla ice cream.
24 August:
In Palembang, I discover Grab, Indonesia's version of Ola, only much cooler. A local start-up, Grab pulverised Uber in South East Asia, and I think their chat feature had a lot to do with it. The first time I try it, I ask the driver why he's taking so long. "Traffic, boss," comes the reply on screen. Reminds me of Mumbai's kaali-peelis. Without the paan stains on doors.
25 August
It's 1 AM on a Friday night, and while waiting for our Grab, my roommate and I are passed by a number of sports cars who have left their silencers at home. As we turn the corner onto a stretch of wide, empty road, it feels like we have landed in the middle of a Fast and Furious movie. Sports cars revving everywhere, neon lights glowing brighter than cigarettes, and a street race in progress. Arif wasn't kidding about the drifting scene here.
The same day I see Saina and Sindhu in the flesh for the first time. That is pretty cool, but the real star is the Istora Stadium and the Indonesian crowd. Other journos tell me it is an intimate venue, and I feel it; maybe it's because I'm used to watching cricket from the boundary's edge, but the lack of distance between athlete and spectator is striking. Saina showing twirling skills of a gymnast, Tai Tzu with her uppercuts and lowercuts, and a Sindhu who reminds me of myself; all within touching distance.
The crowd here love their badminton, especially doubles. They turn up in red and white, bring their air-sausages, and countdown smashes with screams. Their national team responds with a giant killing day. Women's doubles players Polii and Rahayu down China in three sets after fighting past a match point. Jonatan Christie takes as many to get past Thailand's Khosit, a day after beating the top seed. But the star of the day is Jakarta, and Anthony Sinisuka Ginting.
Ginting is playing against the best player in the world, Kento Momota of Japan. The evening is cool and dark, I'm out of the Istora, rushing to watch Hima Das. Sprinters make you want to run, but badminton players can make you want to stop: barely 100m from the athletics track is a big screen playing Ginting's match, and I can't tear myself away from it.
Neither can about a 1000 others, all sitting in the courtyard of the GBK stadium. A few yards away the Games torch burns. On the screen, Gingting does. He is one game up on the World Champion, and within touching distance of a second. This comes just days after he had almost beaten Shi Yuqi the team event. He's already has the nation's hearts. He's already a national hero. Now he's national puppeteer as well.
The courtyard rises and falls as he does. Eyebrows furrow with every Momota smash, cheers go up for every one Ginting hits. If he drops, they lean forward; if he tosses, they lean back. Volunteers ignore their duties and cheer. There is no space for an ambulance to pass through as it ferries some unfortunate soul, and yet the crowd makes way, eyes still on the screen; they are hooked and are begging Ginting to reel them in.
I have seen this only once before, when I watched Nadal beat Dimitrov in Melbourne's Federation Square in 2017. That time there was space to stretch my legs. Here, no one had leave to breathe. Sardines living on a prayer, one that came true. Ginting won two sets to one. Jakarta won with a much better score line. It's only a round-of-16 match. But the night is so much more.
Firstpost is now on WhatsApp. For the latest analysis, commentary and news updates, sign up for our WhatsApp services. Just go to Firstpost.com/Whatsapp and hit the Subscribe button.
Updated Date: Aug 26, 2018 12:04:11 IST