Asian Games 2014, Day 4 as it happened: Ghosal bags squash silver, Bindra bows out with couple of bronzes
All the live, detailed action from the 17th Asian Games at Incheon.
Wushu
16.30 IST: In a somewhat surprising result, India's Narender Grewal lost 0-2 to Jean Claude in Men's Sanda -60kg Semis. Grewal looked to have won the first round but the judges ruled in favor of his opponent. He was the aggressor in the second round as well and managed one excellent takedown where he flipped his opponent over but again the judges awarded the round to his opponent.
Wushu
16.00 IST: China's Luan Zhang proved too strong for India's Sanathoi Devi in the 52 kg Sanda semi-final. Zhang easily won the first two rounds, landing some hard kicks to Devi's body. Devi, and India, will have to be satisfied with bronze.
Squash
Final Result - India 2-1 Jordan in Men's Team Group play stage Group B Match.
17.25 IST: Harinder Pal Singh beats Ahmad 11-8, 11-7, 8-11, 11-5 to give India a 2-1 victory over Jordan in Men's Team Group play stage Group B Match.
16.00 IST: Mahesh has fought back to take the third game 12-10. He appears determined to make a fist of this.
Wushu
15.38 IST India's Sapana Devi finishes at 7th position with a total score of 9.27 in Women's Changquan Final.
Squash
15.38 IST: Mahesh loses the second game too, with the same scoreline 9-11!
15.23 IST: India's Mahesh Mangaonkar has lost the first game 9-11 against Alsaraj Ahmad Khaleel Ahmad in match 2.
15.13 IST: Kush Kumar wins 1st match to give India 1-0 lead against Jordan in Men's Team Group play stage Group B match. Kumar beat Albraikat Saif Yousef Irsheid 11-6, 11-7, 11-9.
Hockey
FT - India 7-0 Oman
14.30 IST: India now leading Oman 3-0 in the third quarter after Akashdeep scores. Looking like another easy victory for the men's team.
14.35 IST: India now up 4-0 after Raghunath scores from a penalty corner. This is turning into a rout. India then miss a glorious opportunity from another penalty corner to make it 5-0.
15.00 IST: Ramandeep gets in on the scoring. He gets the last touch after Raghunath strikes yet another penalty corner. India now leading Oman 5-0.
15.10 IST: That's it! Raghunath finally gets his name in the scoresheet as India beat Oman 7-0 in Men's Pool B Match.
Archery
14.25 IST: The India team is in second place after the Compound Women's Team Ranking Round with 2047 points. Trisha Deb led India with 687 points, while her team-mates Purvasha Sudhir and Jyothi Vennam posted identical scores of 680.
China finished in first place in the rankings round with 2082 points.
The draw for the knockout rounds will now be made according to the rankings. Here is the full list.
Hockey:
13.55 IST: GOAL!! Rupinderpal gets his second as he again converts from the penalty corner. But he injures himself in process and has to leave the field. India 2-0 Oman
13.52 IST: GOAL! Rupinderpal Singh smashes it into the net from penalty corner to give India 1-0 lead over Oman.
13.48 IST: End of Q1. No goals so far, it's India 0-0 Oman in Men's Pool B Match. Disappointing first quarter for India. They need to up the ante.
Swimming:
13.43 IST: India's Sajan Prakash finishes 4th in Men's 400m Freestyle - Heat 2 with timings of 3:59.27
Gymnastics Artistic
13.45 IST: Ashish Kumar finishes in 12th place with a total of 81.750 while Aditya Singh finishes in 17th with a total of 77.150.
13.15 IST: India's Ashish Kumar currently in 8th place with a total of 68.500, while Aditya Singh is in 16th place with a total of 65.725 in Men's Individual All-Around Final.
Archery
12.55 IST: Bad news for fans of Dipika Kumari. She is currently in 10th place in Recurve with 663 points. Meanwhile Laxmirani Majhi is in 16th with 652 points while Bombayla Devi is in 20th with 643 points.
South Korea's Dasomi Jung is in first place with 683 points.
Sepaktakraw
13.30 IST: India lose 11-21 in the 2nd game of 3rd Regu. Myanmar beat India 3-0 in Women's Team Preliminary Group B match.
13.26 IST: India have lost first game 8-21 and are trailing 11-19 in second game in the 3rd Regu.
12.50 IST: Myanmar have won the first two Regus against India in their Women's Team Preliminary Group B match.
Weightlifting
12.15 IST: India's Ravi Kumar Katulu has finished second in Group B of the Men's 77kg category with total lift of 313 kg (141 Snatch + 172 C&J).
Basketball
12.20 IST: The Philippines have beaten India 85-76 in their Group E clash. India fell behind in the first quarter and though the team rallied in the second half, they were unable to make up that early deficit.
Squash final
- Saurav Ghosal edges out Kuwait's Abdullah Almezayen 12-10 to take the first game and lead 1-0 in the gold medal match.
- Ghosal is going gung-ho, wins the second game 11-2. It's a 2-0 lead now.
- What a thrilling 3rd game! Almezayen thought he had won it — but Ghosal fought back to make it 11-11, then lead 12-11, before the Kuwaiti equalled and finally closed it off at 14-12. Ghosal still leads the match 2-1 though.
- Almezayen much more comfortable in the 4th game, wins it 11-8 to take this match to the fifth and final game.
- Ghosal took an early two-point lead before giving it up midway. He led 6-5 but Almezayen fought back to take a 9-7 lead himself. The Kuwaiti never gave up his two-point lead and won the final match 11-9. SILVER for Ghosal.
Archery
The individual ranking rounds are over in both men's compound and women's recurve. Abhishek Verma and Rajat Chauhan finish 9th and 10th respectively while Govindas Thokchom came 14th. The trio finished third in the team rankings. In women's recurve, Deepika Kumari is on 12th rank while Laxmirani Majhi and Bombayla Devi Laishram finished 18th and 19th respectively.
Please note, these are just the rankings -- they will decide who takes on who in the final round.
Sepaktakraw preliminary round
India took an impressive 1-0 lead after winning the first Regu 16-21, 21-18, 21-16 but then lost the next two Regus. Japan won the second 21-18, 21-15 and the third Regu 21-11, 21-19.
10m Air Rifle final
Yang H of China (209.6) took the gold medal and Cay Y (208.9), also of China, took the silver.
After 8 series (18 shots): Bindra gets the bronze medal. Super shooting by him. He kept his nerve but the Chinese were too good. He ended up with 187.1 pts.
After 7 series (16 shots): Bindra moves into 3rd position. The Iranian shooter messed up and shot a 9.6. Bindra's final shot was a 10.5 and he was shaking his head after that shot, thinking that he was out of the competition. But the Iranian's miss took even him by surprise. Bindra's total was 165.8.
After 6 series (14 shots): Bindra is still in 4th place with 145 pts. The Chinese are burning it up.
After 5 series (12 shots): Bindra is down to 4th place with 124.1 pts.
After 4 series (10 shots): Bindra is leading now! He has 104.2 pts. This is so tight.
After 3 series (8 shots): Bindra has jumped up to the second place -- he managed a perfect shot of 10.9. A total score of 83.1 pts.
After 2 series (6 shots): Bindra is in 4th position with 61.9 pts. Two Chinese shooters lead the fray.
After 1 series (3 shots): Bindra is in second position with 31.1 pts. Good start but a long way to go.
Abhinav Bindra is taking part and will be going for gold.
25m Rapid Fire Pistol Men's Qualification - Stage 1
Harpreet Singh is in 7th position after stage one: 98, 99, 93. Total: 290.
Gurpreet Singh is in 14th position: 97, 98, 89. Total: 284.
Pemba Tamang is in 18th position: 99, 93, 85. Total: 277.
10m Air Rifle Men's Qualification
Abhinav Bindra qualified in 5th position. The final is scheduled for 0815 IST. He is taking part in his final Asiad; in his final professional event. India's Sanjeev Rajput and Ravi Kumar also took part in the event.
5th. Bindra: 102.6, 105.3, 104.5, 104.1, 105.7, 103.2. Total: 625.4-47x
20th. Ravi: 104.1, 102.8, 102.6, 102.2, 101.5, 102.7. Total: 618.9-43x
21st. Rajput: 101.9, 105.6, 103.1, 102.2, 104.5, 104.4. Total: 618.7-45x
The trio combined to earn the bronze medal in the team competition behind China and Korea.
1. China 313.8, 314.7, 315.6, 314.0, 312.9, 315.4. Total: 1886.4-158x
2. Korea 309.2, 316.1, 309.5, 312.8, 309.4, 310.6. Total: 1867.6-136x
3. India 308.6, 313.7, 310.2, 308.5, 311.7, 310.3. Total: 1863.0-135x
Cycling: Women's Sprint Qualifying
Indian cyclists Deborah & K Vargheese finish 9th & 10th resp in women's sprint.
Men's Single Sculls Repechage 1
India's Swaran Singh finished first -- rowing in lane three.
Day 4
India's archers take the field and this should get interesting. Abhinav Bindra will also be competing in his final Asian Games. The decorated Indian shooter created a flutter by saying that today will be his last day in professional shooting. Olympic champion Bindra, who would be competing at the 10m air rifle event in the Incheon Asian Games tomorrow, said that even though his resume is "complete", he would still give his best to qualify for the 2016 Olympic Games in Brazil.
Day 3 round-up
The women's 25 metre pistol team and squash player Dipika Pallikal gave India two bronze medals while Saurav Ghosal stayed in the hunt for the elusive squash gold at the 17th Asian Games here Monday.
A silver, which could become gold, was confirmed for Ghosal, who could improve his and IndiaÂ's best-ever silver to gold by winning his title match against a far lower-ranked opponent from Kuwait, Ahmad Khaleel Ahmad, in the final Tuesday.
The shooters, who raised expectations with a superb haul at the Glasgow Commonwealth Games, faced far superior opposition here and were left behind in the race as only the womenÂ's 25m pistol team comprising Rahi Sarnobat, Anisa Sayyed and Heena Sidhu managed a bronze.
A little before Ghosal's efforts, 23-year-old Dipika was outplayed by World No.1 Nicol Ann David of Malaysia, who is looking for her fifth Asian Games gold at the age of 31. Nicol won 11-4, 11-4, 11-5 in less than 25 minutes but Dipika did win a bronze, the first individual medal for a woman squash player from India.
The star of the day was Ghosal, who outclassed two-time Asian Games gold medallist Ong Beng Hee of Malaysia 11-9, 11-4, 11-4 to book a place in the final. Ghosal, a bronze medallist in 2006 and 2010, is looking to become the first Indian squash player to win a gold after already having become the first to make the final.
Wushu athletes Narender Grewal and Yumnam Sanathoi Devi assured India of two more medals after winning their respective men's and women's quarter-finals.
In the men's Sanda -60 kg quarters, World No.9 Grewal defeated Abdullah of Pakistan 2-0 to enter the medal round. He will face Philippines' World No.3 Jean Claude Saclag in the semi-final Tuesday.
In women's quarter-final, Sanathoi downed Mongolia's Amgalanjargal Sangidorj 2-0 to confirm at least a bronze in the Sanda -52 kg category. World No.5 Sanathoi will take on China's Luan Zhang in the semi-final Tuesday.
In shooting, Rahi, still recovering from an elbow injury suffered last year, did get to the individual final after finishing eighth in qualification but was then the second to be eliminated and left back in seventh place.
Similar was the fate of 10m air rifle shooter Ayonika Paul, who after being third in the qualification was eliminated early in the final and ended seventh. But she did not even have the consolation of a team medal as the air rifle team ended sixth.
In other action, the Indian men's basketball team outplayed Kazakhstan 80-61 to top Group B at the Asiad basketball. The Indians lost a hard fought match against Saudi Arabia 67-73 Sunday.
In volleyball, Japan beat India 25-6, 25-11, 25-12 in the women's Group A match.
There was disappointment for the tennis teams as both men and women lost to Kazakhstan in the team quarter-finals. Sania Mirza did not play the womenÂ's team event and is slated to appear only in the individuals. IANS
Find latest and upcoming tech gadgets online on Tech2 Gadgets. Get technology news, gadgets reviews & ratings. Popular gadgets including laptop, tablet and mobile specifications, features, prices, comparison.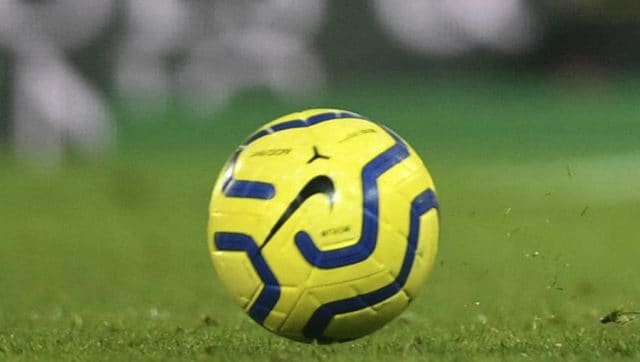 Sports
The East Zone teams, which come from countries including Japan, China and Australia, will play their remaining matches in Doha from 18 November to 13 December, the Asian Football Confederation (AFC) said.
Sports
Iga Swiatek beat Sofia Kenin 6-4, 6-1 to win the French Open for her maiden Grand Slam title. She went without dropping a set in the tournament.
Sports
In the decider, the Indian managed to see off the Egyptian for a 11-7, 11-6, 7-11, 10-12, 11-9 win in the third round.