Asian Champions Trophy 2018: India carve out hard-fought victory over Japan but there's still room for improvement ahead of final
Against Japan, India strived, struggled and realised that momentum was difficult to attain against a Japanese team defending in numbers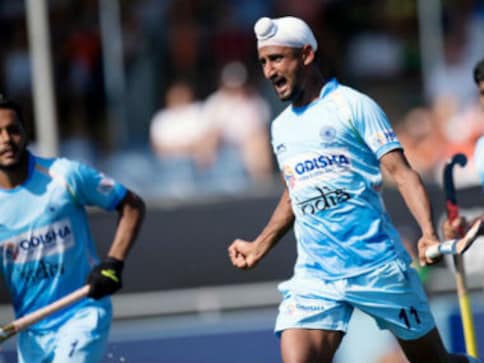 In hockey, more than most games, it boils down to that elemental of all coaching diktats – momentum. Against Japan, India strived, struggled and realised that momentum was difficult to attain against a Japanese team defending with numbers. India dug in its heels and finally carved out a victory ensuring they go with a positive frame of mind into the final on Sunday against Pakistan. A knock-out match is a difficult beast to handle.
After being hammered, 9-0, 8-0, 4-2, 6-0 and 5-1 in the last five games against India, Japanese coach Siegfried Aikman knew giving space and trying to battle it out on an equal footing in the midfield would lead to another thrashing. After the first initial bout of aggression where Kazuki Yoneda shimmered down the flank, Japan settled into some well-thought strategy. They brought in a 7-man defence with a free man on top cutting off the first attacker. And then it showed discipline in maintaining the zones and ensuring Indian attackers had to stretch down the flank or wide in the striking circle giving the Japanese goalkeeper time to cut the angle.
The worrying bit from India's point of view was the Japanese players' ability to keep out the goals, pin the Indian forwards down and also launch into counter-attacks when a frustrated Indian midfield showed signs of weariness. The Japanese were disciplined in keeping the ball away from the feet, not rushing into defensive positions but allowed the Indian forwards to come in and then to tackle cleanly and efficiently was laudatory.
Such matches are a grind. And when the first Quarter ended goalless, Japan's coach Aikman knew the match was on. India, on the other hand, for some unfathomable reason falls into individualism, making it so much easier for the Japanese defence to fend India off. Manpreet, Dilpreet, Gurjant and Mandeep constantly tried to get past the defenders in closed spaces but that is an impossible task when you are up against a highly disciplined defensive unit. Aikman had one aim – keep the scores down and get the counters; either the team will have fashioned a miraculous win or kept the scores down after yielding 32 goals in the last five matches.
For India, the chances came early. Manpreet Singh reeled in almost four Japanese defenders before winning India's first penalty corner in the opening minutes of the first Quarter. But Harmanpreet's flick was wide. At that stage in the tournament, India had scored 12 of 22 penalty corners. The next ten minutes went in finding a way through the Japanese stronghold. Akashdeep played intelligently, trying to find a way from the top of the circle but when confronted with 2-3 Japanese defenders, he wove the ball back and created another move. His ball to Hardik cleared the way for Gurjant whose reverse hit was taken on the chest by an advancing goalkeeper. It was India all the way with 70 percent possession as Japan defended resolutely; depends on how you view it.
India had several chances in the second Quarter but the Japanese continued their hard work at the back while India tried it's best to create, innovate and break through. Jarmanpreet moved up with Dilpreet, Gurjant and Nilakanta Sharma, all having pot shots at the goal. It would have been easier to create space in Manhattan for a retail outlet than finding one in the Japanese striking circle.
Then came the move from Chinglensana, who pushed a through to Gurjant, who didn't commit the same mistake as he did in the first Quarter. He steered further up on the left of the striking circle, drew the goalkeeper out and fired in a reverse to the second post. It was a delectable piece of skill. India led 1-0.
Three minutes later, Japan found some space on the flank and with an Indian defence slow off the mark, the ball hit Surender Kumar's feet leading to Japan's first penalty corner. Japan went for an indirect, pushing the ball to the right where Hirotaka Wakuri deflected in beautifully. The Indian defence had no clue and was too slow to clamp down the move. Aiknan's smile said everything; his tactics were finally falling into place. At 1-1, India had to start all over again.
With five minutes left, India had two penalty corners but both fizzled out, the second one being smashed over the goal by Chinglensana. In the dying minutes of the second Quarter, Kazuki Yoneda playing close to the body went past Surender and saw Gurinder Singh come in with a hard shoulder shove. Japan had their second penalty corner which thankfully after a dummy hit a defenders leg. It's a cardinal sin for any defender to go for a shove in the striking circle. All Gurinder had to do was let Yoneda on, while Sreejesh would have cut the angle.
A majority of the third Quarter was an exhibition of excellent zonal defending from Japan while India strived to create a break. Slowly, knowing that time was running out, Japan also pushed through Yoneda, Matsumoto and Yamasaki. India was forced to keep an eye at the back. Meanwhile, a Manpreet move was deflected by Mandeep but it just missed the goal. On one of his forays upfront, Jarmanpreet found himself inside the Japanese striking circle and won India's fourth penalty corner. Varun's flick was brilliantly deflected in by Chinglensana. India led 2-1.
Now Japan had to break their structure. They couldn't keep defending. The players were tiring. And if they needed goals, they had to create space. But India kept missing some sharp chances from Lalit and Hardik. With just around five minutes left in the match, Akashdeep, toiling through the match, created a through for Dilpreet who spun sharply and squeezed the ball between the goalkeeper and defenders. India was up 3-1.
But a minute later, Japan had their third penalty corner and Zendana Hirotaka flicked it past Krishan Pathak and the defender on the line. With the scores now at 2-3, the last few minutes got interesting with Nilakanta, Akashdeep and then with 36 seconds left, Dilpreet couldn't trap a lovely Jarmanpreet cross with the entire Japanese defence stranded on one side.
Harendra was happy with the win and simply said, "We had to do the job." He went onto say that the team was prepared for Pakistan in the final and that "attitude decides the altitude." Harendra also said there was room for improvement and that 'decision making on the last touch needed fine-tuning.'
Against Pakistan, it will always be a mental battle; so much history, so much baggage to deal with, politically, historically and also within the sport. And to achieve that all important element – momentum, only a rigorous and methodical consistency would pave the way for a memorable win.
Sports
Tournament favourites India were stunned by underdogs France 4-5 in their opening match of the premier junior tournament before the title holders bounced back in style to thrash Canada 13-1
Sports
Prasad, who was a part of the Indian team that won a bronze at the Tokyo Olympics earlier this year, said he just tried to pass on his experiences to his junior teammates.
Sports
Pakistan team was accorded a warm welcome by Hockey India upon arrival.