Asian Champions Trophy 2016: Top five players who could win India the title over Pakistan
Here are the top five players Pakistan would do well to keep a watch out for
Pakistan hockey coach Khawaja Junaid doesn't have the same experience as Roelant Oltmans, nor has he won any World or Olympic titles, which Oltmans has. But Junaid would have had an extremely close look at the Indian side coached by Oltmans, when the two clashed in a group match of the Asian Champions Trophy 2016 last week. Pakistan were leading 2-1 in that match before India stormed back with two goals to win 3-2. Following that defeat, Junaid had said, "I will take positives from this and ensure the same mistakes don't happen." Pakistan captain Fareed Ahmed had said, "Player to player, India is better."
Here are the top five players Pakistan would do well to keep a watch out for:
PR Sreejesh:
Anybody who saw the semi-final against South Korea would know that Sreejesh is the ultimate "hustler" when it comes to a shoot-out. His confidence when Korea's fifth shooter came on was amazing; his attitude alone helped Sreejesh win the battle. Tall and standing firm, the 30-year-old has an imposing presence and never ever looks ruffled. If there are a few chinks, then they are during open play; Sreejesh may occasionally get beaten on the counter or a turnaround where the player gets a reverse hit in. But on the penalty corners, India is almost unbeaten. It was only in the match against Malaysia that a team could beat Sreejesh on the flick. Pakistan forwards would try their best during the regulation period, that too off snap hits when inside the Indian striking circle.
Talwinder Singh:
He is one of those players who may go unnoticed during a match till he scores a goal. His strengths are ball play and an uncanny vision of knowing where a player is inside the striking circle. Sometimes, the passes are so accurate that the ball reaches the spot before a player even understands what Talwinder might be thinking. On the left flank, he is like a buzzing live-wire, constantly on the whirl, cutting in, turning around and trying to squeeze inches between the defenders' legs to take a reverse hit. He is the one player who will be closely marked by Pakistan.
Pradeep Mor:
The man is listed as Pardeep. But what's in a name when his skill on the right-half position is to die for. He has that burst of pace that takes him past 3-4 players before the opposition realises, too late, that he is inside their striking circle. In the last two matches, he has been the stand-out player for Oltmans. Mor's bursts give India penalty corners and that is what Junaid would be concerned about.
Rupinder Pal Singh:
His strengths are penalty corners and strokes. Rupinder has had a quiet tournament after the six-goal burst against Japan, but came up with crucial goals when India needed the lead or an equaliser. Pakistan knows he is India's trump card at flicking in penalty corners. Moreover, they would also like to keep him in his own defensive zone, not giving him any opportunities to move up. In any match, Rupinder executes 5-6 defence splitting passes that invariably create mayhem in the opposition circle. If the opposition is trying to gain a foothold in the midfield, these can turn things around. As a defender, Rupinder has weaknesses which Junaid as a coach would ask his forwards to take advantage off. On the long ball from the opposition's defence or midfield, for instance, Rupinder can get beaten on the bounce. He is still not getting low enough to judge it to perfection.
Akashdeep Singh:
He is the only link with the magical hockey of the '60s and '70s. Akashdeep moves beautifully, creating space and gaps where none exist. Give him an inch and he would exploit it with a lovely pass across the circle or a tap that finds an Indian stick to perfection. Junaid would warn his defenders to keep him outside the Pakistan striking circle. Akashdeep is not a natural scorer; he is a born creator and a player fans love watching. If Pakistan can keep these players away from scoring, creating and defending to a level which has become, of late, consistent with Indian hockey, Junaid's men would make early inroads. But as they say, trying it in a briefing room is always easier than tackling it on the field; that too in an India-Pakistan final.
Sports
Odisha CM said Hockey India had recently approached the Odisha government to support them for the Men's Junior World Cup to be held in two months time.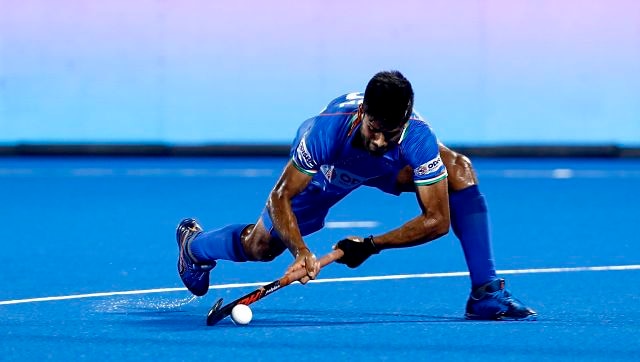 Sports
Varun further stated that skipper Manpreet Singh's one-on-one chat with him before the team left for Tokyo helped him a lot.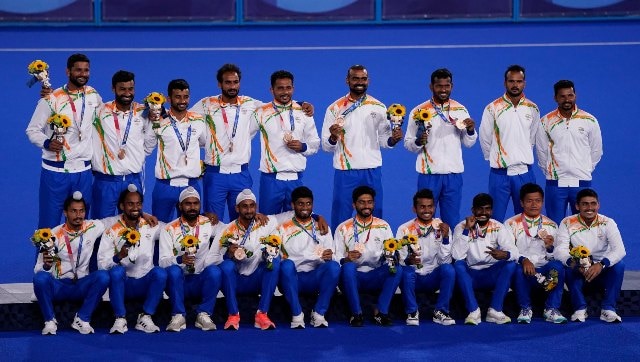 Sports
The Indian men's hockey team produced an inspiring performance at the Tokyo Games, where it edged out Germany 5-4 to claim a bronze medal, the country's first in the sport in 41 years.